A Benefit For Middle Class Guitarist Mike Atta: Proceeds To Help Pay For Cancer Treatment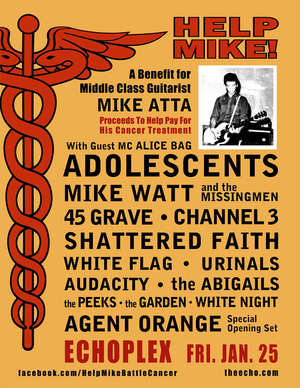 This Friday Jan. 25 @ The Echo will be a benefit show for Mike Atta (founding member of punk legends Middle Class) who has is battling cancer for a second time. There will also be a cool cassette you can purchase from Burger Records at the show to help even more.
The Adolescents, Mike Watt, Agent Orange, Shattered Faith, Channel 3, Urinals and more bands play a special benefit concert at the Echo and the Echoplex this Friday, January 25th! Alice Bag from The Bags will MC this special, one-time event. All these bands pulled together and donated their performances for the sake of Mike Atta (founder member of legendary punk band Middle Class), who recently found out that he must battle cancer for a second time. Proceeds will go to the fundrazr "Help Mike Atta Battle Cancer" account: https://fundrazr.com/campaigns/6Otz6.

Just in time for the big benefit show, Burger Records will release a limited edition cassette featuring:

Middle Class
Eddie & The Subtitles
Adolescents
Adrenalin O.D.
Anarchy 6
Big Boys
Channel 3
Circle Jerks
The Cows
The Crowd
The Detours
The Dicks
Empire (Derwood & Mark Laff's Band After Generation X)
The Fix (The Good One, From 1980's Detroit)
F.U.'S
Flag Of Democracy
F
Fastbacks
Germs (Current Line Up Playing an Unrecorded Darby Crash Band Song)
Giuda
Government Issue
Halo Of Flies
Meatmen
The Mormons
Mudhoney
The Muffs
Necros
Nervous Gender
Off!
Redd Kross
Sin34
Vatican Commandos (featuring Moby On Guitar)
White Flag
Youth Brigade
7 Seconds

All proceeds from the one-time only pressing will also go to the Help Mike Atta Battle Cancer fund. It will be for sale at the concert and for sale on the Burger Records website on Saturday, January 26!