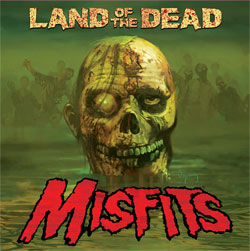 The legendary Misfits return with 2 brand-new, soon-to-be-classic songs marking the first new original material from the certified-gold selling horror rock icons in a decade! The release also marks their first new studio recordings since 2003's billboard chart topping "Misfits Project 1950" covers album.

The Ltd. Ed. 12-inch LP maxi single showcases an incredible new cover painting rendered by Arthur Suydam (of Marvel Zombies fame) who has ferociously rendered the Misfits world famous "Fiend Skull" icon in homage to the zombie films of George A. Romero. The artwork is appropriately suited as both new songs ("Land of the Dead" and "Twilight of the Dead" written by Misfits founding member Jerry Only), were inspired by the acclaimed director's living dead series. Click here for a close up view of the artwork.

The first pressing on clear red vinyl is a limited edition of 1,000 pcs guaranteed to feed the collectible frenzy with Misfits fiends while supplies last!

Look for the 'Fits (Jerry Only Bass/Vocals, Dez Cadena Guitars and Robo Drums) on tour throughout North America now - late December '09 where you can expect to hear both new songs performed live in concert. Starting October 30th, (Devil's Night at the Starland Ballroom in NJ), Fiends will have the chance to pick up a special clear orange vinyl tour edition of the 12-inch (also limited to 1,000 pcs worldwide), while supplies last. The clear orange vinyl pressing will be on sale exclusively at live Misfits shows and will not be available in stores.

The clear red vinyl edition will soon be available exclusively @ our online Fiend Store and the Misfits Records online store. Pre-orders for the red-vinyl edition are starting soon so keep an evil eye on the online store and have it in your fiendish hands over a month before it 'lands' in record shops! All online orders will ship by or before, but no later than Halloween. Look for new Misfits Land of the Dead T-shirts on tour, online and arriving in stores soon.

Both songs ("Land of the Dead" and "Twilight of the Dead") will be available individually for digital download (@ only $0.99 per track) on iTunes and other digital music providers starting October 27th...

Happy Halloween Fiends!