Blood Soaked Hands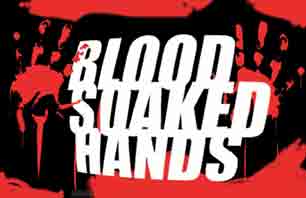 Blood Soaked Hands originated in San Clemente, CA in the Spring of 2003. We are a female fronted 5 piece punk rock n' roll band. We incorporate different styles in order to preserve a uniqueness and refreshing blend of cutting edge and high energy music. In the past year we have released a self produced 6 song CD/EP titled, "Churchfolk and Sinners", and this past winter appeared on the Hostage Records compilation "Collateral Damage." We have recently recorded 5 new songs and have plenty of new material due to be recorded. Our live performances have been described as 'intoxicating' and 'impressively refreshing'. Recent performances have included playing with the likes of Greg Ginn of Black Flag, the English Dogs, T.S.O.L.,the Weirdos, DOA, the Stitches, Chaos UK, Duane Peters and the Hunns, the Starvations, Street Dogs, the Orphans, the Skulls, Geisha Girls, and many more. We have plans for a west coast tour beginning the summer of 2005.
check out our website or go to
myspace.com/bloodsoakedhands
to listen to our music immediately.
Members
Elysia Moon- Lipstick. Richie Blood- Bass. Buck- Guitar. Vox Ryan-Guitar.Vox Woody-Drums
Location
San Clemente, California, USA
Touring
National
Years Active
2003
Influences
Murder City Devils, -X-, the Avengers, the Eyes, SMOGTOWN, Le Shok, New Bomb Turks, the Stitches, pretty girls make graves, the LEWD, turbonegro
Email
Visit Website