Distempered Dog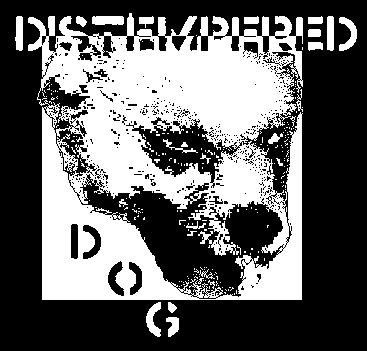 In the beginning there was Meno and Raul…brothers (I think they had been for quite awhile). Then by the mindless and forgetful Meno, a flyer was found inside a copy machine (he is so damn forgetful sometimes but hey, arent we all?)
by Chris Cana.
They were oh so happy together when it struck them…they needed a vocalist. And then out of the blue like a tiny little itty bitty hurricane came…Nite Mair (previously known as Ashley). She had found a flyer that Meno (stratigically placed by Meno outside a Musicians Wharehouse…Good thinkin!). But poor little Meno thought a group of unruly church hooligans had stolen and destroyed his pain stakenly beautiful flyer. But alas, his thoughts were oh so very wrong. Nite had found it and torn it off in hopes that no one would see it but her.
And finally, we have found a bass player. We are so lucky!! Nite found Ernie. Actually, Nite went to school with Ernie and she thought he had totally forgotton about her, but he didnt!
He called her and she asked him if he wanted to be the bass player and he said yes!!
Members
Nite Mair - Vocals Meno - Guitar 1 Cana - Guitar2 Ernie - Bass Raul - Drums
Location
San Jose, California, USA
Touring
Not Yet
Years Active
2002
Influences
A punk band from San Jose, CA with influnces ranging from hardcore to ska.
Email
Visit Website