Sheckies, The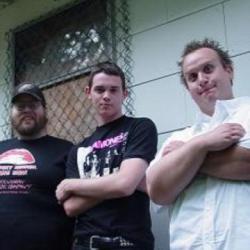 The Sheckies are a New Jersey pogo punk trio with a mission to bring the fun back to music.
"The King" slaps the drums like a locomotive running you over and not stopping. "Andy Social",
An idiotic recluse, Thrashes buzz saw sounding guitars, Incoherent leads, And sings like an
ugly duckling about the woes of heartbreak and too much T.V. watching. "Penny", The cool,
collective bass player, Brings the "boom" to the band and is said that at shows throws assorted
deli meats at the audience. Together they form "The Sheckies", The dancable sticky sweet
underbelly of musical goodness.
Members
Andy-Social, Penny, The King
Location
Cape May, New Jersey, USA
Touring
Regional
Years Active
2003
Influences
Riverdales, Ramones, Sloppy Seconds, The Dead Milkmen
Email
Visit Website