Vicky & The Vengents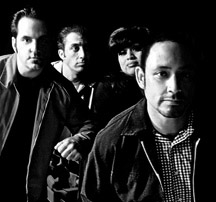 Every so often a group comes along that transcends a genre. One that mixes the nostalgia of a Rock & Roll era gone by. Couple that with the vitality of the here and now, provides the end result of Vicky and the Vengents. Heralded as the Queen of L.A. R&B over the past decade, Vicky Tafoya has performed with the best. Now she has found the perfect fit with The Vengents, causing a Garage Punk, Girl Group, pile-up that anyone would love to see. Starting as a collaboration between Vicky, and Vengents guitar player, Matt Beld, in mid 2008, these songs quickly spiraled out of control. Leaving them no choice, but to call in the amazing talents of fellow Vengents, Mando Del Rio, and Vinny Malachi. Thus making Vicky and the Vengents an entity all it's own. So prepare yourself for worn out Saturday nights, and Sunday mornings, courtesy of Vicky and the Vengents!
..
Members
VICKY TAFOYA - Lead Vocals) (MATT BELD - Guitar + Vocals (VINNY MALACHI - Bass MANDO DEL RIO - Drums + Vocals
Location
Colton, California, USA
Touring
Regional
Years Active
2008
Influences
Phil Spector, Brian Wilson, The Animals, The Ramones, The Ronettes, The Shangri-Las, The Remains, Chuck Berry, John, Paul, George, and Ringo, The Ventures.
Email