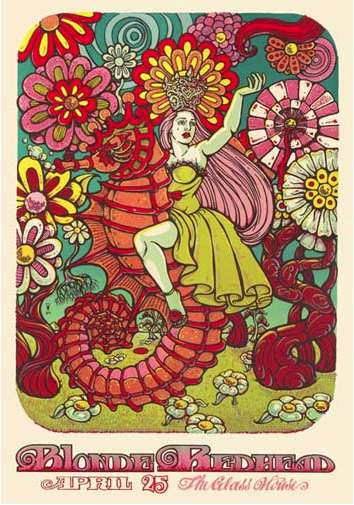 Recently I spoke to artist Michael Motorcycle, a man known for his world-class rock poster artwork and who is venturing more and more into the realm of oil painting. Oh yeah, he also used to go to high school with our very own John B.! Our discussion not only illuminated for me his career, the unique style he's honed, bands he's done work for, and the importance of vinyl, but it also gave me the chance to realize just what a good, caring, compassionate spirit this man has.
Janelle: I KNOW YOU DO A LOT OF ARTWORK, BUT I'VE SEEN YOU DO A LOT OF PROMINENT WORK FOR DIFFERENT BANDS AND FESTIVALS. I WAS WONDERING HOW YOU GOT INTO THE MUSIC ART WORLD.
MMM: Before Clear Channel came in and kind of killed everything, the biggest concert promotion company was Goldenvoice. I worked for them. I kept bugging them about making posters for them and one day they let me do it. I'd been pestering them for about two years. They liked what I did so I was able to get a lot of big gigs that way. So it helped my career along.
IS THIS WHAT YOU DO FULL-TIME? CAN YOU LIVE OFF THIS?
I've been making a living doing posters for about eight years but I'm also a painter and an illustrator. But the predominant income comes from making rock posters. I screenprint them myself. I have a shop that has screenprinting set up. So I do make them from start to finish.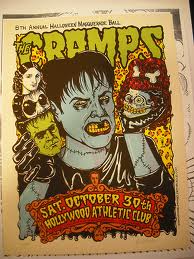 I SAW SOME OF YOUR PAINTINGS ON YOUR WEBSITE. DO YOU USUALLY START FROM YOUR ILLUSTRATIONS?
A lot of the time yeah. Everything starts with a pencil drawing. I like to turn a lot of the images that I make, turn my posters into paintings, because most of them – I also do in addition without text so there's part of the addition that's not a rock poster, it's just an art print. I like doing it that way because the composition is there. I worked really hard on the drawing for the rock poster so I have time during that part of the process to fine-tune the composition. And a well-designed composition is the best way to start, for me, with a painting. That's why a lot of the paintings you'll notice are from the rock poster images.
YOU DEFINITELY HAVE A DISTINCT STYLE. HOW DID YOU FIRST KIND OF HONE THAT OR FIGURE IT OUT?
I got pretty lucky. I got to work for some people that were very open to my interpretation of whatever band I was working for. I worked for the festival called All Tomorrow's Parties in the U.K. for a lot of years and they kinda gave me carte blanche to do what I wanted. I think that went a long way in enabling me to develop a unique style because there weren't a lot of restrictions on my subject matter or even content. There were no restrictions from the beginning. I think that's pretty important for someone trying to develop something unique.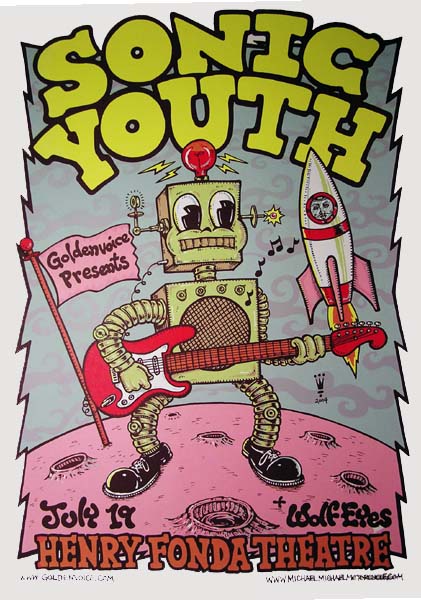 EVEN YOU MENTIONED ATP, I'VE SEEN YOU'VE HAD CERTAIN BANDS LIKE EXPLOSIONS IN THE SKY AND MELVINS, SO YOU DO IT FUST FOR THEM SEPARATELY OR IST IT FOR THE ENTIRE FESTIVAL?
It kinda depends. There's a lot of ways to make posters for events. Oftentimes a promoter will contact me. Sometimes I make a poster for an entire festival and maybe the headliner will be the most prominent band name on the poster. Other times, the Melvins for instance I do work specifically for them. They know what I do. Again, there's a lot of freedom in subject matter. Those are the two best ways to work. Whenever you're working for a venue like a club there's not always the clearance that you need to legally make a poster so it's better to work for a promoter or a band.
YOU SAID YOU WORKED WITH THE MELVINS A LOT, SO DID YOU KNOW THEM [PERSONALLY] BEFORE YOU DID THEIR ARTWORK? OBVIOUSLY YOU KNEW THEIR MUSIC.
Actually their tour manager, he was also the tour manager for the Fantomas and I met him because I did a tour poster for the Fantomas through the company Goldenvoice. That's how I became friends with them. There's a lot of word of mouth, especially if you are doing some of the higher-profile poster jobs, the word kind of spreads. I go to a lot of music festivals also. I meet a lot of people at festivals; I sell posters at a lot of music festivals. I make a lot of contacts that way as well.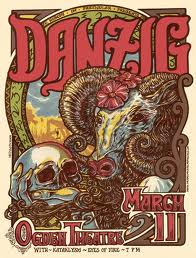 WHAT WERE SOME OF THE MOST RECENT THINGS YOU'VE WORKED ON?
This last year that passed I did a few music festivals. I worked for the Russian River Blues Festival that was kinda cool and I did the Lollapalooza last year. I've done some work for a lot of the jam bands like Widespread Panic and moe.
OH YEAH, I SAW YOU DID ON POSTER FOR MOE. IN NY.
Yeah, and they tour so much that they recognize the value of a rock poster today. The economy has made it a little more difficult for smaller indie bands to afford to make a rock poster so most of the jobs that I get for touring bands are a lot of the jam bands these days. It didn't used to be so. I like working with them because they really appreciate gig posters. Since the economy changed in the last few years I've been doing more illustration work and painting. I don't [just] do gig posters anymore for a living, whereas in the early 2000s, up until about 2007 that's all I did. But in 2008 the economy kind of dropped off and it was a lot harder for some bands to even afford gig posters so I've had to start making money in other ways.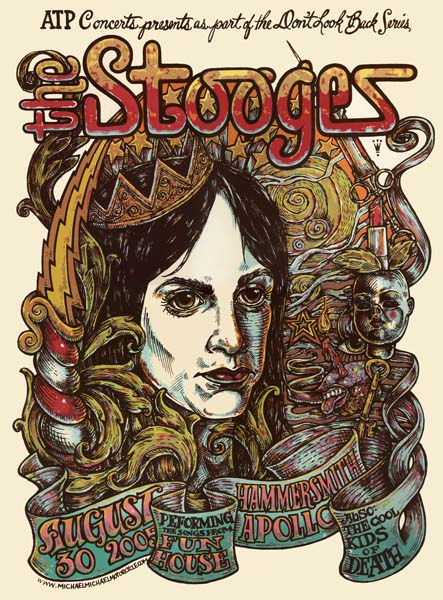 BUT I MEAN, DID YOU EVER MAKE ANY CONCERT T-SHIRTS OR ANYTHING LIKE THAT?
The process is so different for printing on paper as opposed to printing on t-shirts. I don't have a set up for t-shirts so a lot of the times a band or a promotion company will ask me if they can use the design that I made for the rock poster on t-shirts for merch and they print them and sell them. I don't print t-shirts.
BUT THEY'RE OUT THERE, YOUR DESIGNS.
Oh absolutely. And usually they are directly from the rock poster that I created for the show.
AND I SAW YOU DID AT LEAST ONE RECORD SLEEVE. DO YOU DO A LOT OF THAT WORK?
I'm starting to do more of it. Like I talked about earlier, the economy, I've had to diversify quite a bit. So the occasional record cover comes along. And digital music has even changed that because I don't know about you but I'm not really buying physical copies of CDs anymore.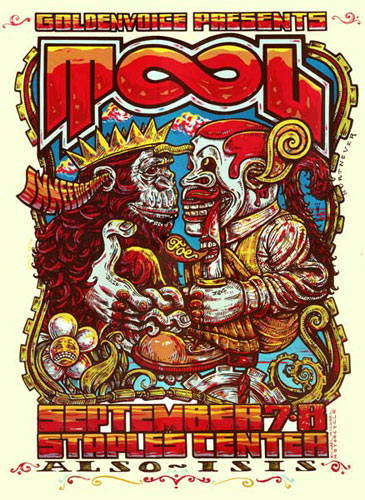 YEAH, EVEN I GET A LOT OF PROMOS AND I USED TO GET SO MANY CDS IN THE MAIL AND NOW IT'S MOSTLY ALL DOWNLOADS.IT'S KINDA SAD; YOU'RE MISSING OUT ON THE EXPERIENCE. A LOT OF TIMES THE BAND PUTS THOUGHT INTO IT: THE ARTWORK, EVERYTHING FITS IN WITH THE MUSIC AND IT'S SAD THAT'S DYING OUT.
Yeah, it is something we're adjusting to. Especially coming from an era where we bought 12" records and you had that big piece of art. But I think the web is nice because we get to see a broader concept because of web pages and Facebook pages. But you don't get that physical thing in your hand anymore. I don't even have CDs anymore.
I'M STILL A WEIRDO AND I'LL GO TO OLD RECORD STORES AND BUY CASSETTE TAPES! [LAUGHS]
Yeah. They're hard to come by now. But I have a huge vinyl collection.
I CAN IMAGINE! YOU'RE A KID OF THE '80S!
And CDs took over and now they're so antiquated that I don't really even care for them. I'd rather just download a record than have a CD. If I buy a CD I'm gonna put it on the computer anyway. I don't have a CD player. I have a great record player but no CD player.
ONE THING I LIKE ABOUT BUYING VINYL NOW IS SOME LABELS STILL PUT OUT NEW VINYL AND THEY GIVE YOU THE DOWNLOAD CODE SO YOU CAN HAVE THE PHYSICAL RECORD BUT THEN YOU ALSO CAN PUT IT ON YOUR IPOD OR WHATEVER.
Yeah, vinyl's made a comeback too. A lot of the record companies are making vinyl now because it's starting to outsell CDs. I have a lot of friends that still collect vinyl.
I KNOW THEY HAVE DIFFERENT BLOGS WHERE YOU CAN JUST DOWNLOAD AN ALBUM AND NOT PAY ANYTHING, BUT I ALWAYS FEEL GUILTY DOING THAT...
Yeah, I've kinda gotten used to that. [Laughter] There's so much out there. I guess in the old days when you had to go to a record store I used to go to used record stores and you could listen to the CD before you bought it but the price was always prohibitive and these days I get to listen to a lot more. There are things that I download and I would never pay money for back in the day, so hopefully that'll translate into sales for a lot of bands. I think that bands today, they're going to have to see opportunities where they weren't before. And a lot of bands do. The merchandise has become an important aspect of touring bands making money. They can make more money on t-shirts, stuff like that. Bands are getting creative. I think a lot of independent bands are getting a lot of exposure that they might not have gotten when record companies ran everything.
YEAH, LIKE INTERNET RADIO AND LIKE YOU SAID FACEBOOK...
I find out about most of the music I listen to through blogs. If it looks interesting online I'll listen to it and they've made a fan.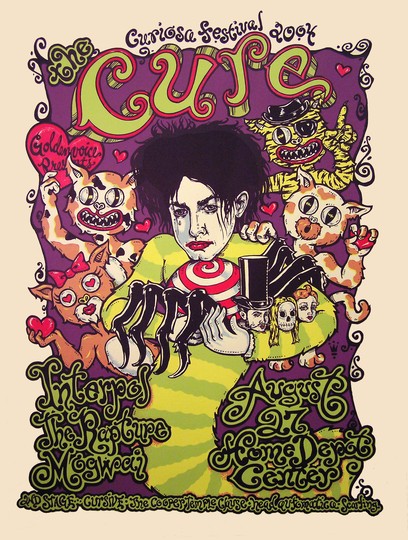 ALSO, ABOUT YOU AGAIN, YOUR TECHNIQUE, WERE YOU FORMALLY TRAINED? DID YOU GO TO SCHOOL FOR ART?
No, not to learn. We talked about style, that's not really something that can be taught in a lot of ways. I used to live in Pasadena, CA, and there was a community college there that had a screenprinting program and a guy by the name of John Miner taught me how to screenprint on paper. So that was pretty important to kind of getting out there and doing this full time. He was actually a poster printer also which was incredibly helpful because he understood what I was trying to accomplish. He really taught me how to print quickly. By the middle of one semester I already knew how to print on paper and I think that was largely because he was a poster printer also. By the next year I had my own set up and was printing at home.
I DON'T KNOW IF YOU GO ON IT ANYMORE, I KNOW MYSPACE IS PASSE NOW! BUT I SAW ON THERE YOU HAD A LITTLE BIO ABOUT WHAT YOU DO AND ONE THING YOU MENTIONED WAS ABOUT KIND OF WHAT YOU CREATE IS ABOUT THE "HUMAN CONDITION, EFFECTS OF THE INDUSTRIAL REVOLUTION, AND LOVE." DO YOU WANT TO ELABORATE AT ALL?
I feel like as a species we're still dealing with the effects of the growth that happened during the late-1800s and the early-1900s, we're dealing with things that we couldn't have anticipated a hundred years ago, climate change and limited resources. I don't think that we considered those things 150 years ago. A lot of my work discusses that. It discusses the loss that we're feeling for a more natural world. I don't think we anticipated the changes that our behavior would make because we just thought about technological advances. A lot of my paintings talk about a hope that we learn from those things and don't repeat the mistakes that we made in the past.
ALL I CAN THINK OF WHEN YOU'RE SAYING ALL THIS WHICH I TOTALLY, TOTALLY AGREE WITH - I DON'T WANNA GET OVERLY POLITICAL OR ANYTHING BUT CERTAIN PEOPLE DON'T EVEN LOOK AT THOSE THINGS.
I'm pretty liberal. The conservatives, they make me angry. They think that we're crazy but these things really are happening. Scientists have been looking at ice caps and all of that for years.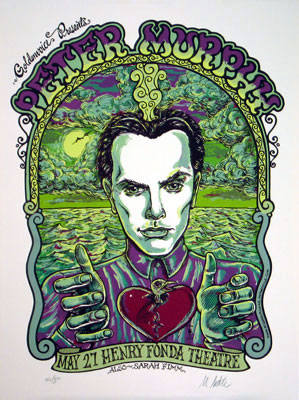 [WE'LL SPARE YOU OUR POLITICAL RAMBLING...]! WE WERE TALKING ABOUT THE EFFECTS OF THE INDUSTRIAL REVOLUTION BUT YOU ALSO MENTION OTHER THINGS ABOUT THE HUMAN CONDITION AND LOVE, MORE PERSONAL FEELINGS. HOW DO YOU INTEGRATE THAT INTO THE WHOLE ASPECT?
I'm happily married. I've been married for 13 years. So that comes out in my art. I came from a pretty unhappy – my parents were not happily married. I kinda didn't wanna do that. I didn't wanna have the life that they had where I had an antagonistic relationship with my mate. I wanted something that was a lot friendlier and loving. And I found my wife – she's one of the most loving people I ever met. Her family's actually being into being nice to one another which was very new to me. So I talk about that in my art. A lot of my artwork revolves around just kind of brutality. I feel like my parents were very brutal to my sister and myself. And my art talks about not repeating those patterns. It talks about looking at the world with love and acceptance instead of in an antagonistic way.
DO YOU EVER DO ANY ART GALLERY SHOWS?
Totally. The only thing I have coming up right now is here in Philadelphia. But once spring [comes], when things warm up in NY, I'll have things up in there. [There's] a store in Brooklyn called the Cotton Candy Machine that's also a gallery and I go there a lot. It's a nice place, good art, good fun. And we're working on a couple things in Chelsea right now, trying to get some shows in Chelsea.
SO YOU HAVE YOUR OWN SHOW IN PHILLY?
The first show that I'm going to have in Philly is going to be in May I think. That'll be a one-person show, it'll just be me. But I've had a lot of shows with my posters and a few group shows with paintings. I've been selling posters for years so I'm a little better at that, more of a poster artist than a painter. But I'm working on that. That's going to change. I want to do painting full time.