The Ascetic Junkies are mates - bandmates, housemates, bedmates, and chefmates. At the core, the band consists of Kali Giaritta (vocals, claps, stomps, other) and Matt Harmon (vocals, guitar, other, other, other). Kali and Matt met through a mutual friend while attending college in Boston and found that they had a mutual interest in music, living in Kenmore Square, and each other. Having both been in failed attempts at rock-band-superstardom in the past, they decided to try making music together; not surprisingly, the first two real AJ's songs were songs they had written about each other.
After taking their name from a group of misfits in a Kerouac novel and testing, nay, jumping into the proverbial water of the Boston scene for a year, our heroes decided to move to the Pacific Northwest and take up residency in Portland, Oregon.
A new town, new band members and they'd just released their full-length debut album "One Shore Over The Cuckoos Nest" when I caught up with Kali and Matt.
SO, THE WORD ON THE STREET IS THAT YOU RECENTLY WENT FROM A DUO TO A FULL BAND. WHO ARE THE NEW BAND MEMBERS AND WHAT INSTRUMENTS DO THEY PLAY?
Kali: We actually started out as a four-piece with just cello, banjo, and guitar and we all lived in a house together in Boston. Matt and I decided to move Portland after several months and we needed to put together a new band since Jesse and So had other plans. We found Graham, our new banjo player, picking on Hawthorne Blvd and scooped him up. Ryan and Kurt (bass and drums) we found on Craigslist. With all three guys we were really lucky and we hit it off right away. We all have different influences and backgrounds which makes playing together really fun. Kurt learned most of his skills from drum line, Ryan and Matt both studied music growing up and in school, and Graham and I make it up as we go along.
WHO ARE YOUR MUSICAL AND NON-MUSICAL INFLUENCES AND INSPIRATIONS?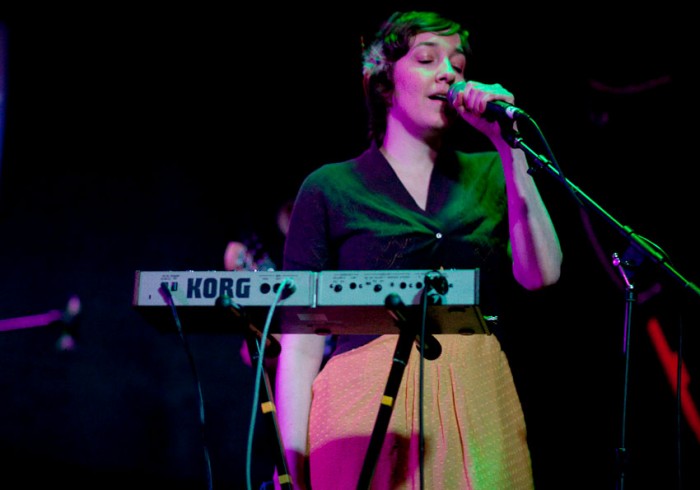 Kali: Its hard to say really which artists influence our sound but a few of our favorites to listen to are Wilco, Regina Spektor, Laura Veirs, Chris Thile, Bob Dylan, Elliott Smith, The Smiths and Of Montreal. As for inspirations, I think you can tell by listening to our songs what kinds of things we were thinking at the time, and we are better at describing that via music than we are on paper.
TELL US ABOUT THE PROCESS OF RECORDING YOUR NEW ALBUM?
Matt: This album is really what a professor of mine in college called a "guerilla production". I produced it, recorded it, mixed it, and mastered it, and since I already had all the stuff we needed (home-made monitors, a few decent mics and a few not-so-decent mics, a basic Pro Tools set up with a Digi 002, a G4 laptop, and an army of cracked plug-ins), it's essentially only going to cost the price of getting the discs pressed. Aside from a couple college project sessions that I swiped a few instrument tracks from, the entire album was recorded in Kali's bedroom in New Jersey. The timeline goes like this: I played most of the instruments and then had some friends and family members come fill in the gaps (drums on 4 of the songs, upright bass on 3 of the tracks, etc.); Kali and I sang and sang until all the singing was done; we moved to Portland and I mixed the album; we realized we didn't really have the money for mastering so I spent a while doing it myself. That last part was trying because my speakers are definitely not mastering-quality, so there was a lot of listening on other speakers, hearing things that needed fixing, and then re-mastering, but we're really happy with the way it's turned out.
The artwork for the album came from a good friend who does graphic design. All in all, we had a blast recording this way instead of the conventional stressed-out studio time way. I feel like I had complete control over the way everything sounded, and I guess we were both just fortunate enough to have a place to do the recording for a month without bothering anyone too much.
HOW DO YOU PLAN TO SELL YOUR CD'S / AUDIO FILES?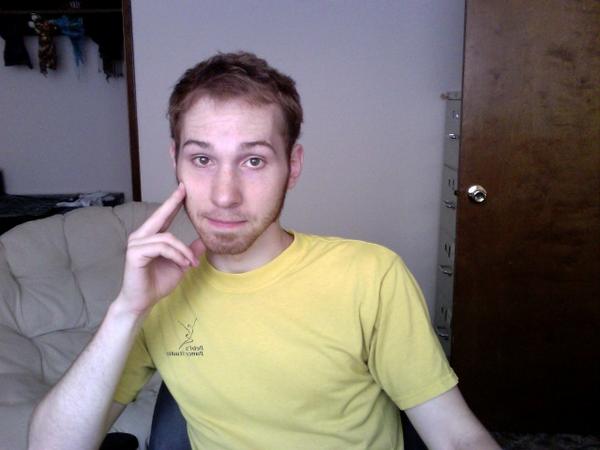 Matt: We're getting a batch of digipaks pressed soon, and we hope we can garner interest from local record stores and get them on some shelves. Until then, we'll sell the album via iTunes, Rhapsody, CD Baby and at our shows. We're also kind of excited about the prospect of being popular enough to have people stealing our music via torrent.
ARE YOU LOOKING FOR A RECORD DEAL?
Matt: We are mostly interested in getting our music heard. If there is a record label that wants to help us with that and has resources that we don't, we are definitely interested as long as we don't have to change our sound or anything like that. As it stands, we can record/press our own albums, set up our own shows and tours, do our own local advertising, etc. Kali worked for WEA in college so she has a good enough grasp on things that we can take care of ourselves for now.
HOW DO YOU PROMOTE YOUR BAND AND SHOWS?
Kali: We think the best way to get people interested in our music is just to put on such a great show that people genuinely want to hear more and also want to tell their friends. Myspace blasting won't get people to your shows if you don't have a good reputation. Most of the people coming to our shows these days heard about us through word-of-mouth or they heard our music online.
WHO WRITES THE SONGS? HOW DOES THE PROCESS WORK? HOW LONG DOES IT TAKE ON AVERAGE?
Kali: There really isn't one process – sometimes one of us will write a full song and then teach it to the other for harmonies, and other times we'll write a song together from the ground up. Usually, though, just one of us is writing the lyrics and the melody, so your can generally tell who did that part of the writing by who's singing the lead part. "Dracula," we wrote on a train in Romania and Matt just started playing guitar and 3 minutes later we had a song (minus a few lyrics). Other songs we work on for a long time. I wrote "The Dirty Song" when I was a freshman in college and only knew 4 chords and it has taken until recently for us to come to create an arrangement we were happy with.
WHAT IS YOUR FAVORITE SONG TO PLAY LIVE?
Matt: For me, probably "Kali, All I Do". It's fast, has a really fun intricate guitar part, and since the lyrics are written directly to Kali it's really fun to sing them "to her" on stage. Way back in the day in late middle school/early highschool I had a good friend who was phenomenal at playing crazy metal riffs and singing at the same time, and I was always really envious of his ability to that. Songs like this make me feel like I figured it out, at least a little bit. Although I'm glad I outgrew the metal thing.
Kali: Probably "Windows Sell the House" because I get to stomp around. Although, I also really love covering "Hit Em Up Style" because it gives me the chance to sing about something I never would have written myself but that is really fun and funny.
WHICH ONE OF YOU COULD POSSIBLY END UP IN JAIL, AND FOR WHAT?
Kali: Probably Graham and it would something really random like trying to Barbeque on the top of City Hall.
Matt: I would say Kurt, because he is the most mischievous, but he's got long legs so he could run away. He also has a good baby-doll face so I don't think any cop could ever go through with hand-cuffing him.
WHAT'S A QUESTION YOU'VE ALWAYS WANTED TO BE ASKED IN AN INTERVIEW THAT NO ONE HAS ASKED YOU YET?
"To where should we send the check?"