Welcome my INDIEcent brothers and sisters to Episode #41 of this musical carnival of dreams, INDIEcent Exposure. I am your host, the mongrel, and, as always, I thank you for tuning in. And you can tune in to hear the best in new Indie tunes and news through Apple Podcasts. Google Podcasts, and now Spotify. Subscribe and never miss your music fix.
Editor's Note: Musicians' bio info comes from the artists, their websites, or their publicists. Click on names below to visit their websites where you can get the full story, photos, and very often video.
In addition to eight great tracks spanning several genre, I had a great interview with a brilliant duo unexpectedly drop into my lap this week. I think my conversation with Brooklyn-based, Charming Disaster, will more than make up for the lack of one last week. Their new album, SPELLS + RITUALS, just came out, and carries on their craft of spinning whimsically dark, slightly unhinged, stories through song. Although their summer tour has been scotched due to the pandemic, you can catch them outdoors at The Foundry, West Stockbridge, Massachusetts August 7th and 8th, if you happen to be in the neighborhood. I happen to know it's a great space, a really great venue, so even it's a bit of a haul for you, what the hell, make a weekend of it. Worse places to be in summer than the Berkshires. Ticket info available in the shownotes.
WELL! I've got so, so many great tunes that I wanted to share with you and zero self-control. Makes for a bit of a bloated episode this week, but I doubt you'll mind. I've been cutting back on carbs, so maybe this is my way of filling that pasta hole, I don't know. But let's get to it right now with a couple artists who showed up on my radar just in the last little while.
Best Not Broken (6:53)
Ever since the launch of my first podcast, featuring Beantown artists, I've always been a sucker for a great Boston band. So there's a familiar comfort to the sounds of the 2016 New England Music Awards winner, Best Not Broken. Their blend of rock and power pop is infectious, and the lyrics are wicked smaht — all evident in the single, "Red Flags," released in late 2019. They've shared stages with such diverse greats as Pat Benetar to Jason Derulo.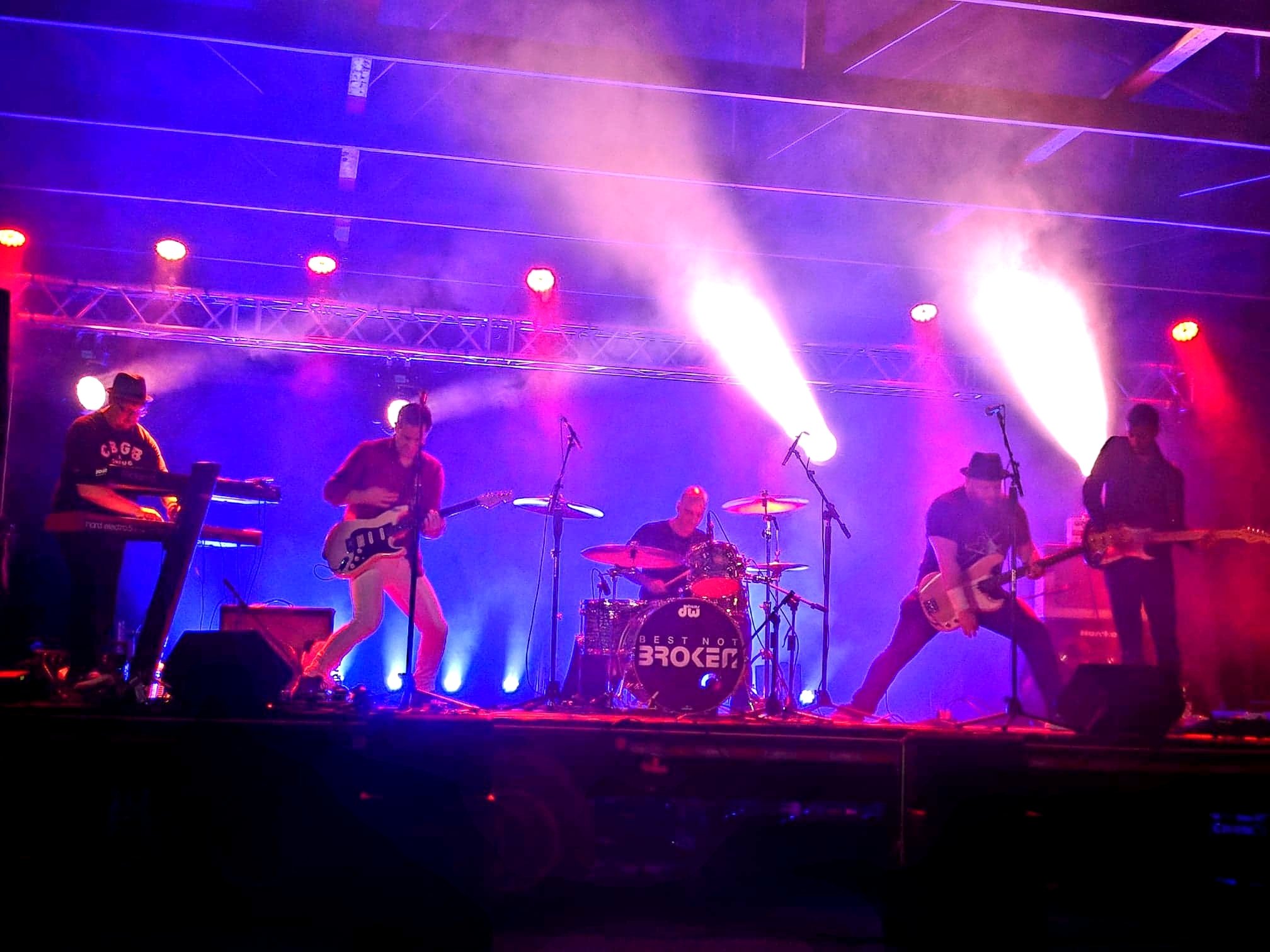 "Boston's Best Not Broken has built a reputation for high energy shows and catchy, power pop/rock original songs. Drawing from Brit Pop, Alternative Rock, New Wave, and their own unique brand of singer-songwriter sensibility, the band crafts soundscapes that appeal to fans of artists ranging from The Killers to Ed Sheeran.
Best Not Broken; submitted photo.

"Their thoughtful and, at times amusing, lyrics match the upbeat nature of the instrumentation, creating a fresh musical odyssey that is infectiously fun. Their live performances showcase the band's contagious energy and often evolve into interactive dance parties where the onstage antics compel fans to rock out and let loose."
They recently took part in the physically distant Tupelo Drive-In concert series presented by the celebrated Tupelo Music Hall in Londonderry, NH. Great American Ribfest Merrimack, NH. If you're feelin' like you need to be where the music demands to live free or die, you can check out live at the Great American Ribfest in Merrimack, NH August 8th. And I can't think of a much better combo to be honest.
Velvet Sunset (3:37)
First though, let's hear from Velvet Sunset, who sent me their second album, Down the Road which includes just a bunch of trippy songs that fit their own description of "atmospheric and engaging." This French Indie rock band was born in 2016 and is composed of Eleonore on vocals and Max on guitar and bass. Let's hear "Hollywood," which puts me in kind of a Lou Reed state of mind, right now on INDIEcent Exposure.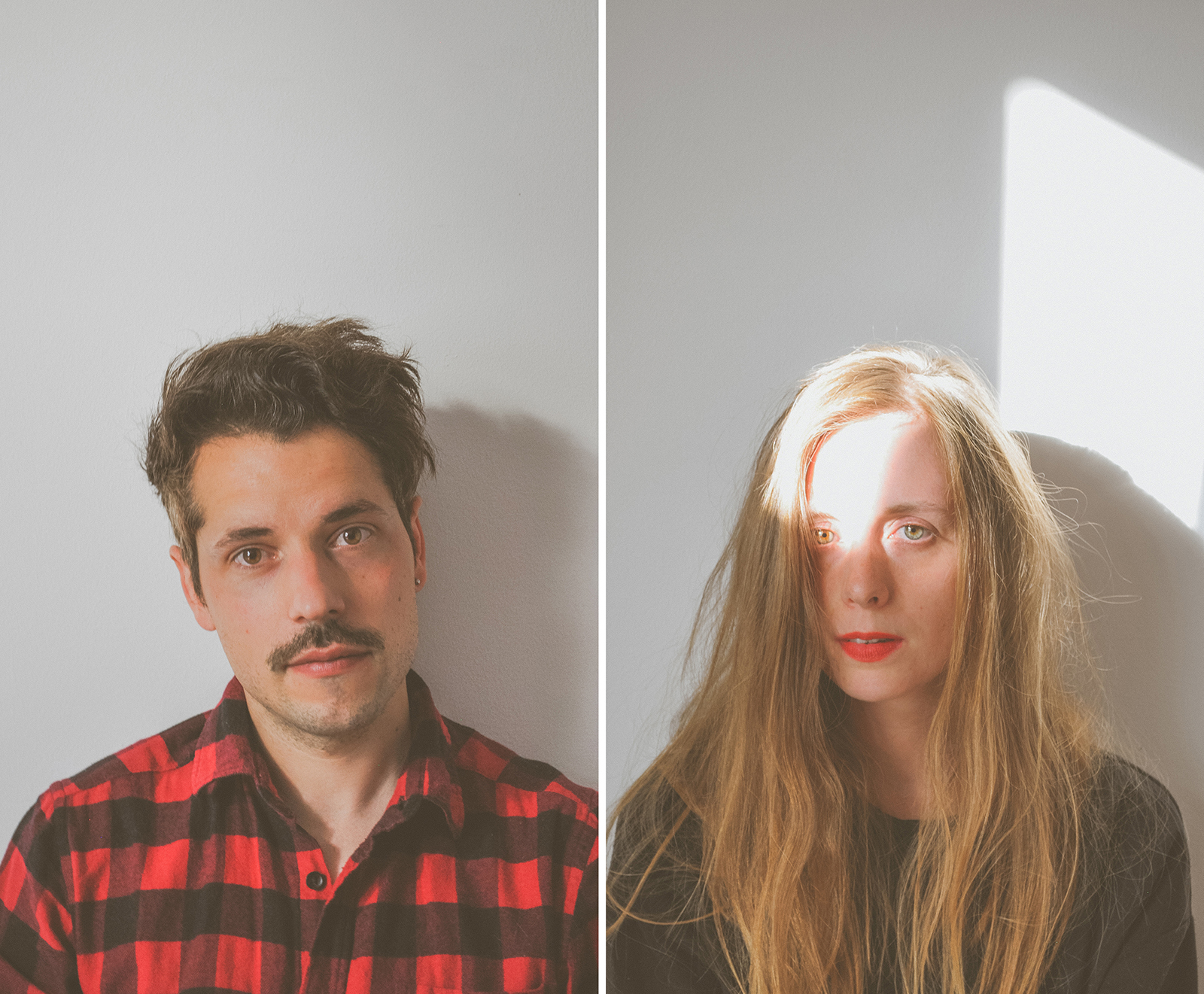 Velvet Sunset is a french indie rock band born in 2016, composed of Eleonore on vocals and Max on guitar and bass.

Our music is atmospheric and engaging. The songs hinge on the vocals of Eleonore, which are front and center in the production.

Our biggest influences have been Nirvana, Led Zeppelin, the Breeders, Hole, The Vines, The Red Hot Chili Peppers … to name a few.

Our first album "Velvet Sunset" came out in 2019 and our second album " Down The Road" is out 17th of June 2020.
TemperMental (12:46)
Next in the line-up is TemperMental—an all-girl rock band composed of artists in their mid to late teens rising through the ranks of the L.A. music scene.
The founding members of the band were brought together by circumstance while spending several months filming the Netflix Comedy TV Series "Wet Hot American Summer, Ten Years Later" in Malibu. During this time, they found that they all had a common bond in music and spent their breaks singing together. A few months after filming wrapped the girls reunited for fun and that's when they decided to form their all-girl rock band.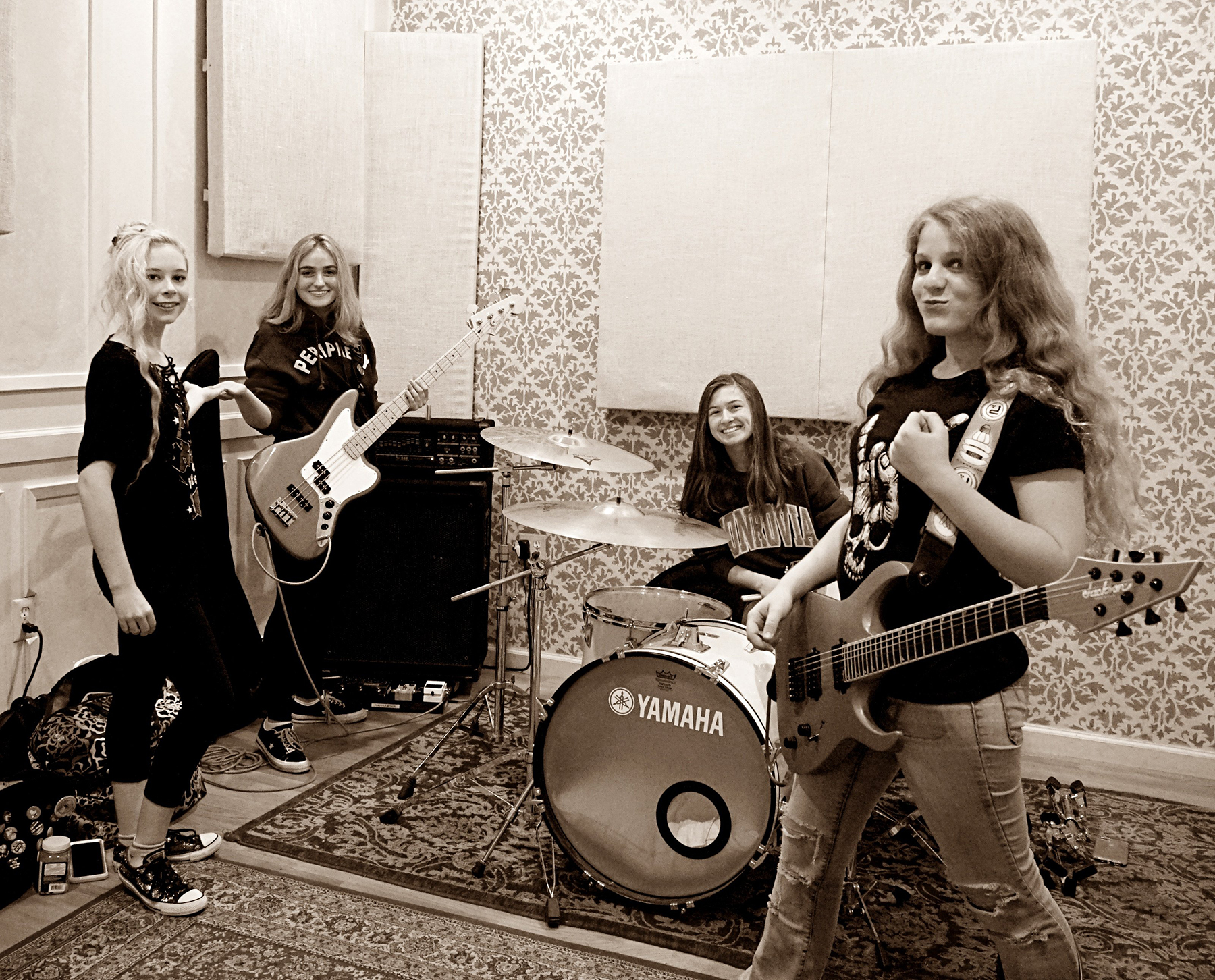 "You can hear their music on regular rotation now on local radio stations or see them playing at world famous venues such as the Whiskey a Go Go or the House of Blues. They also recently performed and had their new music video release party at the legendary The Village Studios in Los Angeles as guests of owner Jeff Greenberg.
TemperMental; submitted photo.
"The band is currently working on their first Album, recently released an official music video directed by Emmy nominated director Matt Fackrell, and released many more music videos directed by the band themselves, and is currently working on new music."
And, as you'll hear, these chicks rock out with a ferocity that's sweetly savage. I can not wait to see where they end up in a few years.
Mark Schwaber (16:36)
After that, we're going to hear from an artist whose trajectory I've been tracking since around 2005. As you'll hear in the single, "Murder/Suicide," off his upcoming album, "Everything Around Me," Mark Schwaber is a musician's musician, for whom artistry is key and control of his well-developed gifts seems to come effortlessly.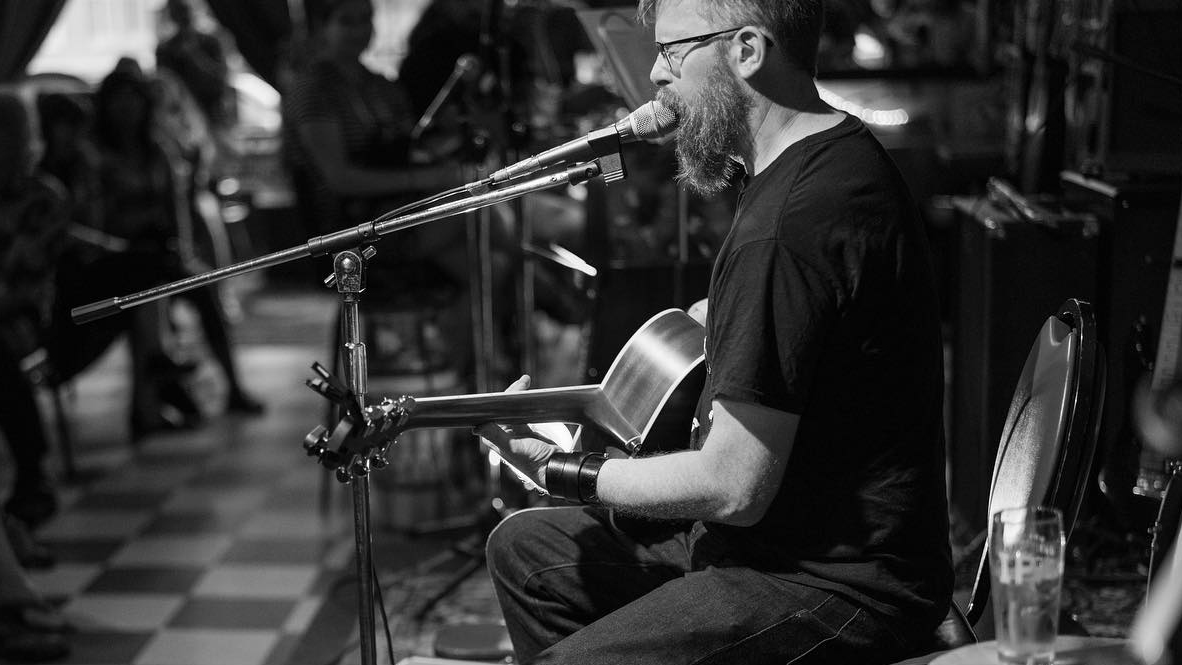 "I've been writing songs for this record since early 2016. I was once again recording with my dearest friend, Mr. Joel Stroetzel. We had a plethora of 75%-ers that were coming to fruition when I decided to make an attempt at building a home studio.
Mark Schwaber; photo by Paul Reitano.

"The original intent was to blend the songs that I had recorded at home with the songs Joel and I were doing in his studio. It became apparent, rather quickly, that there was a message being sent through the songs at home that was demanding sole attention."
He's primarily been a solo artist, releasing six albums to critical praise while touring in 19 countries, but he's also been a collaborator, most recently half of the duo making up Revenant Sea, with Sheri Hupfer who, herself, performs as "of Artemis." He's been a tireless advocate for addiction survival and recovery for years, and we've had a fluid and shifting interview on the calendar that I believe is going to take place in the very near future. Live in our Discord server. So you're going to want to stay tuned for that. How? Maybe sign up for the newsletter via the link in the shownotes. I only tell you what you need to know when you need to know it, so don't be skeered. Right now, let's enjoy "Strawberry Shortdeath," from those wild girls from the City of Angels, TemperMental!
Featured in the Episode
Velvet Sunset • "Hollywood" • Down The Road
Best Not Broken • "Red Flags" • single
TemperMental • "Strawberry Shortdeath" • single
Mark Schwaber • "Murder/Suicide" • Everything Around Me
Charming Disaster • "Blacksnake" • SPELLS + RITUALS
Charming Disaster • "Belladonna Melodrama" • SPELLS + RITUALS
Giulia Millanta • "Sugar Home" • Tomorrow Is a Bird
Kat Daniel • "A Rushing River Speaks" • Nomadic Feline Collective
Again, that was Mark Schwaber, with "Murder/Suicide," and before that, "Strawberry Shortdeath," by TemperMental. I just heard from Mark this morning as I was putting this show together, and we're trying to get that conversation set up in the next couple weeks, so stay tuned.
Charming Disaster (22:03)
Now, we get to the real meat and potatoes of the show. I just learned that Charming Disaster is coming to my neck of the woods August 7th and 8th to put on a show, and with so few responsibly staged, physically distanced, properly PPE'ed events available, well… I got pretty excited, and got in touch with them straight away. I was not surprised that Ellia Bisker and Jeff Morris were every bit as disastrously charming to speak with as I'd hoped, as you'll hear.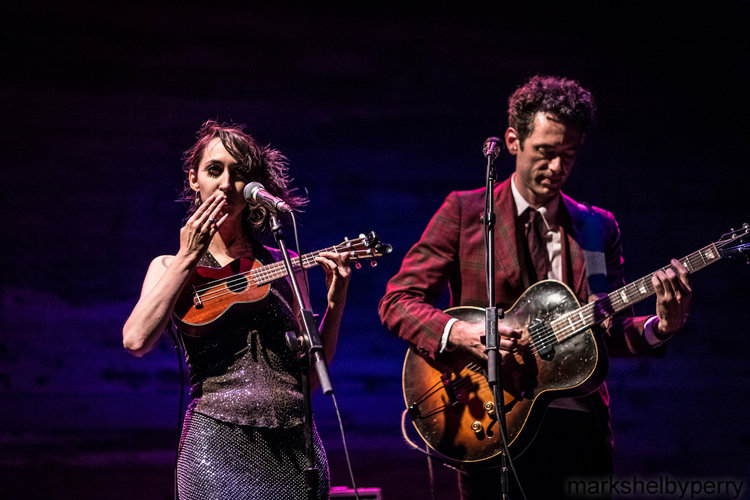 "Charming Disaster's whimsically dark storytelling songs have charmed audiences across the country since 2012. In their critically acclaimed albums Love, Crime & Other Trouble (2015), Cautionary Tales (2017), and SPELLS + RITUALS (2019), they explore various kinds of trouble two people can get into with vocal harmonies, clever lyrics, ukulele, guitar, and virtuosic foot percussion.
Ellia Bisker and Jeff Morris are a Charming Disaster; photo by Mark Shelby Perry.

Their songs take on themes like love, death, crime, ancient mythology, and the occult, playing out against a backdrop of nightclubs, car chases, circus tents, the afterlife, and beyond. A musical duo based in Brooklyn, NY, formed by singer/songwriters Ellia Bisker and Jeff Morris, Charming Disaster's inspirations include the gothic humor of Edward Gorey and Tim Burton, the noir fiction of Raymond Chandler, the murder ballads of the Americana tradition, and the dramatic flair of the cabaret.
Ellia Bisker and Jeff Morris are a Charming Disaster; photo-by-Mark Shelby Perry.
They achieved cult status when their paranormal love song "Ghost Story" was featured on the creepy hit podcast Welcome to Night Vale. Since then their theatrical, entertaining live performances have engaged audiences across the United States..
After our conversation I considered making it available only to patrons. But I'm feeling generous, so what the hell? I'm unlocking it for everybody. If you happen to be feeling generous, why not become a patron at our page at patreon.com/INDIEcent — link in the shownotes. Yeah, you'll get a little bonus INDIEcent love, but more importantly, your support will keep this show going.
While you're getting out your credit card, why not let's listen to the single the artists themselves suggested that I share from their new album, SPELLS + RITUALS right here on INDIEcent Exposure?
And THAT brothers and sisters, is one of the best arguments I can think of for why I do this show. Tremendous artistry, better than SO much out there in commercial-ville, but where did you hear it first? That's right. In the perfect little podcast package that the mongrel wraps up in a bow and presents to you each week. And that sentence is why spending $10 on a pop filter is a worthy investment.
All kidding aside, I chose "Belladonna Melodrama" as the second track I thought I'd share with you, and as I listen to the album again, my favoritism keeps shifting around, but keeps coming back to this one pretty often. Hey, the release is available for purchase now, so you can download your copy and figure out your favorite. And if you're going to be in the Berkshires August 7th or 8th, you'd do well to see if there are still tickets left to their show at the Foundry, West Stockbridge.
Giulia Millanta (1:09:23)
You know, one of my favorite things about doing this show is that I get to hear truckloads of great tunes. Often times, I get to hear them wayyy before anyone else. While everyone else has been in a titter over Taylor Swift new album, Folklore, which is predictably well done, or justifiably gushing over Billie Eilish's Studio Ghibli –inspired video for her transformative new track "my future," I've been listening to the new release, "Tomorrow Is a Bird," by Giulia Millanta.
This native-born Italian singer-songwriter from Florence who's called Austin, Texas home since 2010 has earned the admiration of fans, critics, and other musicians over the course of seven albums. Raw bluesy sounds conveying, at times, emotions that are even more raw have cued up comparisons to Tom Waits. This album, a good candidate for one of our exceedingly rare full reviews, fairly bursts with satisfyingly surprising turns of phrase and other poetic flourishes.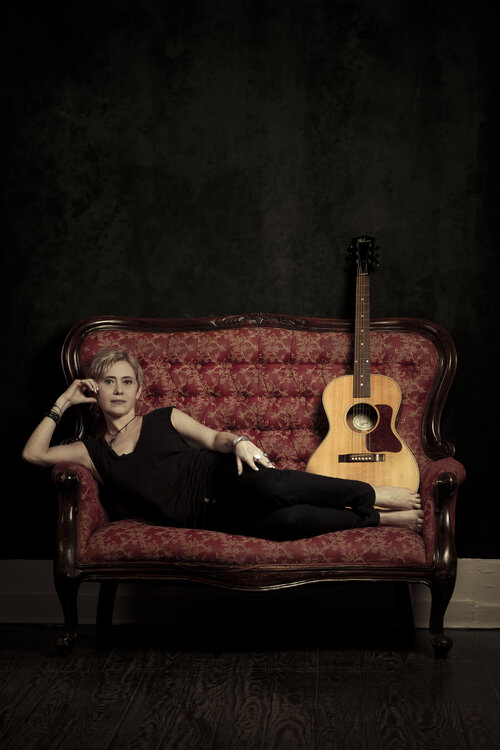 "A creative and prolific artist, she has released six solo albums, touring nationally throughout the USA and internationally. She has been called smart, pensive and cool, a female Tom Waits and a deeply evocative singer with a dash of Piaf, a sprinkle of Lady Day, a pinch of Norah Jones and a teaspoon of Madeleine Peyroux.

"Giulia began her life in music as a child of eight years when taught to play guitar by her father she began to perform traditional folk songs. She continued to sing and began writing songs and making records. Performing at the Acoustic Guitar Meeting in Sarzana, Italy in the spring of 2010 her accomplished guitar style and songs earned her the "New Sounds Of Acoustic Music" award. This led to an endorsement by the renowned guitar makers Eko, choice of the most famous 60's-80's era singer-songwriters throughout Italy."
American Songwriter debuted Giulia Millanta's video for "Sugar Home" off "Tomorrow Is a Bird," about a week ago, and that, dear listeners, is the track I have been cleared to play for you today. The rest I'm afraid, are agonizingly under lock and key until October 16th. I know, right?! I hope and suspect that another single or two might be allowed to break free before then, but for now, here is "Sugar Home," from Giulia Millanta.
"In a dream you can do what you want" which means that we all are free to reinvent ourselves and always start fresh, you can "follow the sound of your own feet" and "fly so high, above doubts, mistakes and failed attempts to die".
Giulia's 7th solo album is about re-evaluating life, about endings and beginnings, failures and opportunities, about changing direction, trusting that the wind will support your wings and get you where you need to go.
"Today is a Feather, Tomorrow is a Bird"
Kat Daniel (1:15:57)
Finally, we get to a brand new segment on INDIEcent Exposure, one that I'm calling the Discord Delivery Service. As you may have heard, I've opened up our very own Discord server as a place to build a kind of decentralized community for the show. If you haven't been hipped to Discord yet, it's a massively multi-user chat app, kind of like Slack, but much, much cooler — at least for gathering people of similar interests. We're going to be doing live interviews there, fueled by audience participation, debuting new tracks, keeping office hours, and more. JUST as important, since more and more great Indie musicians are finding their way in Discord, we're going to be searching for talented artists, at various stages of their careers, and we're going to be showcasing their tunes outside of the server and into this very podcast. And that's a feedback loop I think we can all get into.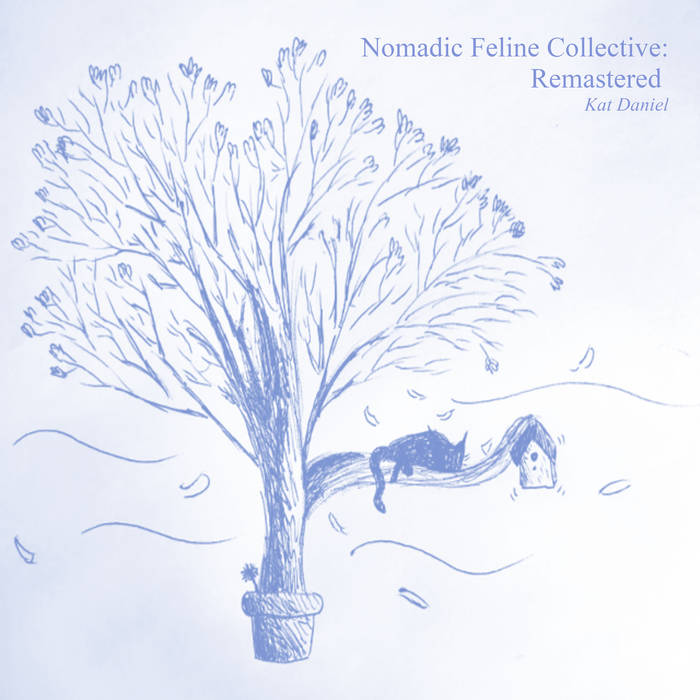 "Music is cool, yo.

"I go by Daniel or Kat, both works. Proud owner of a cute dog.
Hello! I'm a kid from Sweden who enjoys making music. My songs are mostly inspired by Elliott Smith, Syd Matters, Radiohead, and Sufjan Stevens. I make acoustic ambient/folk/rock music (I think?), but honestly it might be best to just check my stuff out and decide from there. I really hope you'll enjoy the music I make!"
For our very first installment of the Discord Delivery Service, I submit to you, "A Rushing River Speaks," by Kat Daniel, who hails from Sweden. His debut album, "Nomadic Feline Collective," just released on Spotify in July, and I'm hearing really great things in it." Kat was also the first to befriend me when I landed in the strange new world of Discord, and gave me the low down about how to get around in this social/messaging hybrid, and explained how to do stuff, like…oh, I don't know, run the server I was trying to launch. So big gratitude to Kat Daniel, whose tune, "A Rushing River Speaks," kicks off what I know is going to be a fave feature of the show.
Again, that was "A Rushing River Speaks," off "Nomadic Feline Collective," by Kat Daniel. And that's our show this week. If you're listening via Apple Podcasts, Google Podcasts, Spotify, or via some other service or podcatcher, like Downcast, please do check out the shownotes for links to the artists and more information about this show. Until next time, remember, live to rock another day.