Breaking Circle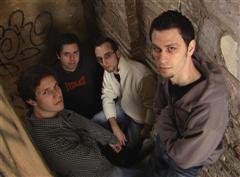 Breaking Circle was born in the year 2001 as Fussion. Due to comercial issues it changed its name on 2009. The line up has stayed unaltered since the begining of the band though its music has developed from a classic punk to a pop punk/melodic hardcore sound.
In 2005 they recorded a demo to show this new style, but the recording of a LP was delayed because of the members own personal problems.
But solved that, Breaking Circle plans to record its first LP next year and start showing to the world its music.
Members
Gustavo Imbert - Lead vocals & guitar, Francisco Dottori - Bass & vocals, Luciano Ruben - Guitar & chorus, Lucas Ruben - Drums
Location
Santa Fe, Argentina
Touring
Not Yet
Years Active
2001
Influences
No Use for a Name | New Found Glory | Millencolin | Lagwagon | Less than Jake | Simple Plan
Email
Visit Website