Fist of Fury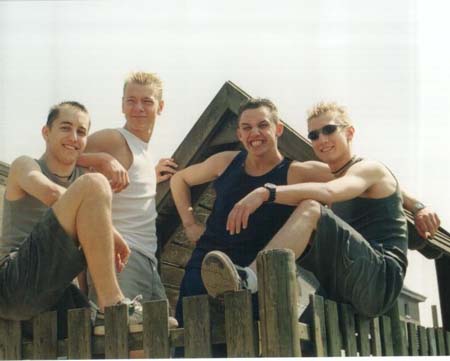 Fist Of Fury is a punkrockband from Zulte (Oost-Vlaanderen/Belgium). The band released a demotape ('Say Hi To Mr. Magoo' – 1999) and a DIY mini-cd ('The Drinks Are On Me' – 2000), since the beginning 4 years ago. One song of the demotape appeared on the 'Best Of Belgium II'-compilation, released by Green Leaf Records and Open Door Records. On July 19th 2001, the next Fist Of Fury-recordings were released by Full Contact Records. This time, 4 songs of the band appeared on a split-cd, together with new recordings from THL (B), The Divisive (Finland) and Go Ape (The Netherlands). This cd came out to promote a mini-tour with these bands across Belgium and Holland that summer. Fist Of Fury recorded 4 brand new songs for that release.
November 23td, 24th and 30th 2002: Fist Of Fury hits 'Dé Studio' in Asse (Belgium) to record 7 new songs and a 7Seconds-cover. While the former songs sounded pritty melodic and poppy, the new songs sound more 'straight-on' and more 'oldschool hardcore/punkrock' than before, but they still contain a lot of melody and above all: tons of energy.
Worth mentioning is that Bruno, frontman of a punk 'n rollband from Deinze called The Riot Squad, lend his voice on 'No Holds Barred', which isn't that surprising, knowing that Bruno played the bass in Fist Of Fury for about 3 years, before starting to sing in The Riot Squad.
Fist Of Fury did lots of gigs in the past together with bands as: THL, O.U.T.S.I.D.E., Merauder, Do Or Die, Janez Detd, Convict, Sad Origin, Lost In Da System, SFP, Les Schtroumpfs Alcooliques, 5 Days Off, Skin Of Tears, I Against I, Void Section, Facing Down, Flatcat, The Divisive, Spindrift, A200Club, The Riot Squad and many more.
Members
Koen: vocals Fred: bass Kristof: guitar Roel: drums
Location
Zulte, Belgium
Touring
National
Years Active
1999
Influences
Good Riddance, 7 Seconds, Pennywise, Sick Of It All, Goldfinger, ...
Email
Visit Website