Riot Squad, The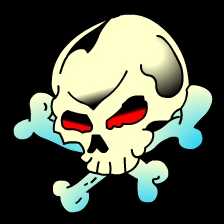 We started out as a threepiece, just me, my sister and Bruno, we started The Riot Squad as a project. and we recorded or first demo 'in my blood', which sounded horrible… but contained a couple of superb songs. and 6 bonus cover songs from our favourite bands, like 7 seconds, cro-mags, social distortion, poison idea…
Because of that demo, we were asked to record the poison idea classic 'Taken by surprise' for the 'Respect your Roots' compilation, done by the famous label 'I-scream records'.
Bavo and Kristof joined the band and we recorded a second demo 'Rebel call'. again we gained popularity. We decided it was time to write the best songs we could and recorded 6 songs at 'de studio' in Asse, Brussels. These songs sound amazing! Street anthem records from the USA was interested to release them, and we said yes!!
So watch out for that by the end of march, 2003!
We're also gonna join the 'Social Distortion' tribute on Street anthem. We re-recorded the classic: 'Mommy's little monster'.
After that we're gonna do a full-length, should be out by the end of the year, so watch out for us, cuz we're gonna rock your fuckin world!!
Members
bruno: Vocals Kim: Lead guitar David: Guitar Kristof: Bass Bavo: drums
Location
Deinze, Belgium
Touring
National
Years Active
2001
Influences
We gather influences from all sorts of music... I guess if you want to hear bands I'd say Social Distortion, misfits, the ramones, johnny cash, Rose tattoo, the clash, stiff little fingers, ...
Email
Visit Website