Non Tolerance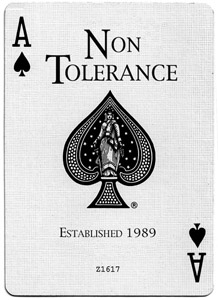 Started in 1989 by four friends in the L.A. punk scene, who eventually playing they're first show in a Baldwin Park backyard with the now famous Offspring, going on to develop a stage show and catchy tunes that eventually drew everyone and they're mother to every show they played, usually for no more than beer. Starting in backyard parties, and eventually filling up clubs. By it's second year Non Tolerance picked up a second guitarist with the original eventually leaving. This lasted 2 more years with N.T. recording demo tapes and giving them away at shows. Playing rockin shows for little to no dough and all for fun, all for one. Eventually, the band burned out as the members were growing up and growing apart, ending with the last show at The Cooler Lounge in Vegas the summer of 92' if memory serves. I think that was like they're 2nd punk show ever and they held off having another one for quite some time after that.
Over the past decade the band would get together and play an occasional show. Everyone has been busy in other bands and have decided to do this once and for all, for real. There will be either a slew of e.p.'s being released and or at least a full length finally after all these years and new material being written along the way.
N.T. will also begin hitting the scene doing shows all over So.Cal and hopefully beyond as the year continues. The first show will be on March 19th at the Tiki Bar in Costa Mesa opening for Anti-Nowhere League through they're good friends at Urgent Music Limited. Check back and check out the actual web site. Come on out to the shows and say hi or just have a beer and a laugh with the band. OUR SITE IS NOW UP AND ALL BAND INFO SLOWLY BEING PUT IN PLACE. VISIT OUR MESSAGE BORED AND SAY WHAT UP OR LEAVE HATE MAIL. WE'LL LEAVE THAT TO YOU AND YOUR STATE OF MIND
Upcoming show in Late June. Check back for info.
-Mondo
Members
Mondo Del Rio- Vocals, Mike Providente- Bass/vocals, Manny Cordova- Guitar,/Vocals, Chuck West- Drums
Location
San Gabriel Valley, California, USA
Touring
Regional
Years Active
1989
Influences
Punk, thrash & hip hop metal.
Email
Visit Website