Recently, while the band were on tour on the West Coast (they'll be on the East Coast September/October), I got to "speak" with Subhumans' frontman Dick Lucas. Preferring to do e-mail interviews, I happily sent over a bunch of questions, only to be told his computer "ate" his responses not once, but twice! "What a sick joke," I thought. This guy doesn't have time to spend answering my questions only to have them eaten by his cruel computer. But, to my surprise, the man actually answered them a third (!) time, this last try, opting to handwrite all the answers and send them over to me by way of the now obsolete U.S. Postal Service. Dick found this to be a nice change, though, proposing with his ever-present humor at the ready, for me to write an article on the joys of "pens, handwriting…envelopes, and so on, 'cause," (this is so Subhumans, it's great…) "the way things are going…we'll become a race of two-fingered croaking shortsighted pale mucoids," meaning as a result of constantly using computers and e-mailing instead of writing and phoning, "the digital revolution puts evolution into reverse." Simply brilliant stuff.
Subhumans, formed way back in 1980 in Cornwall, England, are all about the above last comment from Dick. Smart, forward-thinking, innovative, and never lacking humor and cheeky lyrics to keep things interesting, these guys have been a major force in opening people's eyes to the numerous problems in modern society and for that, invaluable. But when describing or discussing Subhumans, one must NOT forget to include the fun, silly, and quirky elements that are innate to the band as well. As Dick says, "Some people think we're ultra-radical political Chomskys-in-waiting, but the politics thing mainly occurs via my lyrics, and only some of the lyrics." Like he says, they didn't only take the political nature of punk, but also the less serious elements like "having fun, making a mess, being silly, [and] shouting a lot."
The guys broke up in '86 and during that span, started up other projects like Culture Shock and the more well-known Citizen Fish, which features Dick, drummer Trotsky, and bassist Phil, along with Culture Shock guitarist Jasper. About re-forming Subhumans in '98, Dick reveals it was Phil and Trotsky's idea, and that he and guitarist Bruce "were a bit wobbly at first." Still, they practiced and "it was as if whole chunks of brain had been woken up," the vocalist declares, adding, "It felt fucking great to be playing the songs again," and it didn't hurt that they sounded pretty damn good as well.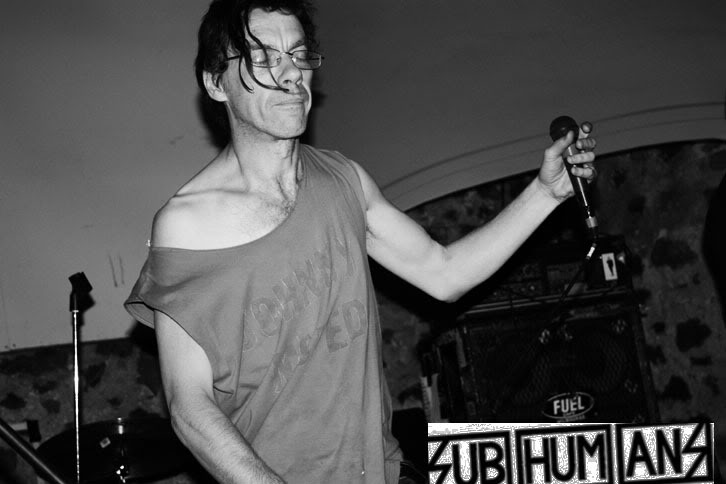 And now in 2004, Fat Wreck Chords' 'Live in a Dive' series recently added the likes of Subhumans to their ever-growing roster. Taped at one of the shows from their 2003 U.S. tour, the recording captures everything that is great about the band: it's raw, fast-paced, energetic, and passionate. And for anyone who's had the pleasure of experiencing Subhumans live can attest, this record captures the band's spirit wonderfully. Turns out Fat Mike was extremely interested in putting out a Subhumans record, but Dick had to tell him they didn't have enough material just yet to record. Inevitably, Fat Mike brought up the idea of releasing a live record, and since they had been touring "like maniacs," the prospect of doing a live release sounded great to the band, as, according to Dick, "It would be a timely thing [to] get the oldies down as they sound 20 years later, i.e. a bit faster and with better amps. And a mental crowd!"
Well, the finished product is something to behold: many of their greatest compositions are included on this 26-track disc that's over an hour long, spanning from their earliest work like the brilliant "Animal" and "Religious Wars" to the infectious opener from their 1983 debut LP 'The Day the Country Died' - "All Gone Dead", to their newest song entitled "This Year's War", in response, of course, to the War with Iraq. Full of urgency and the requisite intelligent lyrics, it sounds like it could've been written back in the early '80s and proves the guys still have it.
About this last offering and others like it (many, many bands have written songs and even entire albums in reaction to the horrific state of the world since 9/11 and the War on Terror), I had to know just what impact Dick felt these songs/albums have on society. His optimistic answer made much sense: "Any form of protest has the impact of strengthening people's beliefs or eroding ignorance, and although one song doesn't change foreign policy, the eventual accumulation of anti-war opinion will (and must!) lead to that minimal magic number of 51 percent in November's election in order to rid the world of Bush." We can only hope his sage words ring true…
And though I mention how not much has changed in 20-some-odd years and question if real change is possible, Dick responds, "It has to be! Where's the motivation otherwise?" He elaborates, "Things change slowly, so [it] may go unnoticed, but compared to 20 years ago, the amount of resistance to what's supposed to be acceptable, the amount of alternative media and information, and the diminished amount of ignorance of, and reliance on, the state, is enormous." All good points, especially when considering that the "government, corporations, and the super-rich increase their economic and social hold on the planet." Hey, like their song says, "They'll do it once, they'll do it again, the world is run by businessmen."
Personally, the frontman says his ideas on politics and society began forming once he found out about punk. He relates that he was at boarding school - "a place run by hierarchy and rules, and physical ability (to beat people up) counted for more than creativity or brainpower. It sucked," he continues, "But I didn't know that, as I had nothing to compare it to." And when he heard songs like "Bored Teenagers" by the great Adverts, his beliefs changed. "Suddenly feeling unable to fit in turned on its head to a REFUSAL to fit in, which made sense of everything!" Explaining the terrific effect of punk and how it evolved to encompass the political realm, he says, "This enormous expansion of youth mindsets that generated so many bands and ideas led to politics in punk being a natural progression of the initial anger and defiance towards the status quo: from destruction to deconstruction."
And he actually makes quite an astute tie-in to the times and how the music changes or adapts in relation to the current government or societal circumstances: "Thatcher's U.K. style of overt oppression led to anarcho-punk [i.e. Subhumans, Exploited, Crass, Conflict, et al., while] Blair's covert "smiles-all-round" so-called "New Labour" saw the rise of pop-punk." Naturally he says it could all be "coincidence," but this surmise sounds logical enough.