Death by Stereo have announced 6 May support dates with Good Riddance in support of their new release 'Thoughts and Prayers'. Death by Stereo (DBS) is currently in the studio putting the final touches on new music for an upcoming TBA album. DBS also announced a March/April Canadian tour with Strung Out and will appearing at the widely hyped Psycho Las Vegas festival this August. The band released their latest EP 'Just Like You'd Leave Us' in 2016 and will be playing new songs on these upcoming tours.


20 years have gone by in a flash since first dropping into the hardcore scene and changing everything that many had assumed a band could sound like. Death By Stereo blends elements of hardcore, metal and punk in ways that many contemporaries have emulated, but have never perfected quite like DBS. Their incredible DIY work ethic and relentless touring has earned them diehard fans around the globe and incredible friendships in hardcore and diverse scenes of all types. Learn more about the band and see the latest tour dates at www.facebook.com/deathbystereo

Good Riddance w/ Death By Stereo Dates:

05.08 - Kingsland - Brooklyn, NY
05.09 - House of Independents - Asbury Park, NJ
05.10 - Thunderbird Music Hall - Pittsburgh, PA
05.11 - Northside Yacht Club - Cincinnati, OH
05.12 - Beat Kitchen - Chicago, IL
05.13 - Smalls - Hamtramck, MI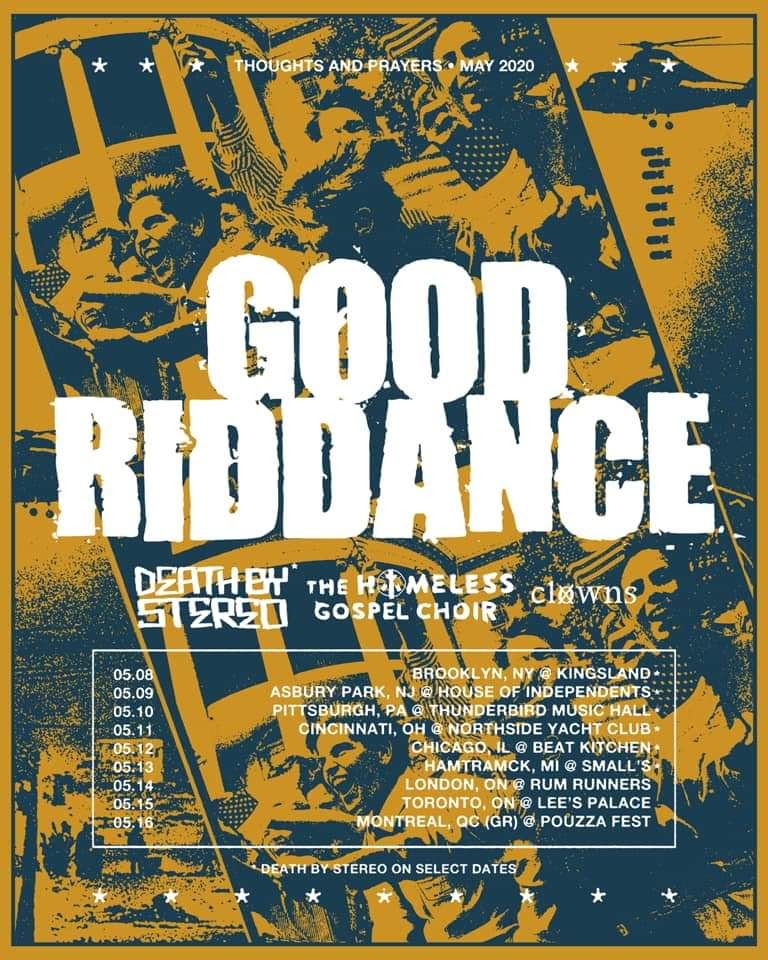 About Death By Stereo:

Since their inception in 1998, DEATH BY STEREO has been balancing consciousness and chaos with their unique genre-bending amalgam of hardcore, metal and punk. Previously, the band released their last five studio records via Epitaph, Indecision and Serjical Strike Records.

DBS, as they are known by many of their loyal followers, have assembled a worldwide fan base built upon a seemingly endless international tour schedule, with enough passport stamps to make many of their contemporaries jealous. They have shared the stage many times over with the likes of Slipknot, AFI, Serj Tankian, Avenged Sevenfold, and Rise Against, just to name a few. They have headlined some of the biggest and best festivals around the world (Germany's "With Full Force", Belgium's "Grozerock", U.S.'s "Warped Tour" and Colombia's "Rock Al Parque"). Having toured in over 20 countries is an accomplishment few bands of any stature can lay claim to.
Visti Death By Stereo on Facebook https://www.facebook.com/deathbystereo/