Eye of Solitude and Marche Funèbre join forces for the "March of Solitude" tour, trekking through Western North America this March.
The pairing of the European doom outfits, Eye of Solitude is from the UK while Marche Funèbre hails from Belgium, brings two of the continent's most exciting underground doom artists together. Eye of Solitude's most recent full-length album is Cenotaph, which Metal Injection described as "a very beautiful and emotionally charged album," with No Clean Singing saying it "is an album that you don't just listen to. Instead, you live it." Marche Funèbre's latest release, Into The Arms of Darkness, was deemed "an introspective album" by Metal Temple, who went on to dub it "melodic," "lurching" and phenomenal."
"March of Solitude" tour dates:
March 8 Seattle, WA Highline
March 9 Vancouver, BC Astoria
March 10 Portland, OR Tonic Lounge
March 11 Eugene, OR Old Nick's
March 12 Sacramento, CA Blue Lamp
March 13 Oakland, CA Metro Operahouse
March 14 Santa Cruz, CA Blue Lagoon
March 15 Ventura, CA The Garage
March 16 San Diego, CA Brick by Brick
March 17 Los Angeles, CA Five Star Bar
March 18 Phoenix, AZ Yucca Tavern
March 20 Salt Lake City, UT Club X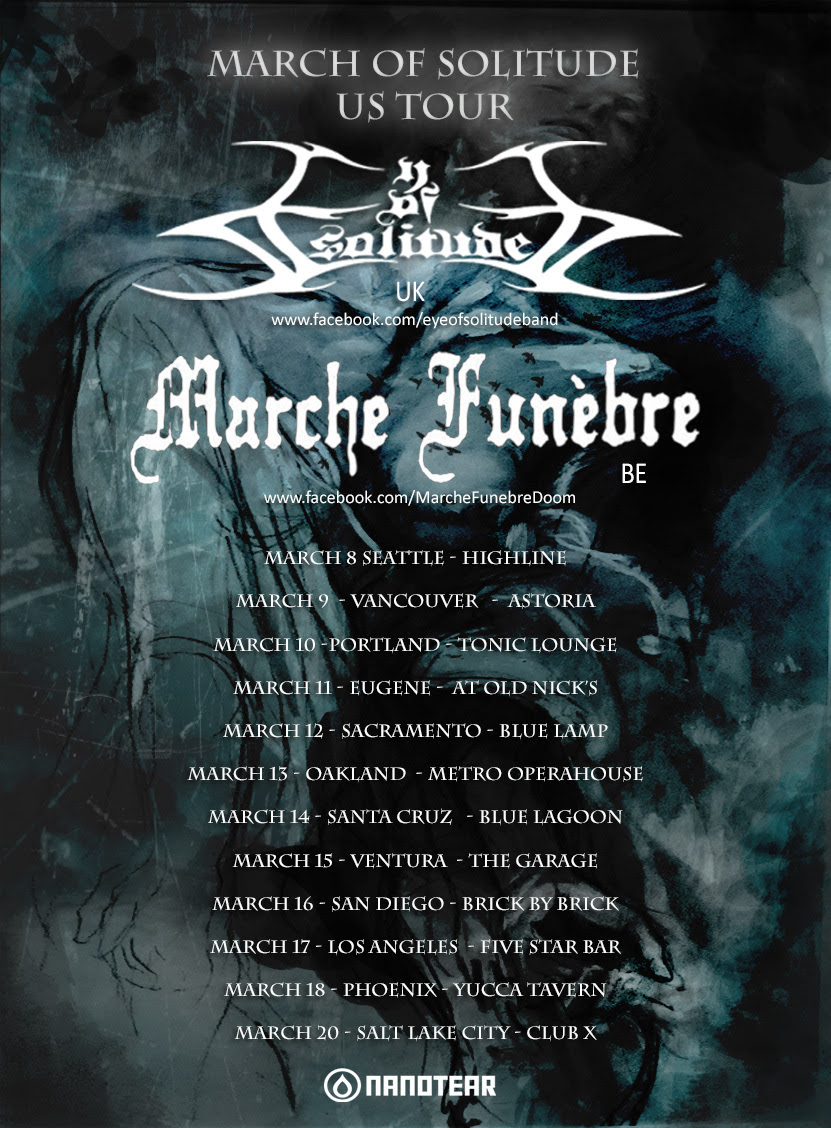 Tickets for all shows are on-sale now.
http://www.facebook.com/marchefunebredoom
[url=http://marchefunebre.bandcamp.com]http://marchefunebre.bandcamp.com[/url]

[url=http://www.facebook.com/eyeofsolitudeband]http://www.facebook.com/eyeofsolitudeband[/url]
[url=http://eyeofsolitude.bandcamp.com]http://eyeofsolitude.bandcamp.com[/url]