Flash Music Reviews for September 2016 - 2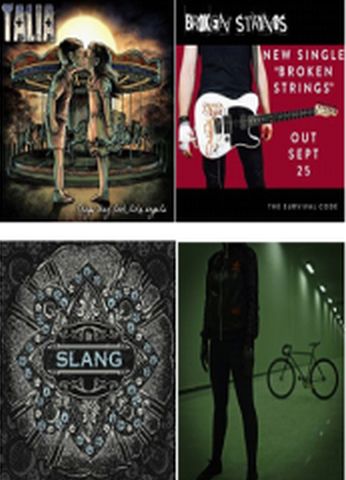 Short, but informative reviews of tunes by alternative rock band The Survival Code, rock/power pop duo The Slang, French rock band Talia, and electronic duo deddori.
The Survival Code – "Broken Strings"
London-based alternative rock band The Survival Code has been performing throughout the UK and Ireland over the past 4 years, amassing a fervent fanbase and putting on an intense live act. The band captures its energy and enthusiasm on its upcoming second EP, Broken Strings, due on November 14th. Ahead of the EP comes the stirring single "Broken Strings" which vibrates with urgent vocals and dashing, Queens Of The Stone Age-like guitar distortion from Gary McGuinness, a dynamic drum beat and cymbals crash from Tom Cook, and, for the EP, jags of bass from Chema Zurita. McGuiness, also the songwriter of the band, plunges into the direct lyrics, punching through lines like, "Fight the best of fights." with fierce determination.

The Slang – "Night and Day"
Columbus, Ohio-located alternative rock/power pop duo The Slang released its debut self-titled EP in 2014 and have followed it up this past June with its second record, the Night and Day EP. John Bobo (vocalist, multi-instrumentalist, songwriter) and John Newsome (bassist) recorded the EP at Ocean Way Studios in Nashville, Tennessee with assists from a host of backing musicians and a production credit by Russ Long (Wilco, Sixpence None the Richer). The EP's title reflects the changes that have occurred during the act's run, from paring down from a trio to a duo and from moving the recording location from New York City to Nashville. The Americana-tinged, alt-rock title track also mirrors these shifts, with Bobo singing in a laid-back, but still emotive tone about leaving a relationship. He confesses softly that "There's more than one way to deceive." and "It's always on my mind / night and day." as the driving guitar line, supporting vocal uplift, lively peppering drum beat, and occasional cymbal smash lightly dance around his ruminations.
Talia – "American Bride"
Paris, France/LA, US rock band Talia has been on a successful run since 2008, when it released debut album Cockroach Killer. Nicolas Costa (guitar, lead vocals), Alice Thomas (bass, backing vocals), and Hervé Goardou (drums) dropped their second album, Permanent Midlife Crisis, in 2013, and now they've returned with their third full-length, Thugs They Look Like Angels. Taking their cues from grunge and alternative rock of the 1990s, Talia has unveiled the video for the single "American Bride". The straightforward, grimy rocker pushes with grittily distorted guitar strokes, rubbery bass line, and kicky drum hits. The video plays upon the deception of a bride who is actually in a relationship with someone else and the harsh repercussions she pays. Costa's lyrics, like, "Now the dust is fallin' / Things that come out at night / Another one just lied.", which he exclaims with a light sneer and softly rough intonation, fall into place in the context of the video.
deddori – "The Message"
Doha, Qatar-based, cinematic electronic duo deddori is steeped in mystery, from the unrevealed identity of its members to its darkly enigmatic sound. deddori is meant to be a multimedia project that not only takes musical compositions into account, but videos as well. The music and video concept is intertwined for this twosome and an hour-long film with intriguing soundscapes has been created from the partnership. "The Message" is the first installment in a series of songs that accompany the otherwise silent film. "The Message" is shrouded in a nocturnal vibe of haunting, suspended synth wash, but is also dotted with faster paced loops of clicking, lightly ringing, and squashy percussion. As a bicyclist rides through the hypnotizing nighttime landscape of the video, sharper synth and electronic notes come to the fore. Over the coming months the story from deddori will continue to unfold.