Blazing out of the state of Arkansas comes the progressive metalcore band Levels, who fuse the best of hardcore, metal, and rock into a powerful hybrid sound.
Levels released their Exist EP in 2016 and then went on the road on and off over the past few years, going on six headlining tours of the US and playing various music fests.
This past summer Levels' single "Fade" materialized, with the band building up their return with new music.
Levels have just unleashed an energized performance music video for their recent heavy and intense track "Encapsulate." The song, which is about wrestling with anxiety, was produced by Jeff Dunne (Motionless In White, Emmure, Chelsea Grin).
The Little Rock-located band is comprised of Jake Sanders (vocals), Dalton Kennerly (drums, vocals), Rob Mathews (guitar), Jager Felice (guitar), and Jacob Hubbard (bass).
The video for "Encapsulate" was done in-house by Kennerly and it captures the raw dynamics of the band and showcases them shaping their massive sound and fierce to brooding vocals into a proper song (and not just a quickly dissipating blast of noise).
Dalton Kennerly, the drummer of the band and director of "Encapsulate," kindly took some time out of his schedule to answer a few Qs about the band's sound, recording process, and musical influences:
Heya Dalton! Good to touch base with you about your music. You just dropped a new single "Encapsulate" with performance video. Can you go into meaning of the track?
Hey, thanks for taking the time to chat with us! "Encapsulate" is about dealing with anxiety; in the context of living in a society that views metal in a certain way. We are lucky to have had a very supportive network around us in Levels. But other than that, at times we've told people that we are chasing our dreams; pursuing this lifestyle as a career, and they look at us as if we are just some silly dreamers. Then proceed to ask "What are you really going to do with your life?".
That takes a toll on you the more you think about it. You start to question if what you are doing is really worth all the trouble! The chorus "every day feels the same. I find a way to numb the pain" is so simple; you feel like you keep trying and trying to make it as a musician in the face of almost constant rejection. You try to tour and you get left on read by countless promoters, agents, labels, etc and you feel like you are sending emails to black holes.
Etc etc. It becomes very disheartening and repetitive sometimes. But, in the end, you have these wonderful people who make it all worth it. Our fans tell us some of the nicest things and build us up and help us alleviate some of that anxiety through reassurance.
"Don't believe everything in your head." This line really speaks on how you can get in your own head and psych yourself out. We are a persevering band. We are going to fight for what we want, no matter what circumstances seem to hold us back from our goals. The fans keep us going!
The video for "Encapsulate" is a really strong showcase for your performance abilities. What was it like playing for the video camera?
We wanted to highlight our high energy and volatile live performance. This video is just a fraction of what can fans can expect when they see us play. This is the type of energy and emotional reaction we have while performing our music. We think this video did a great job of bottling that and presenting it to an audience sitting behind a screen.
Dalton, what was the experience like for you in putting this video together?
We shot this video on the same day that we shot our music video for our other single "Fade." It was 100+ degrees that day in the Arkansas heat, and we had just performed multiple takes for "Fade" outside in the direct sunlight. Someone in Little Rock actually died that day from a heat stroke, no lie (I believe it was an ex-NFL player)!
It was a godsend to come inside the studio for the "Encapsulate" part of the shoot. Our director Taylor Snapp and assistant director Madeline Snapp kept good morale going the whole time. Taylor was originally supposed to edit the "Encapsulate" video, but due to circumstances beyond his control, I was handed the hard drive with all the footage the DAY before the video was due. The clips were all in the timeline and synced to the song, but there were no edits. I started at 6:30pm on a Sunday and uploaded the video to YouTube at 3:30am that night!
The camera work and the performances were so good (in my opinion) that the edit came very naturally. It was kind of fun and exciting having such a time crunch. I was stoked, mad, frustrated, happy; all the emotions that night. If my computer was a person, it would have certainly had its feelings hurt! In the end, the video turned out exactly as we wanted it - a testament to our great director... and to a sleepless night on my end!
Is "Encapsulate" the first salvo this year that will see more music released from you?
You can expect to hear a lot more from us this year. We are going to make a point to release more in shorter time frames for sure. An EP is on the horizon!
That's such cool news about a new EP! Speaking about your music, what bands or other entities are inspiring you these days regarding creating your songs?
We really enjoy listening to Nu Metal like Limp Bizkit, Korn, and Breaking Benjamin. A newer artist we respect who does that sort of thing is Sylar. Our guitarist Rob really loves Metallica and I think that really gives our sound a unique influence. Some of the bands that push us within our specific genre would be Northlane, ERRA, Novelists, Architects, and Issues.
Your sound is heavy and intense, but doesn't devolve into the simple and rough. How do you reach that point with your technique/craft?
I'm really not sure how we ended up here - Haha. We write music that we as individuals would like to listen to! As far as breakdowns and riffs go, we simply hear riffs or patterns in our heads, track them out, and determine if that's something we would like if we were listening to it from an audience perspective. What you are hearing is a mash-up of the music we listen to and get excited about.
You're going on tour in the US this March. What can we expect from you live show?
You should expect high energy and a lot of crowd participation. Our live performance is just as important to us as our studio performances. We connect to our songs and we like to show the passion we have while playing them. Being on stage is the perfect time for us to truly express our emotions. You are not only supposed to hear that when listening to our songs live or on a recording, we show it through our actions as well.
We want to connect with those who are there for our music. This tour is going to be exciting and a chance for us to connect with our fans in real life, not just over the internet. We will be with our friends in Living Machines and that has us very excited! I think both bands will be in a friendly competition to see who "brings it" the most. We are also playing in new parts of the country we have never been to, as well as a whole new country we haven't been to (Canada).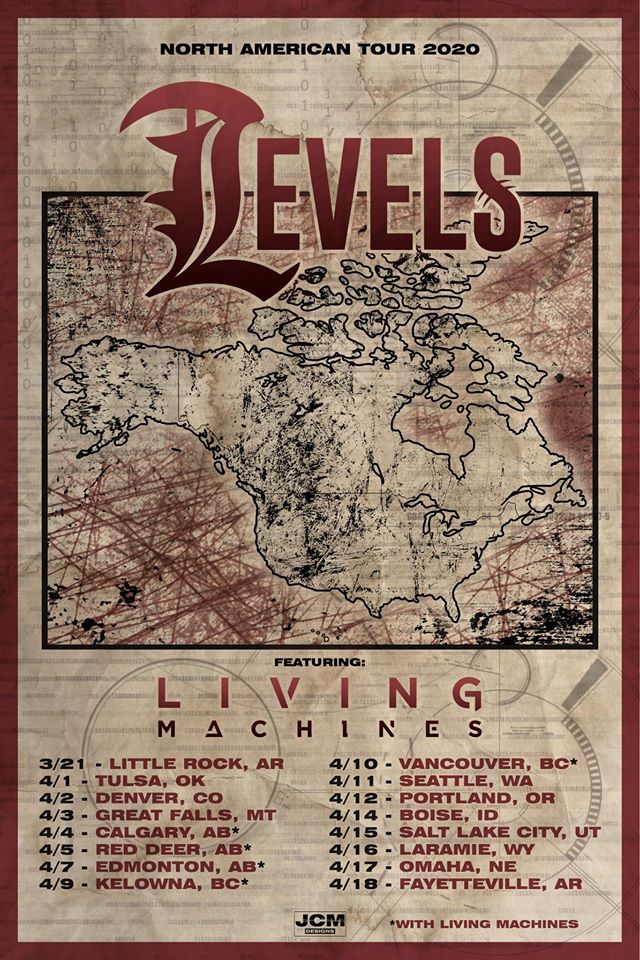 https://open.spotify.com/album/75uf3AZH24Kte8t8NxCfau
https://levelsar.bandcamp.com/
https://www.facebook.com/levelsAR/
https://www.instagram.com/LevelsAR/