Totally lo-fi, and totally exploding with live-wire energy and enthusiasm, Nashville-based garage rock act Datenight is the music project of do-it-yourselfer (with friends) Grayton Green.
His new album Is This Also It? will be imminently unleashed, and Rebel Noise is stoked to host the LP premiere. Green's rough 'n' raw songs were recorded in his uncle's wood shop by his bud Benny Parks.
Green formed Datenight in 2015 during his junior year in high school. He was interested in crafting songs in line with his music inspirations; bands like The Clash and The Replacements. His guitar class instructor was having none of it, so Green started the band to play music that he wanted to hear.
From Datenight's humble beginnings sprung a couple of albums, a couple of EPs, a split single, and loads of live shows across the U.S. And now the tongue-in-cheek-titled Is This Also It?, recorded in only one week, is another example that independent spirit is not dead, and that you don't need a ton of money to create something interesting, worthwhile, and fun.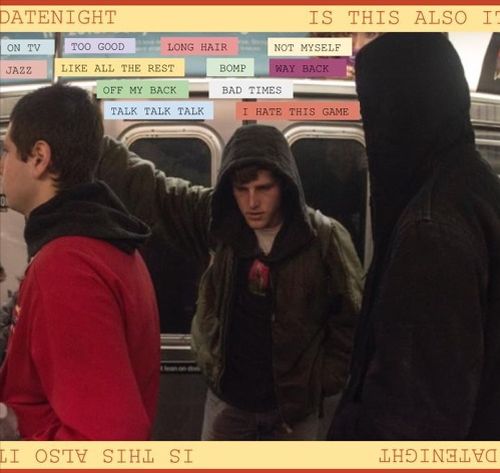 Grayton Green kindly took some time out of his schedule to offer some details about his new album, the Nashville music scene, and his copacetic outlook.

Heya Grayton! Let's start with the basics: Tell us about your new album. How did it come to be, what inspired it, and what was the recording/writing process like?

The album is called Is This Also It? It's a play on The Strokes' album Is This It. I just thought it was a funny idea naming it that. It's like saying, "Can this album also be unanimously loved" - Haha. It was all recorded a few blocks from where I live, at my uncle's wood shop. He's a carpenter and he's got this big warehouse filled with tools and junk where he works. I've been there a few times and always liked being there. So thankfully he agreed to let me work in there for about a week. That's how long it took.
Most of the songs on the album talk about dealing with alienation from the world around me. When I was writing these songs I guess that was something I must have been struggling with, but I know it helped recording them. Sometimes I feel like that's the whole point of making art anyhow. Because once you create something, you get to move on to something else, which is like clearing out all your old clothes or something. It's like a fresh start. It's like letting problems you had in the past stay there.

Your band is young, but you've been a part of the Nashville scene for a little while now. What do you like most about living in Nashville and how has the scene changed or evolved since you first starting playing shows?

Nashville is the goofiest city I have ever been to. Downtown is Bachelorette parties, Grand Ole Opry sight-seers, and college frat-type people. All groups are dressed like they are at the beach and smell like sunscreen. All on mobile bars that drive on the street powered by wasted feet. It's a ridiculous sight to see; like an ecosystem or something, but it's also kind of beautiful.
It works though, because locals stay out. If you add locals to that mix, then it would be maximum chaos. Sometimes I wish there were more things to do for people that live here. But that's where the music scene comes in. There always has been a good scene here for live music. There's just nothing else to do.
A difference I see now in the scene from when I was in high school is that it's more inclusive, for sure. There's more of a variety of bands who are all doing different things and no one's just focusing on one type of music anymore. It's great. The scene has gotten better as the city has gotten bigger.

What inspires you culturally right now outside of music. The album has an urgent energy about it (especially on tracks "On TV," "Not Myself Today," and "Like All The Rest"). is there any message you're trying to get across?

If you make a revolution, make it for fun; don't make it in seriousness, don't do it in earnest, don't do it because you hate people; do it just to spit in their eye. Don't do it for the money; do it and be damned to the money - Do it for fun!
I saw this on the inside of a Mott the Hoople record and that idea has inspired me recently. So I guess if I'm trying to say anything, it's just that. Nothing matters; do it because you want to do it; do it because it's fun. There's no better reason or justification that I can think of to do anything.

Any gigs/other goals in mind for this year? Anything else you'd like to let our readers know as they listen to your record for the first time?

Spending all my time writing and recording new music. That's the idea. If you listen to the record, Thanks! My favorite song on it is "Too Good."
https://www.facebook.com/datenight615/