The Bobby Lees have released a second song and video from their forthcoming Hollywood Junkyard EP (June 17, Ipecac Recordings), releasing the track "Dig Your Hips" this morning.
On the song, vocalist/guitar player Sam Quartin says: "This song's about a psychotic episode I had while partying in the desert, and the feeling of wanting to set fire to your life and run away from it with someone you barely know." The video, directed by John Swab, was shot in an abandoned factory whilst the band were on tour in Tulsa, Oklahoma in March.
Drummer Macky Bowman adds, "This song is about exactly what it sounds like. With most things, but most notably art, there's no such thing as objectivity... pretty ironic considering how objects are viewed as a pretty ubiquitous medium for artistic expression. Anyway, the way we relate with an object, surprisingly, has a lot to do with our own special and conceptual relationship to it. All that is to say that it'd feel a little too self-indulgent to give a personal overview of the song as at the end of the day I'd just be forcing you to watch the movie, my movie, before you read the book, so to speak… That being said, this song is about exactly what it sounds like. I really hope you like it!"
The Woodstock, N.Y. based band previously released the song and video for the title track of their forthcoming Hollywood Junkyard EP, which can be seen here. The four-song, Vance Powell (Jack White, Bleached, The Raconteurs) produced EP can be pre-saved here.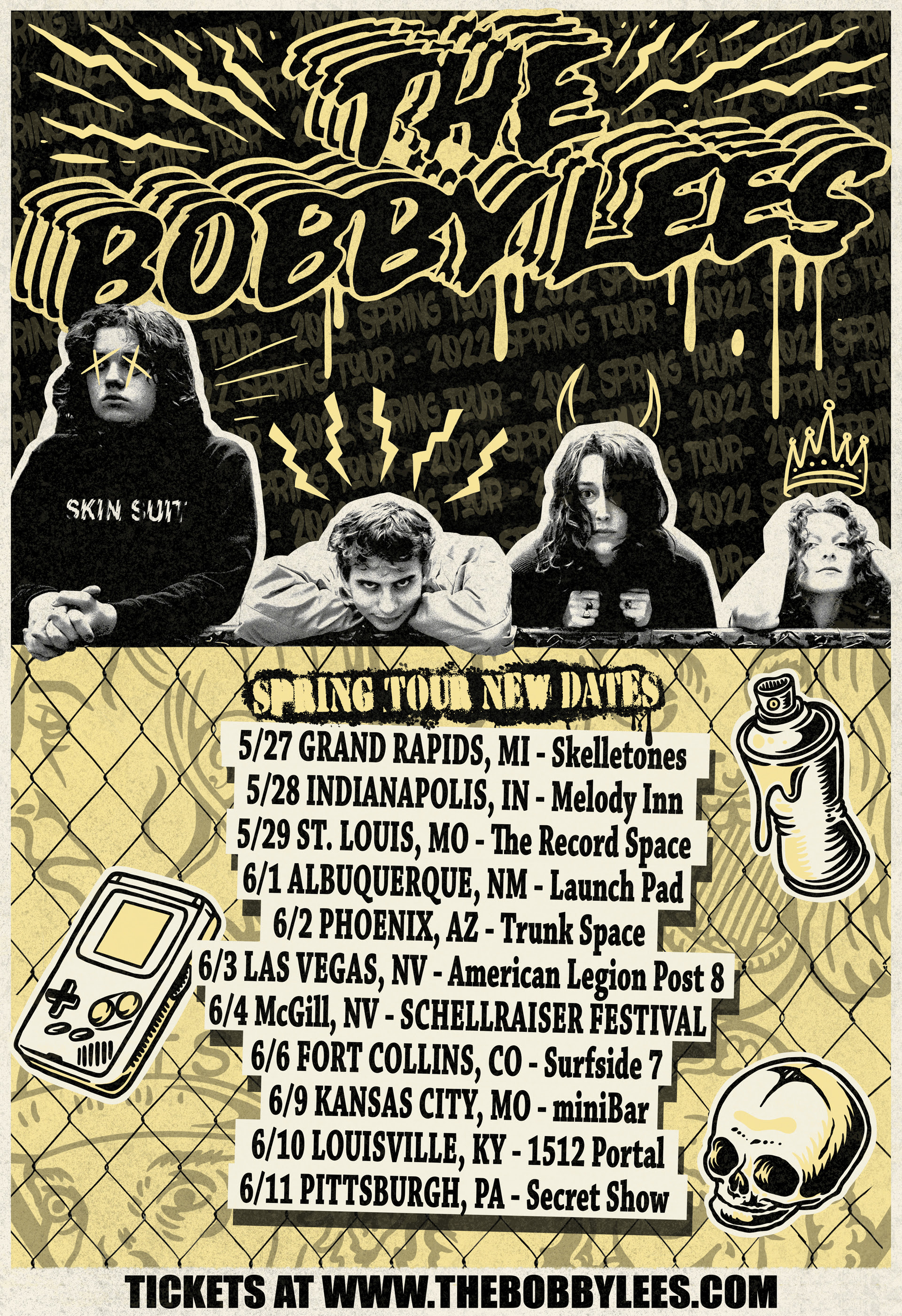 The Bobby Lees on tour, including newly announced North American and European tour dates:
May 27 Grand Rapids, MI Skelletones
May 28 Indianapolis IN Melody Inn
May 29 St. Louis, MO The Record Space
June 1 Albuquerque, NM The Launchpad
June 2 Phoenix, AZ Trunk Space
June 3 Las Vegas, NV American Legion Post 8
June 4 McGill, NV Shellraiser Festival
June 6 Ft. Collins, CO Surfside 7
June 9 Kansas City, KS miniBar
June 10 Louisville, KY 1512 Portal
June 11 Pittsburgh, PA Secret Show
June 23 Paris, FR La Maroquinerie
June 24 Nijmegen, NL Merleyn
June 25 Haarlem, NL Kliko Festival (Patronaat)
June 26 Amsterdam, NL Paradiso
June 29 Birmingham, UK Hare & Hound
June 30 Nottingham, UK Bodega HLD
July 1 Dublin, IE Workmans
July 2 Limerick, IE Kasbah
July 3 Belfast, IE Ulster Sports Club
July 5 Glasgow, UK Broadcast
July 6 Newcastle, UK Cluny 2
July 7 Leeds, UK Brudenel Social Club
July 8 London, UK The Shacklewell Arms
July 9 Brighton, UK The Hope
July 10 Gierle, BE Sjock Festival
July 12 Malmö, SE Plan B
July 13 Copenhagen, DK Stairway
July 15 Riegsee, DE Raut Oak Festival
July 16 Breitenbach Am Inn, AT Gasthof Schwaiger
July 19 Montpellier, FR Secret Place
July 20 Meymac, FR Open Air Marketplace
July 21 Binic, FR Binic Folk Blues Festival
July 22 Bordeaux, FR Relâche Festival
The Bobby Lees are Macky Bowman (drums), Nick Casa (guitar), Sam Quartin (vocals/guitar) and Kendall Wind (bass). The Woodstock, N.Y.-based band have released two albums: Beauty Pageant (2018) and Skin Suit (2020), with the latter produced by Jon Spencer. Classic Rock Magazine adeptly said of the band: "Rock and roll as it ought to be: off the hook, unhinged, ravaged by Satan, hysterically vital, both kicking serious arse and against polite society's pricks. As undisciplined as No Wave, as steeped in comatose cool as '70s CBGB's blank generation, and as stylishly ferocious as the Yeah Yeah Yeahs."
# # #
https://www.instagram.com/thebobbylees/