Bloody Crackdown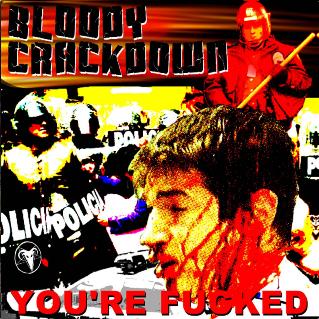 Richmond, Virginia
Recruited from the bionic discards of various footnote bands of the Richmond, Va. music scene (Gwar, Ann Berretta), The Bloody Crackdown debuted on October 4, 2000, the 7th anniversary of the Bakkara Market massacre in Mogadishu, Somalia. The founding members gave birth to an unholy child grounded less in the ways of their previous outfits, the 101st Airborne Division & U.S. Marines, than of their own skills. At first public reaction was lackluster, but training and rehearsal made their mark and the unit managed to earn it's wings. Well, sort of. After several months and some critical acclaim (and outcry), Moe Lester made a personal sacrifice, committing himself to mastering the secrets of Delta Force, for the good of one & all. Faced with the prospect of no low-end attack, the crippled Crackdown enlisted the services of Mike Hunt fresh from war-torn Afghanistan with recent memories of furious firefights, festering body piles, and flashbacks from the valley of death careening in his head. Soon after, in a burned and nameless war-torn village, the CRACKDOWN came across teenage sex pot Easy-E., who escaped excecution by hiding under the bodies of her dead family. She gave the band such a great headache, that they kidnapped her, and brought her back to thier barracks in the United States, to be their personal commando/punk-rock geisha girl. A fully galvanized noise machine was forged. Also, they got new weapons. They were now well armed, with the resolve and intent to fuck something up. Their finely-honed sound ranges the post September 11th, 2001, underground map. With a co-headlining list of names like Murphys Law, GBH, GWAR, The Krays, Antidote, N.Y. Rel-x, R.P.G., Rocket Queen, The Strap-Ons, Stinking Lizavetta, Piss Shit Fuck, The Beatdowns, Girlush Figure, and The Dave Brockie Experience, The Bloody Crackdown is itching to free the airwaves and wreak musical genocide in the process.
Members
Al Koholic: Lead Guitar (Vocals), Mike Hunt: Bass (Backing Vocals), Easy-E.: (Dancer, Vocals), Moe Lester: Drums, Haywood Jablomi: Everything Else, Dresden Black: Mascot
Location
Richmond, Virginia, USA
Touring
Regional
Years Active
2000
Influences
The Clash, Black Flag, Dayglo Abortions, Flipper, GWAR, Butthole Surfers, FEAR, G.B.H.
Email
Visit Website