Finals, The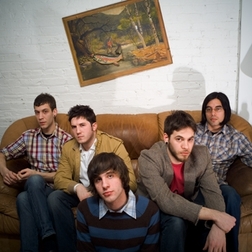 Hailing from Bergenfield, New Jersey, a mere 15 minutes from NYC, The Finals enter 2006 looking to build on the success of their 2004 debut EP Long Story Short on Stab Me Recordings. Currently signed to Immortal Records, they're looking to getaway to bigger and better things with their full-length debut aptly titled Plan Your Getaway.
Friends "since we all co-starred in Look Who's Talking Too," bassist/vocalist Matt Reilly says it was inevitable they would form a band together.
Ranging in age from 21-25 and collectively influenced by a diverse array of artists such as The Beatles, Metallica, Alkaline Trio, Death Cab for Cutie, The Clash, Hot Rod Circuit, Jimmy Eat World, The Postal Service, New Order and The Cars, The Finals aim to recognize their influences while making a solid and distinct record; not tied to any particular scene.
"We feel Plan Your Getaway is a diverse record," Bottone says. "It has so many moods and we experimented with a lot of different sounds and textures. This album has something to offer everyone."
In June '05, they entered Nada Recording in NY with Heath Saraceno of Midtown producing and John Naclerio (Brand New, My Chemical Romance, Senses Fail) serving as engineer.
"If it wasn't for Heath stepping up to the plate and producing the record," Bottone says, "we might not have one. He understood where we were going with this record and helped bring it to life."
Having played with The Ataris, Autopilot Off, The Matches, Midtown, and MU330, The Finals have fined tuned their live show into a "powerful and explosive experience," as drummer Joshua Sazer likes to put it. Matt Reilly describes it as, "a cool breeze followed by a wave of constant heat."
Ready to hit the road, The Finals aren't looking to escape or run away but instead go straight for the jugular with an album full of diverse and energetic songs destined to win over fans one blistering show after another.
Members
guitarist/vocalist Jason Sazer, bassist/vocalist Matt Reilly, guitarist Lou Bottone, keyboardist Christian Kisala, drummer Joshua Sazer
Location
Bergenfield, New Jersey, USA
Touring
Not Yet
Influences
The Beatles, Metallica, Alkaline Trio, Death Cab for Cutie, The Clash, Hot Rod Circuit, Jimmy Eat World, The Postal Service, New Order and The Cars
Visit Website