Agent Sparks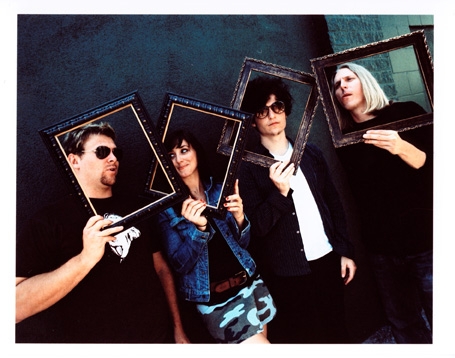 When Agent Sparks front man/guitarist Ben Einziger and bassist Paul Fried's previous major label band parted ways, Fried was reluctantly settling into the idea of getting a regular job and a nice apartment. The stepbrothers continued to casually play music together, but when Ben found he had a knack for writing and began to refine his lyrics in jam sessions, they agreed that one last shot was in order.
Wanting a second singer, Ben and Paul approached Stephanie Eitel, recently heard on Weezer's "Beverly Hills." Stephanie jumped at the chance to lend her vocals and writing skills to the boys' developing sound. Ben and Paul found the last piece in George Purviance, a longtime friend and outstanding session drummer. Their chemistry proved undeniable.
Songs took shape almost instantaneously and the writing process was unified when Stephanie and Ben blended their efforts. After only playing together for about 6 months, Agent Sparks knew they were on the right track when their gigs were crawling with record label execs. They accepted a deal with independent label Immortal Records and immediately entered the studio to record their first EP, a five-track offering entitled Not So Merry scheduled for release on September 20, 2005. Produced by Mike Einziger and engineered/mixed by Rick Will it "is a mere tease for what's to come on the full length due next year," claims Ben.
Agent Sparks' sound is often described as quirky and poppy, but their only demand is playing good music. Ultimately, the members want just enough success to stay together and continue doing what they love: writing music, touring and hopefully inspiring fans as they go.
Members
Ben Einziger on vocals and guitar, Paul Fried on bass and backing vocals, Stephanie Eitel on vocals, keyboards and percussion and George Purviance on drums and percussion.
Location
Calabasas, California, USA
Touring
National
Years Active
2005
Visit Website