Bleeding Alarm, The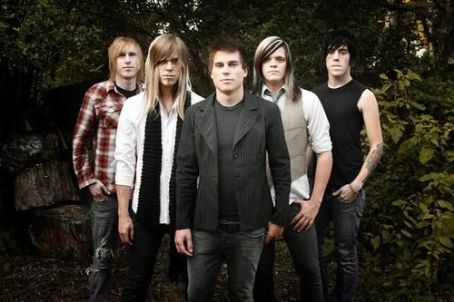 "How can a song remind you of a face you had once long forgotten? ... And of a love you wish you had never abandoned. This is the story of Jens Madsen, Thomas Karanasos, Kevin Moore, Paul Madsen, and Charles D. Furney. This is the story of thebleedingalarm."
"How is your attention span? ...... Do you find it hard to concentrate?
….Do you have a need for basic information? If you'd like, I have some observations to share. Let's get personal. And here it is."
"Jens Madsen plays lead guitar and sings backing vocals. No stranger to mischief, Jens has actually made up his own ritual of gathering friends and wreaking havoc on which ever city he happens to be in at the time. He calls this night of misbehavior "Man Night".
Jens happens to also be a very snappy dresser."
"Thomas Karanasos plays on the drums. He is absolutely charming and obnoxious at the same time. Thomas will forever be the first person to make you smile.
Thomas happens to also sport a giant mullet."
"Kevin Moore plays guitar. Always at the center of attention, Kevin is a source of non stop entertainment for all. He is a mysterious clown.
Kevin happens also to have heart like none other."
"Paul Madsen plays the bass guitar. Paul is thrilling and consistent. Being the brother of Jens, he will often be found joining in on "Man night".
Paul happens also to be swift and very witty."
"Charles D. Furney sings. Charles is obsessed with the truth that he has an unknown heritage. Charles grew up in a haunted house, and experienced ghosts at an early age.
Charles happens also to be very exposed."
"The band formed in the lovely summer of 2003.
A good looking afternoon, and a pleasant evening. A move across country, and a promise put on hold. The departure of an old friend, and the unfolding of a new. This is the story of thebleedingalarm. Did you learn something today? Do you now feel like you are personal friends with thebleedingalarm?
... I do."
Members
Charles (Vocals) Jens (Guitar/vocals) Kevin (Guitar) Paul (Bass) Thomas (Drums)
Location
Vancouver, Canada
Touring
National
Years Active
2004
Visit Website