When asked if lead singer, Colin ever thought GBH would last for more than 20 years, he says not so much with a tone of surprise but of humbleness about the band's start, "We never really use to think about anything long term back then, just the next day or the next week."
Before there were street punk bands like Total Chaos and The Casualties, there was GBH. The band born in Birmingham (not London) England in 1979 roared through the 80's playing constantly in the U.S. As a result, the street punk image depicted on their album covers and in their music became emblems of the street punk scene – painted leather jackets, studs, spikey colored hair, mohawks, acid-washed jeans and beer breath. Most modern street punk bands have riffs that grind and vocals that roar which is somewhat of an acquired taste. However, GBH's music has unadorned, straightforward riffs complemented by Colin's unique, snarly voice. This refined combination makes for a more palatable sound and has afforded them musical longevity.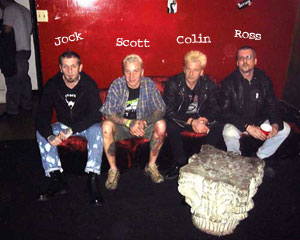 Not a lot has changed in the scene's fashion sense and GBH has been keeping it real musically as well. Their ability not to lose sight of what's musically important is partly due to their influences early on. Colin recites a list of some widespread, classic influences most likely on everyone's list, "The Clash, Pistols, Damned, Iggy and the Stooges." A modern influence is Rancid, one in which he points out the irony, "We influenced them and they influence us back." Although GBH have yet to play with Rancid, the two bands are acquaintances. On a recent get together, Matt Freeman gave bass player Ross a guitar, no doubt as an expression of musical respect.
Part of GBH's U.S. allure is the fact they hail from England. Being from such a musically hallowed country, they are - in some sense - punk rock ambassadors from a place where some would argue punk was born. But the British punk scene may not be as vibrant as it once was in the past. Comparing the U.S. scene to that of England, they notice it is much younger and more enthusiastic. As Colin explains it, "There's more people involved. England is like a tiny dot on the map. Everything we do in America is scaled up. We never play in front of many people in England. At festivals we would. But normally we play little pubs."
While they live on the tiny dot on the map, GBH is still very aware of what happens in the world around them. On their latest album, "Ha Ha" (Go Kart records) the song "Belgrade" speaks of a true incident just before the U.N. bombed the country. Despite having lots of trouble entering Belgrade, they were eventually welcomed and played, "The people there were amazing. They've got virtually nothing. No money. No food. They gave us everything they had. We did one show, which was brilliant. We made lots of friends. Six months later, we're sitting at home watching the U.N. bombing the fuck out of it. We're just thinking, I hope the friends we made are safe."
On more current issues like the eminent U.S. led war with Iraq, Colin's thoughts are with the country's people, "At the end of the day, the people who will suffer are the women and children. They should take Saddam out, but not decimate the country. It's a fucking poor country anyway. The ordinary people have got nothing, virtually. Why would anyone want to bomb them back to the stone age? They basically live in the stone age."
Life's experiences sure do make for passionate songs, and the latest album has interesting stories behind them. "Song for Cathy" is about Jock's dear friend killed in a domestic violence nightmare. The Birmingham police described it as the worst thing they've ever seen. "Dustbin Rock N' Roll" is probably the most telling of GBH's story. Colin explains the title, "That's a quote from years ago about us. We're not from London. But when the London, England Standard reviewed [the album] "City Baby Attacked by Rats", they described it as dustbin rock and roll. It was like a back-handed compliment."
A back-handed comment to the negative creeps may well have been the title to the latest album, and GBH is definitely having the last laugh. Just last year they were a highlight to world famous KROQ's Inland Invasion. The festival show included the most notable bands throughout punk rock's history. And with such a rich and diverse history to cover, the bands included everything from modern day punk poppers New Found Glory to The Sex Pistols. At a prominent place in the line up was GBH, who for some was the saving grace of a somewhat dispirited punk rock festival. Considering they were called unexpectedly to play such a high profile show proves their rock and roll might be in a dust bin for some, but for so many more legions of dedicated fans and friends, GBH will always be prominently displayed and cared for in their music collection. Those are the ones who really matter anyway, right?