If COVID-19 has left you missing the awkward tension of small punk shows, then kill some time with the four-part docuseries, Shooting Daggers. In the series, members of a young, hardcore punk band called Dagger describe experiences from their first tour. The tour is a budget operation—the Indiana band spends 40 hours on the road over four days and plays venues in New Orleans, San Antonio, Dallas, and Oklahoma City.
In San Antonio, Dagger joins a lineup of bands playing at a Mexican food restaurant. One band introduces itself with an apology to the couples and families still eating dinner and then launches into some spitball hardcore. At each show, Dagger meets and mingles with peers.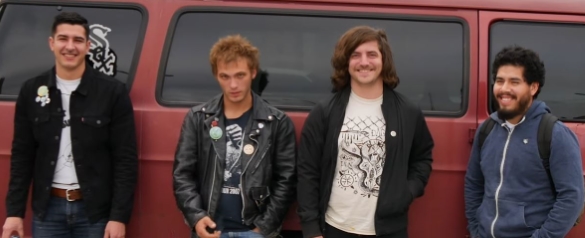 Shooting Daggers, produced by a venture called Big Plan Pictures, has okay video quality and sensible editing. But the series does not promote the band's music or performances. The episodes instead feature band member commentary, which trends toward the mundane. They are normal young men, bullshitting and trying to relax with beers and cigarettes. They recall with amused disenchantment ordinary moments from the recent past.
In the final episode's last bit of commentary, after almost an hour of us all reliving the tour, the drummer says that he does not remember much of what happened. Probably because very little of it was memorable.
When the band members, coming from the landlocked state of Indiana, drive out to the beach—some of them going there for the first time—they are underwhelmed, more impressed by the jellyfish rotting in the sand than the indifferent mass of slate that is the Gulf of Mexico. And the morning after playing a Dallas house party, they go to see Big Tex, the 55-foot-tall icon of the annual State Fair of Texas. But the Fair is over and Big Tex is gone.