*NSFW
Hey, whazzup, dogs? Thanks for tuning in to Episode #40 of INDIEcent Exposure. I'm your host, the mongrel, and this week's show is absolutely bustin' at the seams with great tunes. I love featuring interviews, but I also kinda love an episode that's just front to back music. In fact, I'm going to save the opening monologue and get straight to a block of tunes I've been waiting forever to unpack.
Editor's Note: Musicians' bio info comes from the artists, their websites, or their publicists. Click on names below to visit their websites where you can get the full story, photos, and very often video.
Singer songwriter, and rising Dark Pop phenom, Annelie Elina, splits her time between Los Angeles and her native county of Sweden. She brings us the track "Recover" from her latest EP Purity. Despite the name, and despite her tender young age of sixteen, do NOT be fooled. It's a welcome relief from the cotton candy tracks being spun in other sectors of the pop world. Or rather, if her wispy trilling tricks you into thinking you'll be tasting sweet fluff, a couple of earfuls quickly educate your soundbuds that the gossamer strains carry flavors of longing, disillusionment, fearlessness, uncertainty, self-assurance, and vulnerability. This release represents a very, very promising start to the career of a new artist.
Annelie Elina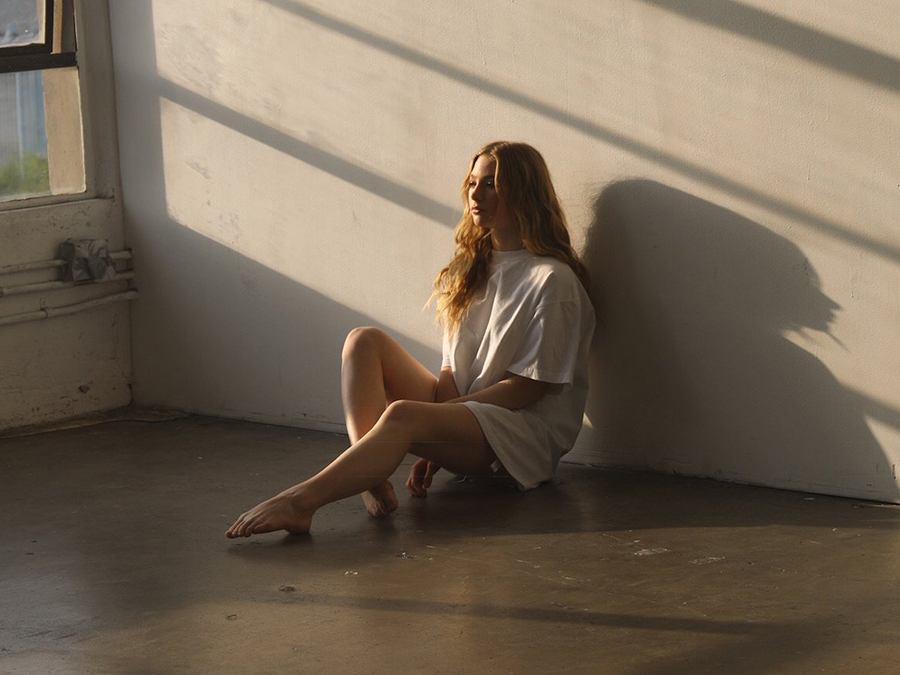 Annelie Elina; photo by Hana Adams.
"One of my biggest goals when writing is to create something that my listeners can connect to. With this in mind, I really think about how the lyrics, beat, and vocals will make my audience feel. Some of my biggest inspirations are Billie Eilish, Julia Michaels, Lennon Stella, LÉON, Madison Beer, Alec Benjamin, Clairo and many more!

"I wrote my first original song "Staring at the Sun" after coping with losing somebody very close to me…Made me feel calm and relieved after writing about it. I wrote 4 more original songs that year in 2016 and you can find them all under "annelie" on Spotify, apple and all other streaming platforms. They all have official original videos on annelieVEVO as well!!"
Next, we'll hear from an artist whose work I also want to to see. The band is Carlos Frias & Círculo Social from Bloomfield New Jersey, and they perform some of the tightest, most smolderingly intimate Latin music I've heard in a while. In fact, I've vowed not to listen on any day they have a show, because that would almost guarantee an impromptu road trip to Jersey in search of the fire. If I did make the trip, though, I'd want to get there in time to find a gallery nearby that's exhibiting any of his visual art. A painter and printmaker, his use of bold, super-saturated color make him my new go-to guy for a midday modern art fix, although I admire his restraint when it comes to subdued tones when the focus is on lines and movement. I provide the link in the shownotes, of course, and urge you to check it out. If I had a band, I would totally commission him to do my album art. All of it. I asked him what he thought of the song, "Tirra Va Temblar," for this episode, but he suggested the title track, so "Aprendiz de Poeta," so that's whats you get.
Carlos Frias & Circulo Social
Carlos Frias & Circulo Social; submitted photo.
"Carlos Frías is an artist currently living in New Jersey. As primarily a painter and printmaker, Carlos utilizes a variety of media in his works to pinpoint the origin of legacy. Carlos often travels to the Dominican Republic, where he also creates and exhibits new works.

"In 2013 Carlos has exhibited his prints and paintings at the Segal Gallery in Montclair, NJ and at the Therese Maloney Gallery at the College of Saint Elizabeth in Morristown, NJ. Over the past year Carlos's works have been in a number of galleries in New Jersey for group and solo shows."
---
Featured in this Episode
Kelly & Kat • "Nobody Knows" • single
Annelie Elina • "Recover" • Purity
Carlos Frias & Círculo Social • "Aprendiz de Poeta" • Aprendiz de Poeta
John Otto Young • "Anymore" • Sunset Tour
Loser Company • "Blueberry Skies" • Blueberry Skies
The Warp/The Weft • "A Sun-Filled Room" • Dead Reckoning
Screamin' Deal • "Screamin' Deal" • Big Deal!
Mind Cell • "3 Worlds" • Absolute
Echoes In Ashes • "Echoes" • single
Post Death Soundtrack • "Chosen Sons" • It Will Come Out of Nowhere
John Cologon • "Sick" • Reality?
---
Right now though, opening up the show are Kelly & Kat, a sister act from New York, New York. They're fairly new to the scene, but their honeyed voices blend like the harmonies were etched in their DNA — which they may well have been. Siblings can be like that sometimes, you know? Warming up this episode is their single, "Nobody Knows."
Kelly & Kat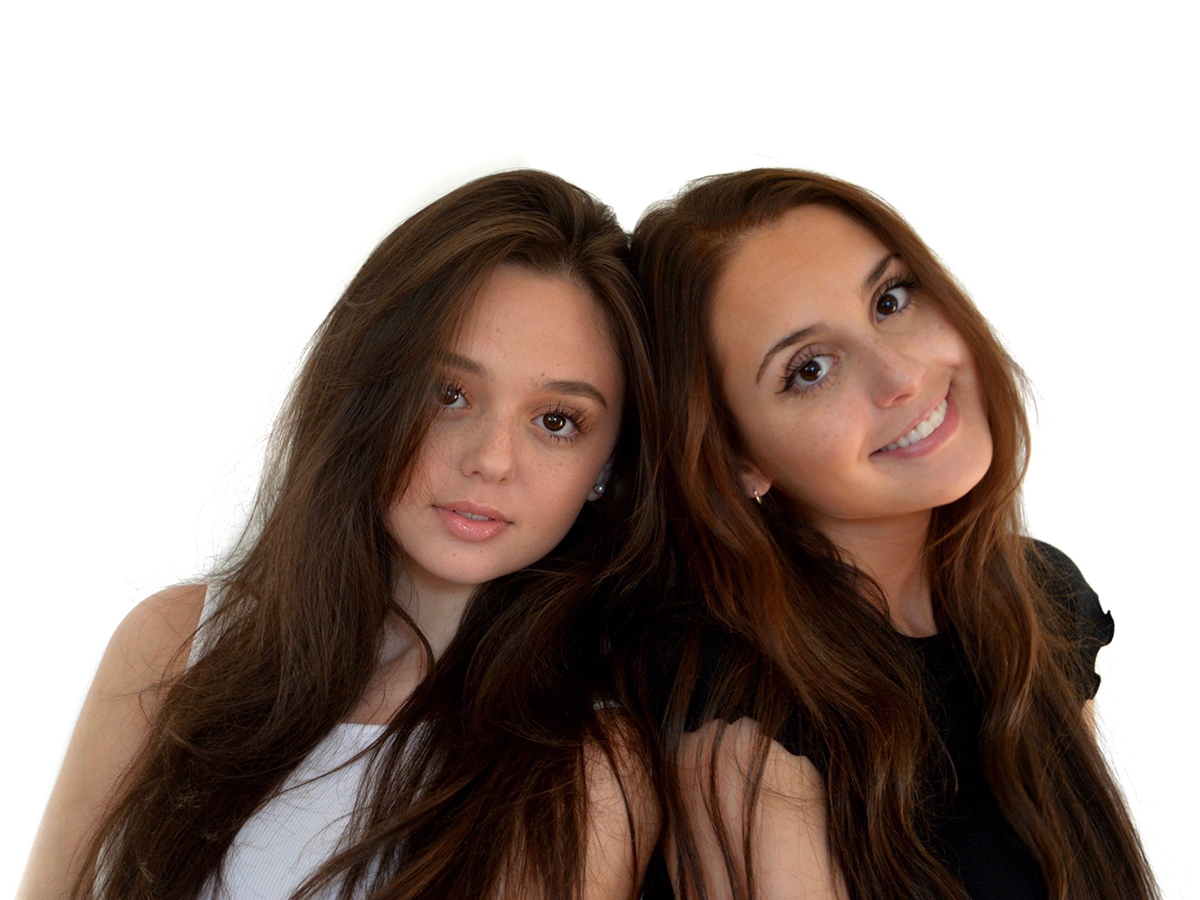 Kelly and Kat; submitted photo.
"Kelly & Kat are sisters, songwriters, and sisters from New York.
Their debut singles One Day and Nobody Knows were released this spring/summer 2019. Their full EP New Girl, produced, co-written by Adrian Young of No Doubt, is set for release in 2020. It includes songs with driving beats and harmonies.

"Kelly & Kat are an exciting new duo based in New York. Their unique sound comes from the various genres they incorporate into their original songs, including rock, pop and jazz, and is defined by their signature harmonies."
Again, that was Frias & Círculo Social with "Aprendiz de Poeta," which translates to "The Poet's Apprentice. Before that we heard Annelie Elina, with "Recover," and kicking off the show was Kelly and Kat with "Nobody Knows."
So, I have to give a shout out to all of you keepin' up with the show on the socials — Facebook, Twitter, Instagram, Pinterest…nah, I'm just fuckin' with you about the Pinterest thing. BUT never say never, right? But seriously, although where I want to be is right between you ears, I know that sometimes it helps to drop little reminders for you to tune in everywhere you're likely to see them. So if you're NOT following us on the platforms, you really must because this podcast really should be omnipresent in your life and thoughts.
Also, I want thank some brand new friends of the show who've joined our Discord server, many of them talented musicians themselves, for helping my navigate that strange new landscape and turning me on to some amazing new tunes. So, gracias a Kat Daniels, Moonshine, Pax Libertas, dbk, Trexjones, bug, Mr. Meatball, neon_m, and rainforest. Also if you see her in the Discord server, be sure blindly obey our very first moderator, Thunderbumble, who will serve both as your caring guide and merciless overlord depending on your behavior.
A'ight. Back to the tracks.
You know how sometimes start out kinda low-key and then ratchet it up for a few songs before I bring it all safely back down to something soothings and mellow. Yeah that's not gonna happen today. From here on out, we're just keep squirting more and more lighter fluid on the grill until your brain feels flame-broiled.
And we're going to ease into that with a tune from John Otto Young off his album "Sunset Tour." John Hails from Shelton, Conn. — the first town I really remember as home, though I didn't know that when I selected the song for this episode. He's a versatile musician who I think is at his most comfortable in classic rock mode, while he effortlessly incorporates jazz and hints of classical in his well honed craft. This track, "Anymore," convinces me that I have to find a way to bring back more artists for repeat appearances, rather than just lovin' 'em and leavin' 'em, ya know?
John Otto Young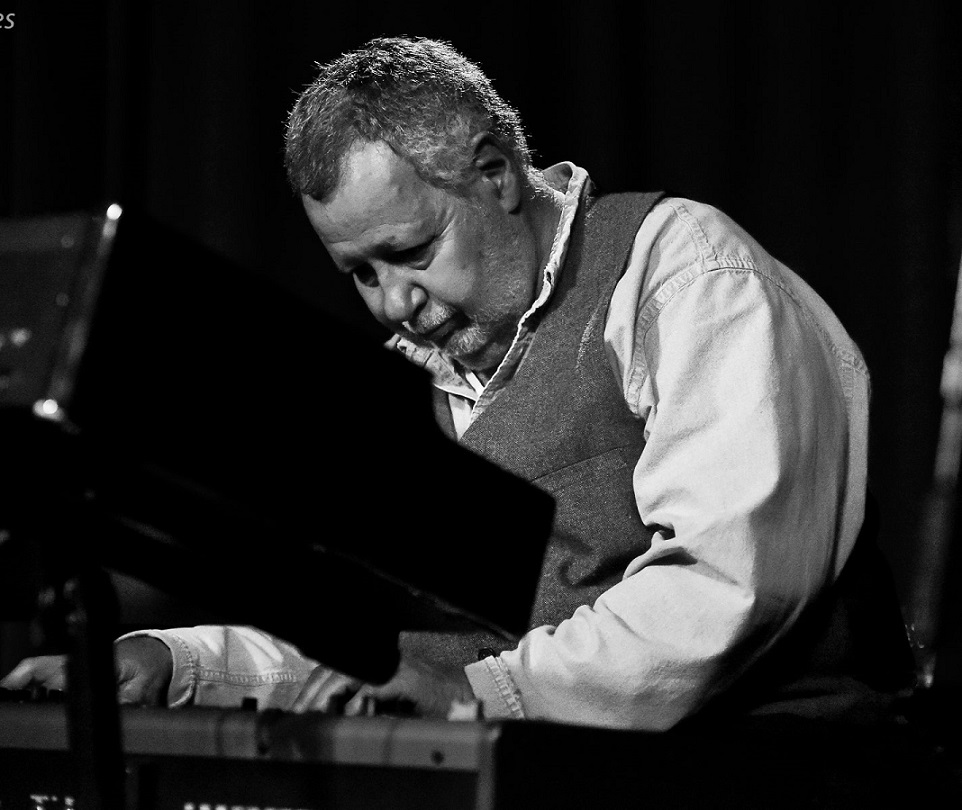 John Otto Young; photo by Paul Gabriel.
"John Otto Young is a native Connecticut keyboardist and songwriter who has been playing, writing, and recording in a number of projects over the last 6 decades. He started his musical journey in second grade when he started taking accordion lessons from Naugatuck Valley legend, Sal Ferla.

"Years later he would transition to such unique instruments as the Ace Tone organ, the Hohner Pianet, and a Hammond CV organ, playing with local bands the Cliff Dwellers, Blues and Novelty, the Poem, and Bigfoot.

"In the mid-70s, John married the love of his life, Camille, raised two boys, coached little league, ran a marathon, got his Masters degree, worked as a computer programmer and IT director, and in general lived the all-American dream, with music retreating to hobby status. But it always remained his most fervent passion."
That was "Sexual Harassment," by Screamin' Deal, off their album, Big Deal!, which we have featured before, back in Episode #36. And that album is so full of mad freakin' genius, I promise we will hear from it again, even if that means the band becomes somewhat overrepresented on this podcast.
Screamin' Deal
Screamin' Deal; submitted photo.
"Crafting some of the smartest and most diverse indie rock this side of the internet, Screamin' Deal is a Canadian indie rock band based in Ontario.
Founded in late 2017, the band features Giles Collins (drums), Paul Lahey (voice, rhythm guitar), Kirill Maximov (guitars, piano), and Matthew Shepherd (bass, keyboards).

"Though its sound is difficult to pin down, the quartet's mishmash of nervy indie rock and lush pop sprinkled with post-punk influences shaped its debut album, " That Ain't No Screamin' Deal " (released March 2018).

"Refining its raw sound, Screamin' Deal released its second album, " Neato Mosquito! " in October 2018 — 15 songs of distinctive post-punk pop delicacies — and their third album, "Big Deal!," on October 1, 2019."
Before that, we heard from The Warp/The Weft, who based in New York's lovely Hudson Valley, are kinda/sorta almost neighbors of mine. They who brought us "A Sun-Filled Room" off 2019's Dead Reckoning
The Warp/The Weft
The Warp and The Weft; photo-by-Melissa-Clark.
"The Warp/The Weft, active since 2012 in and beyond New York's Hudson River Valley, has earned praise for its uniqueness and song-crafting from casual and devoted listeners alike. Blending traditional and avant-garde styles, the warmth of a good wool sweater and the sometimes-bleak cold of an upstate winter, the progressive folk and psychedelia that the band brings to bear is propelled by poetic lyrics and a "spirit-conjuring" lilting tenor that prompted psych-folk legend Tom Rapp (of Pearls Before Swine) to ask, "Can I have your voice when you're through with it?" The band released its third LP, DEAD RECKONING, in August 2019."
I've also been dying to share a track or two from another L.A. based act, Loser Company, who get their INDIEcent debut here on the show. This duo, comprised of Will Saunders and Mas Kihira, released their EP, Blueberry Skies, I think, just this past December.
Loser Company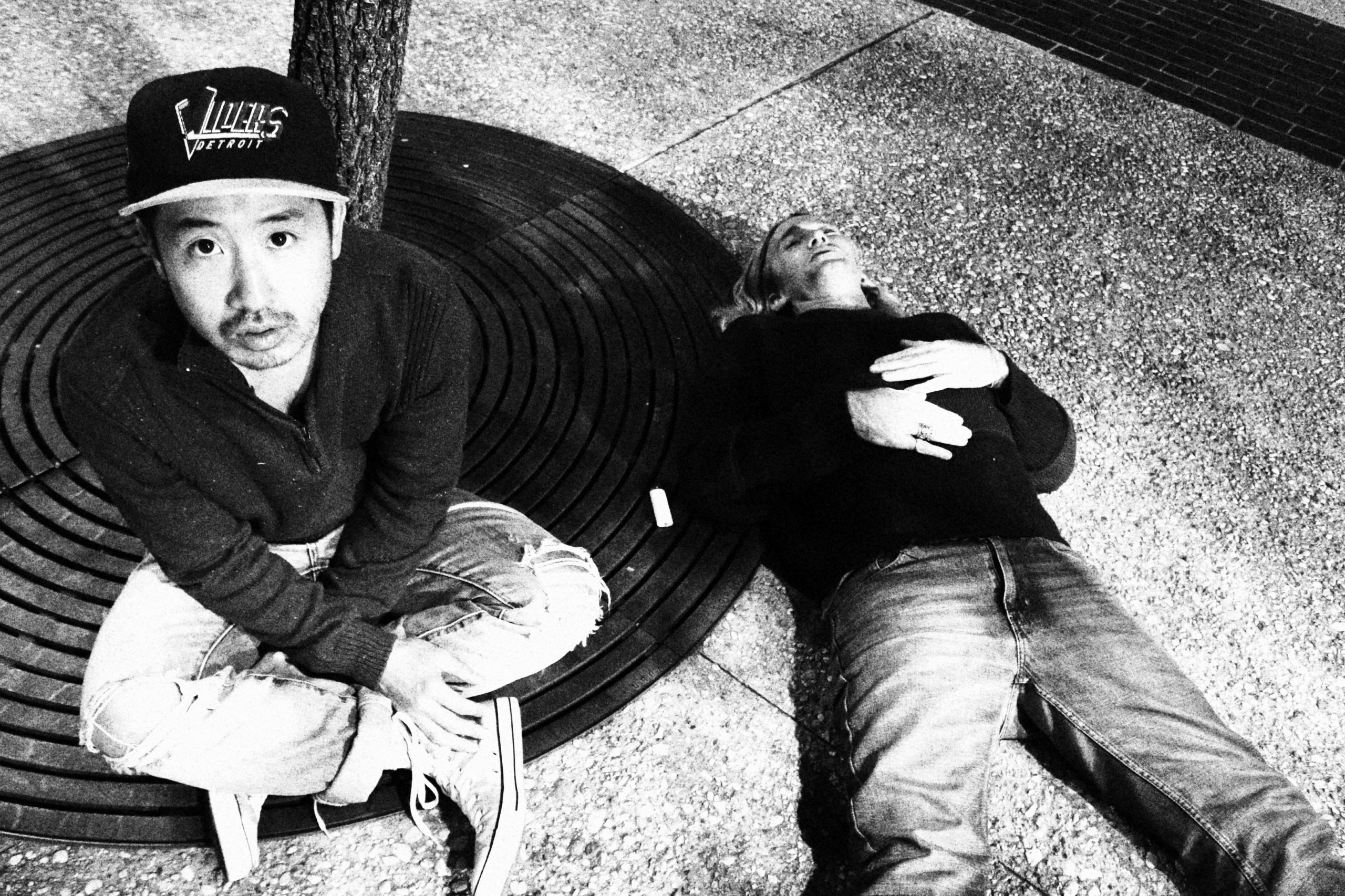 Loser Company; photo by Reena Antonishak.
"Headquartered in Los Angeles and founded in 2018, Loser Company is Indie Rock with a Nouveau-Grunge, Alternative twist; a balance of infectious melody, heady lyrics and harmonic grit."
And, of course, starting off that set was John Otto Young, with "Anymore."
It's a pretty wild ride from here on out, so if you need to press pause while you go find your smelling salts, I'd forgive you.
In this next chunky block of tunes, metalcore band, Echoes in Ashes, based out of Phoenix, Arizona brings their single, "Echoes." They say, quote, "We have been living in Phoenix, AZ for too long, " end quote. I've only stopped in Phoenix once, on my bike, and that was just long enough to sell plasma so I'd have gas money to make it to L.A., so my memory of the town is maybe a little tainted. The band also says they "bring a whole new meaning to metal," and I'd have to say that's absolutely correct.
Echoes in Ashes
Echoes in Ashes; submitted photo.
"We are a metalcore band based out of Phoenix, Arizona. We are comprised of vocalist and front man Chris Campbell; guitarists Adrian Layton and Cody Long; bassist and backup vocalist Myles McNeal; and drummer Connor Davey.

"We are a metalcore band out of Phoenix, AZ. We have a EP available on all major music platforms. We are working to push our selves past our limits and get our name out there so we may make new friends and fans!

"We have been living in Phoenix, AZ for too long. Our music is our life. We bring a whole new meaning to metal. With amazing guitar riffs to killer bass lines with heart stopping drums and vocals, we will rise from the ashes and into the hearts of many. Hope you All Enjoy."
Speaking of whole new meanings, Vancouver-based act, Post Death Soundrack takes doom, trip-hop and ambient psychedelia are flings it violently at the industrial canvas. That's how they describe their latest effort, It Will Come Out Of Nowhere, and that pretty well sums it up. Except I'm going to add that this album, of which there are a scarce number of double LP vinyl limited editions available, this album shows what's possible when artists meticulously attend to every small detail.
Post Death Soundtrack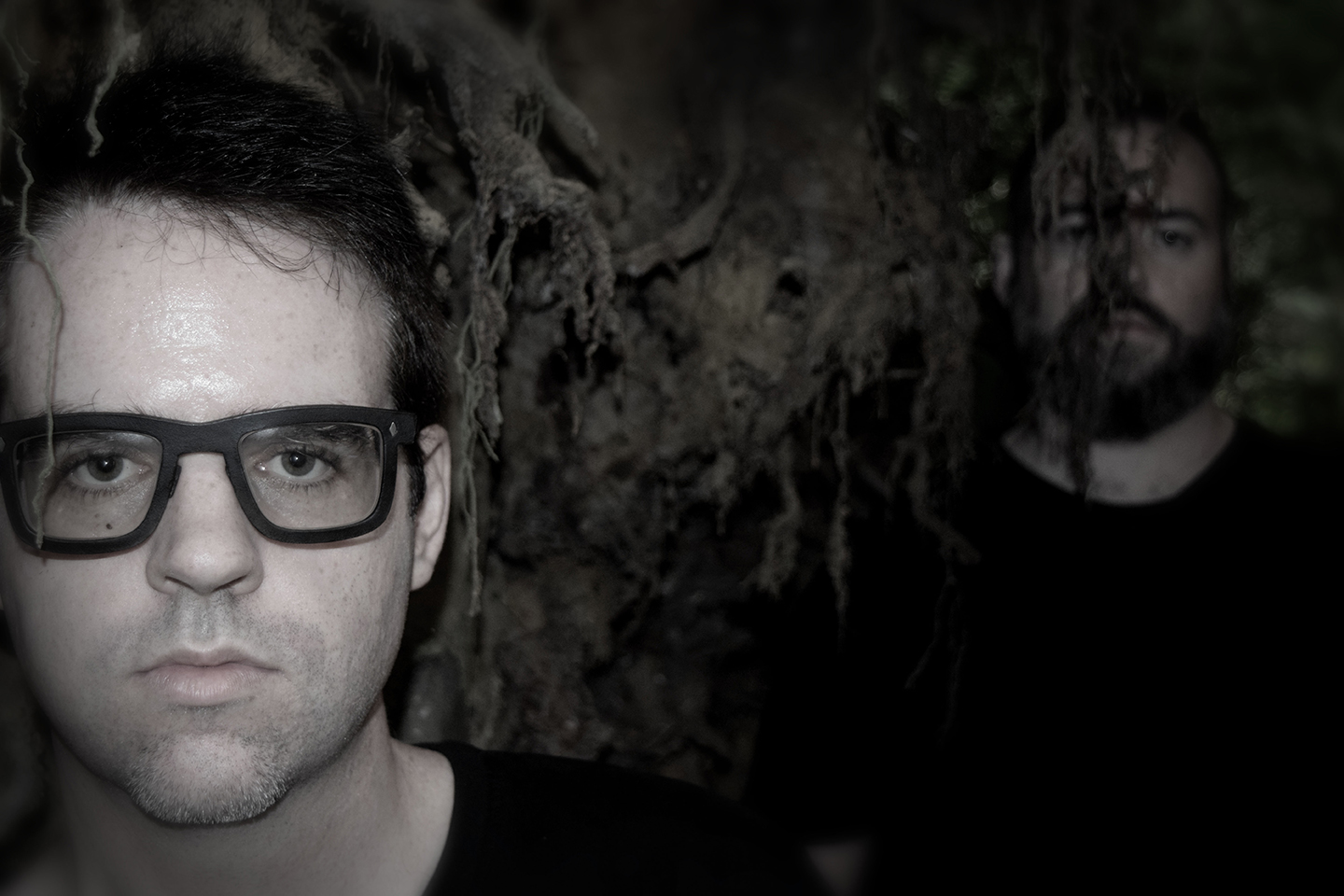 Post Death Soundtrack; submitted image.
Vancouver-based psychedelic industrial doom duo Post Death Soundtrack craft a dense electric symphony of heathen guitars, brazen bass, and a bubbling cauldron of synthesizers and found sounds. The score to the untamed plains of the subconscious. This lays the groundwork over which the inimitable Steve Moore showcases his crushing vocal performances.

In each piece, he takes from his hall of faces to embody the essence of a theme, be it scathing fury or enlightened ambivalence. Balancing ferocity and serenity, surrealist absurdity and earworm familiarity.

Conceived in grubby back rooms and underground clubs of inhospitable Calgary, Canada, Post Death Soundtrack initially took inspiration from the same forces that drive young obstinate bands in cities like DC and Austin and Detroit. The cognitive dissonance between the forces that run their town and the forces that run their lives.
After that, I want you to pay close attention to the overall sound of John Cologon, who closes out the show. You're likely to listen and say, "holy shit, this guy totally nails that 70's over-the-top glam sound." There's a reason for that. John Cologon lived that glam life in bands like Midnight Rainbow and Dark Alley. Playing, I think, all instruments, as well as serving as his own engineer on his return effort, "Reality?" this Canberra-stationed artist recreates a musical aesthetic many have emulated, but few have simulated.
John Cologon
John Cologon; submitted photo.
"In the 1970s, John Cologon was a member of bands with names like "Dark Alley", "Scrooge," "SPD Limited," "Midnight Rainbow," and, believe it or not, for a brief period, one called "Arnold Ziffle's Zany Twinkle-Toe Sandshoe Band." In some of these bands, John played lead guitar, in others bass. At one stage he also had a brief career as a drummer.

"Life moved on, and John chose marriage and kids over the music scene, but kept his hand in with occasional performances and jams, as well as by writing and recording songs at home.

"At the suggestion of some friends, John recently decided to put together an album containing a mix of songs he has written at different points in time, covering the period from the 70s through to 2019."
Right now, though, we're going to kick off this long block of rock with San Diego's Mind Cell. I've got to tell ya', I listened to the track "3 Worlds," off 2019's Absolute, intending to get back to the rest of the album later. Then I let album roll. And then I set it to repeat. Brilliant, thought-provoking lyrics, the blistering guitar of David Taub, Daniel Zapata's hypnotic bass lines, and metronically precise percussion of Justin Bogh all set the stage for the savage, yet sophisticated, growling vocals of John Cappel. This album, which definitely has a narrative thread running through it, updates everything we love about Tool, Alice in Chains, Metallica, and other legendary acts, and gives us a progressive rock go-to release when we really need it. And right now, I really need it, so here is "3 Worlds" by Mind Cell. I'll see you on the other side.
Mind Cell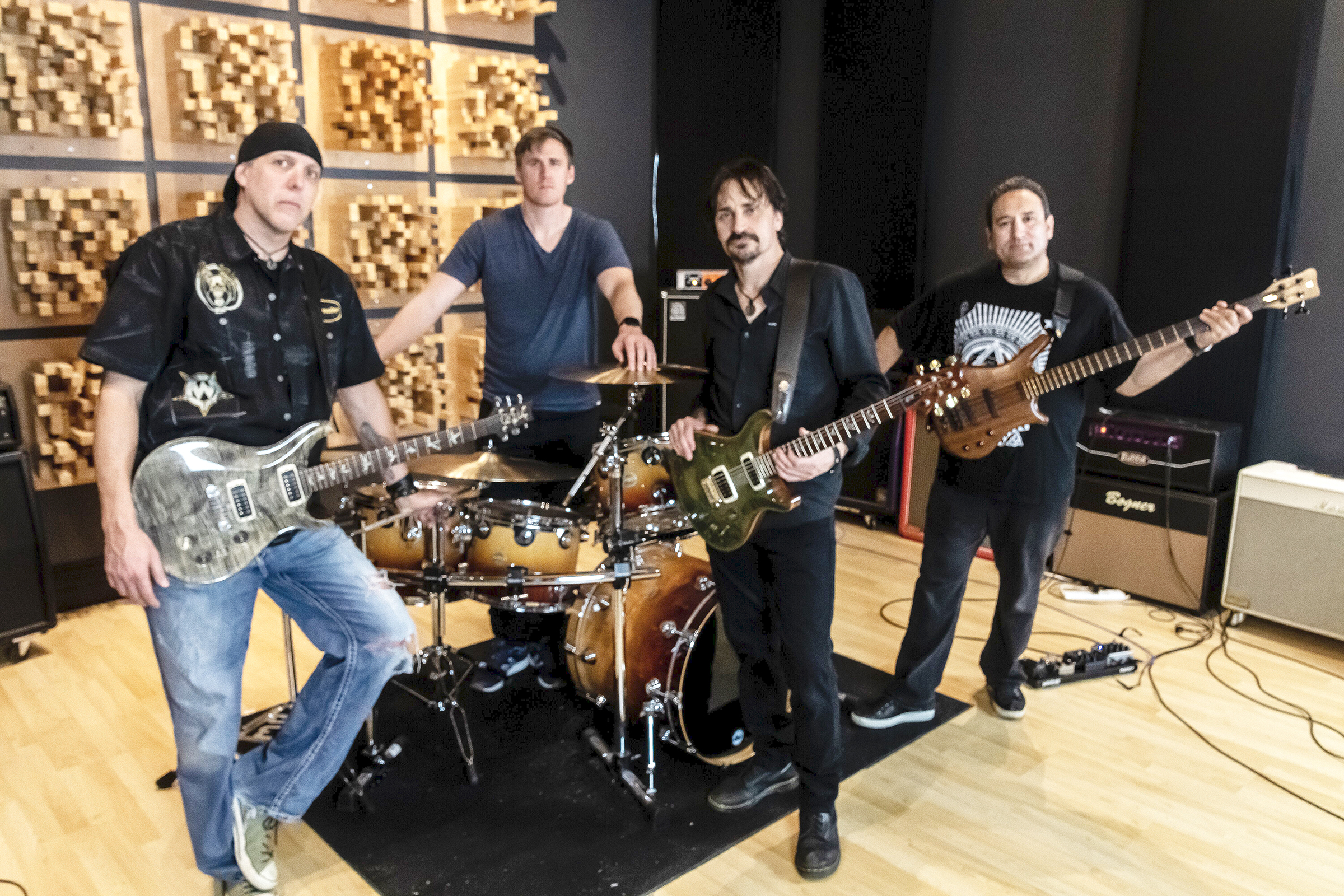 Mind Cell; submitted photo.
"San Diego, CA based Mind Cell is an original four-piece progressive hard rock band. Mind Cell strives to create driven and intense music that takes listeners on a musical journey that they can sink their teeth into. Unique and different songs loaded with substantial musical calories. Complex arrangements but gorged with heavy catchy riffs, thunderous bass lines, complex rhythms, and stirring vocals with deep lyrics.

"Mind Cell creates powerful music laced with substance, attitude, and complexity. Many of the band's fans have described the sound of Mind Cell to be a blend of the tribal heaviness of Tool, mixed with the darkness of Alice in Chains, mixed with the catchy off-timing riffs of Soundgarden.

"Mind Cell is Justin Bogh on drums, John Cappel on vocals and rhythm guitars, David Taub on lead and rhythm guitars, and Dan Zapata on bass."
Ahhhh…Is there anything better than cranking a sweet set of killer tunes in the summertime with the windows down so you can piss off the neighbors? I don't think so. Not when I've just enjoyed one, anyway. Did you enjoy that set? Did you enjoy that show? Fabulous. Glad to hear it. And if you're sitting there, recovering from the sheer awesomeness of this show, wondering, "Shit! I wish there was something I could do to show my appreciation for an episode well podcast…" Podcasted? Whatever. Produced. You're in luck. Because this show now has its very own Patreon page.
Become a Patron!
You know? Patreon? The crowdfunding site that lets audiences support creators a little at a time to keep the content coming, fresh and furious? Just go to patreon.com/indiecent and choose the level of support that matches your devotion to the mongrel. And remember, if you have to cut something out of your budget to afford your monthly contribution, that's perfectly fine. I'd recommend vegetables — I don't believe your body actually needs them. I've gone months without eating any. In fact, it sounds a lot like a conspiracy cooked up by that Jolly Green punk-ass. Yes, cut out vegetables out of your diet and give the money you would have spent on that worthless "food group" to me.
Anyway, that's our show this week. If you're listening via Apple Podcasts, Google Podcasts, or via some other service or podcatcher, please do check out the shownotes for links to the artists and more information about this show. Until next time, remember, live to rock another day.