Richmond, Virginia's Talk Me Off unleash their fast, catchy, 'n' smartass debut album Cursed today of all days – a black-hearted, blood red-spattered anti-Valentine's Day blast of aggressive, angsty, but tuneful punk rock.
Holly Herzog (vocals, guitar), Ryan Cacophony (vocals, bass), and Christian Moquin (drums) deliver the gritty and defiant goods on a full-length that is being released by Smartpunk Records.
Last month the band dropped two singles, "Worry Wart" and "Insidious," a double-fisted knock-out of sharp and dark songwriting and anthemic vocals and sonics. And the hits keep coming with the rest of the smashing tracks on the album.
Cursed was recorded at The Orchard in Richmond, engineered by Josh Scolaro, mixed and mastered by Ian Marchionda, and produced by the band.
As the official PR so succinctly puts it, "Feel like nothing ever goes your way? Feel like you just can't live up to expectations?... [Cursed is] emotionally-driven and tackles everything from hating life to telling religious idiots to keep their opinions to themselves. This [album] scratches the itch for the angsty teen hating their life all the way to 30-something burned-out [office drone] wishing they weren't required to wake up the next day."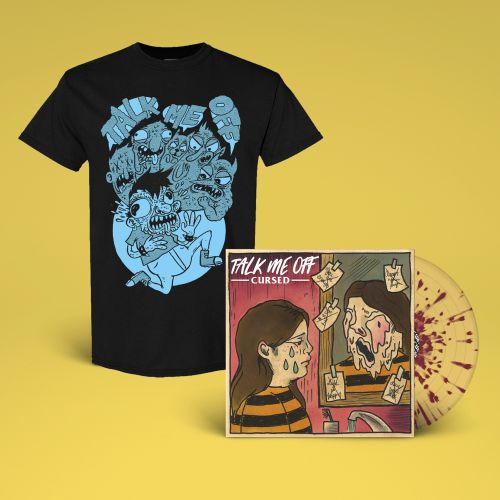 Holly and Ryan generously give an exclusive-to-Rebel Noise track-by-track rundown of their new album, revealing illuminating details about the meaning and/or creative process of each song.
"Cursed"
Ryan: "One of my favorites on the record - and stoked that it's the title track. I came up with my bass line in the chorus literally during the recording, even though this was one of the first songs we wrote for the album."
Holly: "It has always been really hard for me to see the positive in things and this is about that. About feeling like nothing can and will ever go right. It is a pretty common theme across the whole record."
"Worry Wart"
Ryan: "My favorite song to play live. It just has so much energy and it's fun to pull off those harmonies in the choruses in front of people and make them believe that I'm a competent musician."
Holly: "Also one of my favorites to play live. I feel like the word snotty gets thrown around quite a bit in reference to songs I've written and this is a perfect example of that. Complaining more about the feeling that I always carry around of worrying too much about everything."
"All Is Lost"
Ryan: "The song was inspired by a lyric in an old They Might be Giants song, which is basically the first line in this song. So ya, completely ripped it off, but whatever, it's a great line."
"So What"
Ryan: "I love the main progression in this song. It's something I would never think to write, yet it seemed to come so effortlessly from Holly. Another song that's a blast to play live. Christian really killed it on drums in this one."
Holly: "Short and to the point. Everyone has a way to go about living; let them do their thing."
"Cut It Out"
Ryan: "We pumped this one out so quick. I don't even really remember learning it because of how fast it came together. The lyrics are some of my favorite on the record."
Holly: "Yeah, this was absolutely one that I think I wrote in 15 minutes. It comes natural when you are pissed off and threatened. I just keep being [astonished] that in 2020, men are still making decisions about women's bodies."
"Liar Liar"
Ryan: "This song is about how easy it is for people to tell someone who is in pain that "everything will be okay". I've always hated that. No one but you knows what you're truly going through mentally and physically, and telling someone that "it'll all work out" is a fucking lie because you just don't fucking know."
"Comfort Zone"
Ryan: "This was an older song we re-recorded from our first EP and still is my favorite song that we have."
Holly: "This is one of my favorites I have written which is why we brought it back for the LP. This song is just about how you aren't always going to fit into people's comfort zones and vice versa. I have always been a blunt person and sometimes that rubs people the wrong way."
"Insidious"
Ryan: "I went back and forth on this song for months from wanting to cut it completely to loving it. I still don't really know how I feel about it. Holly and Christian both say it's good, so I'll believe them."
Holly: "This is my favorite to play live. The chord progression itself just sounds pissed. I think everyone can relate to what it is about as well. Being in a relationship that you sort of know isn't a good fit. Stringing someone along and trying to feel something when it just isn't there."
"Smile"
Ryan: "When Holly brought this song to the table, we all had so many ideas for it. I love when the three of us can put our heads together and pump out a song that we're all happy with. It's one of the best parts about being in a band."
Holly: "Everyone can relate to this one, being told to do something, [to] fake something, sucks."
"Enough"
Ryan: "I had to reassure my girlfriend that this song wasn't about her when I let her read the lyrics. I just wanted to write a song about a super unhealthy relationship that's built around settling for less and being pissed off at the other person for settling along with you."
"Denial"
Ryan: "This song has my favorite bass line. I love how happy and bouncy the song sounds when the lyrics are so sad. I love the melody Holly came up with for this song; probably my favorite melodies on the album."
Holly: "Part of me regrets putting this on the album because it is really depressing and sort of no one's business, but isn't that why we are musicians? To deal with our own shit in our [own] way? Parental relationships can be some of the most painful in life and this is about that."
"Get Out"
Ryan: "This song took fucking forever to nail down. It felt like we were working on this one for weeks just trying to get it as good as it could possibly be. The lyrics are about parents who shut their own children out just because they are different. Blind faith should never overpower love. I'm glad we took our time with this song because the message is so important to me."
Listen to the full album at Bandcamp
Talk Me Off is supporting the release of Cursed this weekend with support for Teenage Bottlerocket in Virginia Beach on February 15th, and a hometown record release show at Gallery 5 in Richmond on February 16th. More tour dates will be announced soon.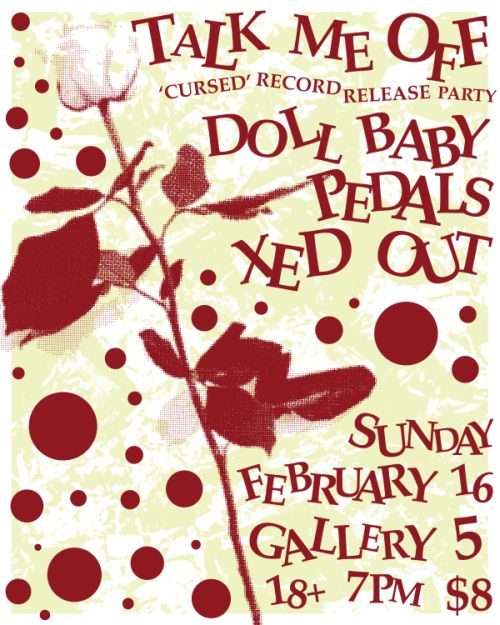 https://smartpunkshop.com/products/talk-me-off-cursed
https://www.facebook.com/talkmeoffrva/