Tour Dates for Brooklyn rock band The Shondes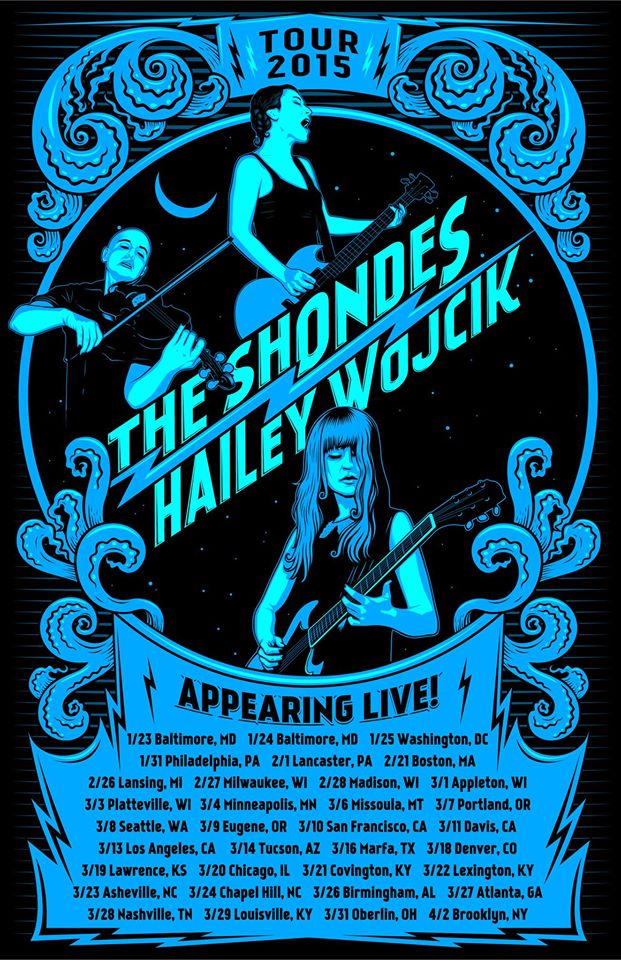 Frontwoman Louisa Solomon and company headline national tour after supporting punk legends Against Me!.
Brooklyn's The Shondes announce first national headlining tour since their game-changing year of critical praise and supporting Against Me! on tour. Hailey Wojcik to support.
Before The Shondes' fourth album The Garden cracked the seal on the mainstream for the band, frontwoman Louisa Solomon said it was "an album about growing up." She had no idea how right she was. After its release they experienced a game-changing wave of critical praise, and got the opportunity to go on a national tour supporting punk legends Against Me! The scrappy, heart-on-their-sleeves rock band has truly come into its own, and will kick off 2015 with a headlining national tour, supported by indie goth darling Hailey Wojcik. Today they have given their fans a taste of the their exuberant live show with this adorable new tour video for the Garden's final track "The Promise," featuring backstage (and on-stage!) hijinks from the Against Me! tour.
"On Your Side" official video:
The 2015 tour is an opportunity to share their remarkable stage spirit for the first time with everyone who first heard about the band in print. For those who worship at the Church of Bruce, welcome to the Shul of Shonde, where New York magic and gritty rock 'n roll bombast offer catharsis for the brokenhearted. The band wraps the tour up at Brooklyn's THE ROCK SHOP on April 2, just in time for Passover.

THE SHONDES' 2015 NATIONAL TOUR - with HAILEY WOJCIK

1/23/2015 Baltimore, MD
1/24/2015 Baltimore, MD
1/25/2015 Washington, DC
1/31/2015 Philadelphia, PA
2/1/2015 Lancaster, PA
2/21/2015 Boston, MA
2/26/2015 Lansing, MI
2/27/2015 Milwaukee, WI
2/28/2015 Madison, WI
3/1/2015 Appleton, WI
3/3/2014 Platteville, WI
3/4/2014 Minneapolis, MN
3/6/2014 Missoula, MT
3/7/2014 Portland, OR
3/8/2014 Seattle, WA
3/9/2014 Eugene, OR
3/10/2014 San Francisco, CA
3/11/2014 Davis, CA
3/13/2014 Los Angeles, CA
3/14/2014 Tucson, AZ
3/16/2014 Marfa, TX
3/18/2014 Denver, CO
3/19/2014 Lawrence, KS
3/20/2014 Chicago, IL
3/21/2014 Covington, KY
3/22/2014 Lexington, KY
3/23/2014 Asheville, NC
3/24/2014 Chapel Hill, NC
3/26/2014 Birmingham, AL
3/27/2014 Atlanta, GA
3/28/2014 Nashville, TN
3/29/2014 Louisville, KY
3/31/2014 Oberlin, OH
4/2/2014 Brooklyn, NY
For more information, including updates and details: