Kingrocker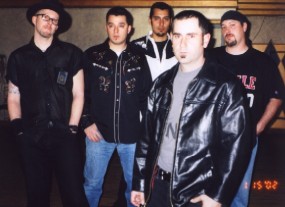 Formed from the ashes of Hollywood's dwindling rock scene, a five piece power-pop rock-n-roll group of epic proportions has arisen. An unrelenting set filled with some of the most engaging and hook driven songs are awaiting your ears.
The group is Tony Slash (founder and leader extraordinaire) His credits include Terror Train, Saddle Sores, Trailer Park Cassanovas, and so on and so forth… Our lead guitarist Dave-X hails from the band Old No.7. I'm convinced he's possessed by some obsession to hurt himself offstage, then to hurt you while onstage. The man in black is known as John Onion. He was the bassist for the band Snair (actually we won him in a card bet). It's best not to go near him, to make eye contact, or touch his TV remote! We do have the token madman in the band. His name is Jeffrey Hein and we like him and yes we are keeping him preoccupied so as not to hurt anyone while he's playing drums. Victor is the final addition to the band, he sings, he plays guitar, and he is the roadie (what more could you ask for?).
King Rocker's live shows enable you to experience a band with a fire in their eyes on the brink of breaking out. Do yourself a favor and catch a show soon. You'll become a believer!!
Members
Tony vox/guitar Victor vox/guitar Dave Lead guitar/vox John bass/vox Jeffery drums
Location
Hollywood, California, USA
Touring
Not Yet
Years Active
2001
Influences
Oasis, Green Day, Bad Religion, SD, KISS, Clash, X, Gen-X, and so on...
Email
Visit Website