Lethal Rejection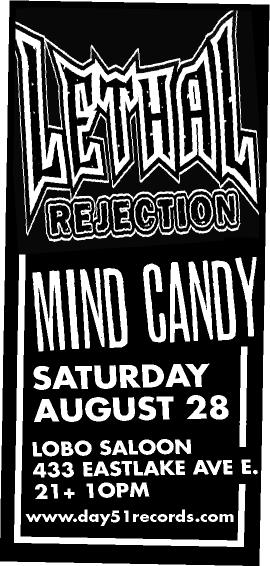 Lethal Rejection was started in January 2000. I came to Seattle from Columbus, Ohio, and threw an ad in The Stranger for musicians to play some old school hardcore with me. A few lineups later, we're still playing all over the Northwest. The current lineup is probably the best yet, because of the diversity of our influences. We record new material all the time, and our different backgrounds keep the music from sounding all the same. A few months ago our engineer accidentally erased half of an album, which threw us off schedule for a new CD to tour this Summer(2004). So we just went out, and bought all of the equipment to do it all ourselves, which I highly recommend. So right now, we're just stocking up for next year's tour. We're trying to get a few CD's together, just to make up for lost time. We're also recording our shows for release. I always buy live recordings- I've heard some of the best, and worst a band has to offer on their live recordings. Right now it's Me, Matt, M.T., and Rusty. Matt just came to us last year. He answered my ad while I was sitting in the premier of Rob Zombies "House of a Thousand Corpses." I answered the phone, gave him the bass players #, and we were in the studio three weeks later. He has since learned, and/or contributed to 40 of our songs. He's also opening up more on leads, and has proven himself absotutely amazing. Kerry King- Look Out! Rusty used to play for Cringe. So when our first bass player quit(the day of our first tour), I called up Rusty, because I liked his work on Cringe's "Brewzer" CD. He's been with us ever since, and he adds the Venom/ Husker Du sound to the band. M.T. Glass is our longest running drumer. He also plays guitar, and writes alot of our music. Right now, we're playing a couple times a month, and recording. Always recording. We also started our own label, Day 51 Records.
Members
Andre Hunter- vocals Matteo Farcia- guitar M.T. Glass- drums Rusty Studabaker- bass
Location
Seattle, Washington, USA
Touring
Regional
Years Active
2000
Influences
Black Flag, Venom, Slayer, The Birthday Party, White Zombie, Cab Calloway, Hatebreed, Just about everything from Joni Mitchell to Napalm Death. We listen to it all, and it all can be heard in our music in an Old School Black Flag kind of way.
Email
Visit Website