Pseudonymph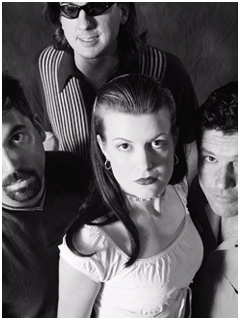 Jumping down Trampoline
Eyes Shining Vaseline
Hips Swish and Hypnotize
Fingers Bruise Tattooed Thighs
That's how the enigmatic lead singer Panacea Solace answered when asked to describe PseudoNymph's musical style. Eclectic song styling paired with skilled musicianship creates the foundation to one of Las Vegas's most exciting new bands. Poor Boy Paul and Fino make up the Rhythmic backbone of PseudoNymph and when they bond together with the viciously raw guitar of Deacon Deadcenter the musical heart of this remarkable band is produced.
The fusion would be incomplete however without the devastating voice and personality of PseudoNymph's lead singer Panacea Solace. Her synthesis of sex and punk erupt on stage in a beautifully violent fashion. Panacea performs, as a creature possessed, hypnotizing all that watch.
PseudoNymph's musical style perfectly integrates a wide spectrum of influences. Compared to the musical uniqueness of The Pixies to the raw sound of X the music captivates. Individually the songs will enthrall the audience as the music metamorphoses from haunting melody to thrashing primal rage. Collectively the schizophrenic mix generates a musical experience you will not forget. PseudoNymph will be THE band to watch as they stake out their place in the flourishing Las Vegas music scene.
Members
Panacea Solace (vocals) Deacon Deadcenter (Guitar) Fino (Bass) Poor Boy Paul (Drums)
Location
Las Vegas, Nevada, USA
Touring
Not Yet
Years Active
2000
Email
Visit Website