Sado Nation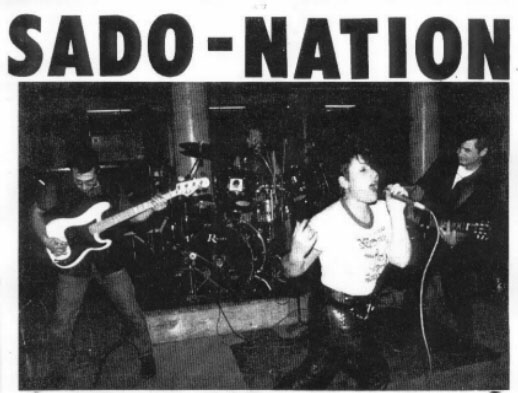 The year 1977: A small group of individuals had been waiting for a change in music to happen. The Sex Pistols broke out and a few bands quickly picked up on the energy and angst that the Pistols had exibited in their music. This was the birth of the Punk Rock scene in Portland, Oregon.
Mark Sten, John Shirley and others began putting shows on around town. Corboy saw Shirley perform with the band Terror Wrist. Corboy approached John to listen to some songs he had written. The two set a time to play. Mark Sten was on drums, and Dave Propp, bass. Corboy said he wanted to call the new group Sado-Nation. It was Winter of 1978.
Sado-Nation had a total of three singers, four bass players, and three drummers. The band was most stable between the years 1980 - 1984. This was the period with vocalist Mish Bondage, Propp and Steve Casmano on bass, Chuck Arjavac-drums, and Corboy on guitar.
In 1982 Mish Bondage joined Sado-Nation. She was recruited from the all female band, The Braphsmears. Previous to this time Corboy had been the main writing force in the band. Mish was able to contribute lyrics to the musical compositions that Corboy wrote. Mish Bondage is still a powerful singer and performer. Her stage presence was commanding. She was famous for her prowling movements as she spat out lyrics.
In 1984, Corboy started to play guitar for the Pre-Psyco-billy band, The Jackals. Sado-Nation was up and running, but members of the band wanted to expand. Sado-Nation broke up under the pressure.
Mish and Corboy talked about reuniting Sado-Nation as interest began to stir in their music. Corboy was approached to headline a Legends of Portland Punk show in January of 2001. As more interest perked about Sado-Nation, Mish and Corboy began to work on releasing both new and older material. Sado Nation has finished a new 4 song EP and are writing material for a new CD, they recently have played with the Fartz, the Lewd, the Styphnoids and Vice Squad.
Members
David Corboy -guitar/founder, Mish Bondage - vocalist/lyrcist, Steve Casmano - bass, Mike Teal - drums, Previous members: John Shirley - vocals, Leesa Anderson - vocals, Chuck Arjavac - drums, Dave Propp - bass, Rick McIntyre - bass
Location
Portland, Oregon, USA
Touring
National
Years Active
1978
Email
Visit Website