Shrooms, The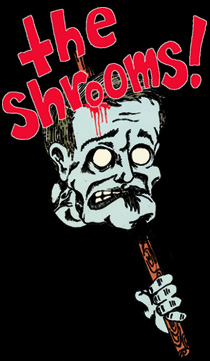 In the year 1992 East Los Angeles saw the birth of The Shrooms. Starting on the wave of defunct relationships brought Arthur and Caddie together to start something new and fresh from what was being churned out of that area. Canning their first bass player (in a very cowardly way) and bringing in Caddie's brother Bob to really start with the live playing around town they started to gain a very loyal following.
Year 93'. Recording their first demo "Love songs and crap" The Shrooms started to play more than their weekly back yard gigs. Not that these were crap, some were played with back yard partners such as Union 13, Total Chaos, Shoegazer, and even Joy Killer. They started to finally club it. With bands like U.X.A., China White, Shleprock, Das Klown, DYF, and even Blink 182 and Sublime. This was going okay for a couple of years just to lead to one of the many breakups.
Year 97'. Playing at a cemetery headstone lot, The Shrooms were spotted by Danny Garcia of Cool Guy records. He said he was floored when he saw them. Soon he released a 7 inch "5 years of anxiety" soon to be followed by their full length album "Mini Ha Ha. They supported these efforts for quite a while until, yes, another breakup.
Year 2002'. Finally a year when all three guys had the same mentality. The Shrooms first hit up old names from their mental rolodexes in order to get some shows. Eddie Solis and Waleed Rashidi from It's Casual and Phil from DYF helped them get their feet wet again and boy it looks like they have drowned. According to Art " we haven't played this much in our entire existence". They recently now shared the stage with Gregg Ginn, PooP featuring Rikk Agnew, It's Casual, Superrider, Devils Junction, Mike V and the Rats. So they're back and it doesn't look like they'll be breaking up anytime soon. So grab a cold drink at what ever venue they are at and enjoy the show, the honesty, and most of all, their unique sound.
Members
Arthur-Vocals/Guitar, Bobby-Bass, Coddie-Drums
Location
East Los Angeles, California, USA
Touring
Regional
Years Active
1992
Influences
Ourselves
Email
Visit Website