SideKicK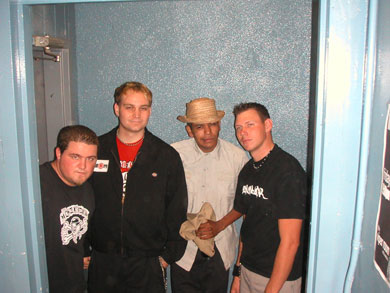 SideKicK is based in Hollywood CA and has been around since February of 2000. SideKicK is a punk rock band that blends the melodic hooks of the Ramones and Screeching Weasel with the harder edge music of a Rancid, Offspring, and Bouncing Souls to create a sound that is all their own. SideKick has already played over a 100 shows in California, Las Vegas, Arizona and surrounding areas.With an upcoming European tour in summer of 2003, SideKick is known to put on an amazing high energy live show! Check them out if you can!
Look for their full-length record to be released in the springtime of 2003. Expected special guests that are going to appear on the CD are East Bay Ray of the Dead Kennedys, Stan Lee of the Dickies, Monkey from The Adicts and Bill V of the Angry Samoans.
Bands SideKick has performed on the same stage with include The Dickies, Angry Samoans, The Distillers, Union 13, Agent Orange, Osker, Teen Idols, The Skulls, The Adicts, Duane Peters and the Hunns, The Dragons, The Bronx, Leatherface, Channel 3, Dave Brokie of Gwar, Dee Dee Ramone, Big in Japan, Madcap, Whippersnapper, UK Subs, Rock Kills Kid and many other great new bands you have yet to hear of.
Members
Landon, Dio, Nik, Tom
Location
hollywood, California, USA
Touring
International
Years Active
1999
Influences
screeching weasel, Ramones, Bouncing Souls, green day
Visit Website