Stuntdoubles, The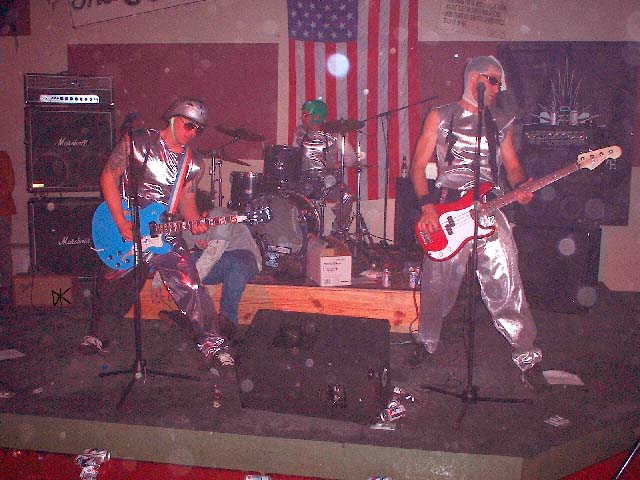 In the summer of 1997, in the sleepy oceanside community of Wrightsville Beach,
North Carolina, a methane gas explosion engulfs three refuse workers, giving them super musical powers. Our heroes quickly retreat to their landfill headquarters to hone their newfound abilities; calling themselves THE STUNTDOUBLES pledging to use them for the good of the humanity; thus beginning their quest to liberate boring music scenes everywhere from the evils of "shoe-gazing rock god wanna-be's." Since that fateful day, The Stuntdoubles have been spreading their gospel of punk/new-wave surf-guitar madness from coast to coast. After setting an example in their hometown of how fun Shows can really be, our heroes relocated to the warmer climate of
San Diego, where they gathered new legions of followers. However; even the bravest of Heroes loves his mom, and after two years on the west coast, The Stuntdoubles have come home, recharged and revitalized, and ready to rid the world of boring music once again.
The Stuntdoubles have shared the stage with many shady characters over time including: Dick Dale, The Loudmouths, The Needles, Transistor 7, Weedeater, TheIllbilly Boys, and west coasters: Lo-Fi Nipple, The Plug Uglies, Losing Balance, Mower, and the Labour League.
Members
brian drake-guitar/vocals ben moore-vocals/bass dean grey-drums extras: ben mckoy-guitar chris parker-drums
Location
Wilmington, North Carolina
Touring
Regional
Years Active
1997
Influences
early L.A. punk rock 1st wave and on-Dils, Weirdos, Bags, Dickies, Gun Club, Adolescents, Agent Orange, Turbonegro, Stitches, Loudmouths, Man or Astroman, Dick Dale, blah blah blah
Email
Visit Website