Blood In/Blood Out, a pummeling hardcore band straight out of LaPorte County, Indiana, have a respectable, if lofty, goal – to bring back equality within the hardcore scene. And the guys aren't afraid to pontificate their views through their music, as is evident on their recently released bludgeoning debut full-length entitled "No One Conquers Who Doesn't Fight", which features lyrics that more often than not expose the problems within the hardcore scene. I was able to catch up with BI/BO one August afternoon on the rare occasion when all five members' busy schedules permitted it, and in the process found out more about the band, their new record, projected touring plans, the Midwest hardcore scene, and the enticingly named Kill Fred Durst Fest, among other things.
First, however, a brief history of the band is in order. Before the formation of BI/BO in September 2002, three of its members were in a band called Right Arm Death Threat – vocalist Jaaron, guitarist Joe, and bassist Dave – and had previously released records on their own. Then guitarist Jake and drummer Mark "started jamming with them and they changed their name, and now we're Blood In/Blood Out," explains Jake, who also supplied the band with its moniker, which just so happens to be from the Benjamin Bratt movie. "I saw the movie a long time ago when I was a younger kid," he expounds, and "I always thought that would be a cool name for a band." And the guys would have kept putting out records without help from a label – they actually had recorded some material and "passed out 3000 free demos across…the whole country and Canada," says Jaaron – but then fate, or rather Joe Hardcore of Punishment, stepped in. He "gave one to Thorp Records and Spook City Records, and Shawn from Spook City got with us right away and emailed us," relates the vocalist, adding, "We liked what he had to say and he had distro, and we told him we wanted to play weekends all the time" but that it would be "on our own terms." Well, Shawn agreed, and the band signed with his label in April 2003.
Shortly after in May, the band recorded 11 tracks at Cloud City Studios in Detroit. The album took all of six days to record, broken down into two weekends and was recorded by Mike Hasty. Joe elaborates on the process of working with Hasty for the second time: "We did our demo with him too, so, you know, we were already friends with him so there was just a lot of fucking around, just doing stupid stuff." And the guys practically lived in the studio the entire time. "We never left the studio except to maybe go get some food…or beer runs – stuff like that." But mostly, Joe says they just met new bands, made contacts, and talked music during that time. Reviews that the guys have seen already for "No One Conquers Who Doesn't Fight" have been good so far, and the kids at BI/BO's shows seem to be impressed as well, for when the band checks out message boards afterwards like Chicagohardcore.net and PAHardcore.com, they're "hearing pretty good responses" about it, according to Jaaron. The day the album was released, BI/BO had a record release show, which also included some of their friends' bands like Wings Of Scarlet, King Of Clubz, and Bled For Days.
But the band is making lots of new friends at all the shows they've been playing, including the Quad City Hardcore Fest at the end of May. They sound pretty excited about meeting the band As We Speak from Denver, and overall, the whole festival was simply "a good experience," proclaims Jaaron. About the fest itself, Jaaron feels "it was a really well put together fest time-wise, as in all the bands got to play in a timely fashion. But, there were two stages. There was a stage and there was a floor stage. And the floor stage, [for] every single band the power cut out – especially for us. It cut out like seven times during the set like in the middle of our songs." The reason for all this nonsense? "They were running a whole PA system off of one wire out of the wall, which was ridiculous." However, Jaaron feels "other than that, it was fun." And right after this huge show, the band played the Kill Fred Durst Fest in Peoria, IL, but Jaaron didn't see it having too much to do with the actual murder plot of Durst, but rather only a "clever title" on behalf of the show organizer. No matter, Jaaron asserts, "It wasn't like the biggest thing in the world, but it was definitely fun."
The guys in BI/BO seem to really enjoy playing in small towns like Peoria, where the hardcore scene isn't too developed yet and the kids aren't all into the politics of hardcore or overly wrapped up in the whole fashion aspect. The kids in towns like these aren't elitist and are basically just there to enjoy good music. "They're not affected by the politics of hardcore yet and they're just like good kids that just want to have a good time," says Jaaron, who prefers these more "intimate" shows where everyone is viewed as an equal within the scene as opposed to those in the big cities where it's more about faahion and things that aren't relevant to the idea of hardcore. And Jaaron, the band's sole lyric writer at this point, reflects this idea in many of the band's songs, as Joe explains, "We're not really a political band or anything like that, but we all dislike the same things in hardcore." BI/BO promotes unity and equality within the scene, says Joe, but not in the trite, "stale" way of singing, "Let's unite and…be brothers." Rather, Joe says they "point out the flaws in hardcore," and try to show people there is a better way, "and that everybody's supposed to be equal in hardcore…Everybody needs to start respecting each other a little bit more too." And the record truly does primarily deal with politics within the scene, as on "Always the Underdog", "No Time for You", and "The Rise and Fall of a Dream" to name a few.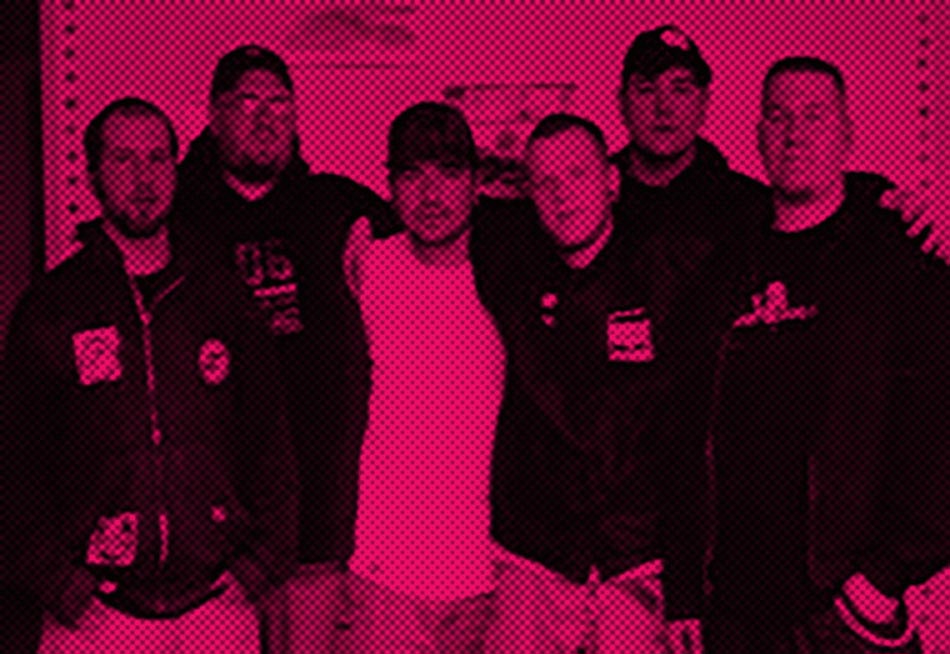 But then there's a song like "Utopia Never Was", a thought-provoking number that is just full of truth that exposes ills in society. In it, Jaaron sings, "It's a fucked up world in which we live/You got to help yourself/No one cares about you!/Everyone cares about themselves!" And unfortunately, he has it exactly right. It's a song that points out the lies we're told when we're younger and yes, it is bleak. About the song, Jaaron explains that he wants to convey the fact that we're told when we're younger that when we grow up, things will get better, but it's not true. However, he feels this song can also be taken in the context of the hardcore scene as well. "That's what a lot of my lyrics are…I like to write them as in the hardcore scene and not in the hardcore scene – how it can be taken any which way possible…The hardcore scene is just an extension of what the hell is going on in life." And BI/BO hope to enlighten those within the scene by showing that hardcore is often taken too seriously. Like Jaaron says, "As far as I'm concerned it's just friends hanging out having a good time together in a positive way."
As for the band's touring plans, Jaaron says, "We're trying to play everywhere and anywhere we can on weekend tours…cos everyone's working…up until winter. In winter we're going to try doing a tour where we can get all the places where we can't get to on the weekends, which is basically the West Coast." And what about us on the East Coast? Well, the band is seeing what they can do and are making contacts and should be booking some shows in New York in the future, with their sights on CBGBs. Yeah, so nothing's set in stone yet, but until they come around, you can pick up their debut "No One Conquers Who Doesn't Fight" and try to apply their message of equality and unity within the scene. This way, we can impress them when they do hit NYC, and change their perceptions of the hardcore scenes in big cities. Hey, then NYC might even be on a par with Peoria. You never know.