What will it take to stop Digger? If you know anything about the band, you must be familiar with the numerous line-up changes throughout the years. Yet, certainly as frustrating as that may be, frontman Chris Benner, the only original member left since the pop-punk band's inception in 1995 and no doubt a perseverant soul, manages to soldier on. Of course it's tough to have to deal with the departure of band mates, yet give in he will not. Chris and drummer Mike Kelly's latest scare came earlier this year when guitarist Garrett Hoskins and bassist Ben Stephens left, leaving the band's future in limbo. Tensions escalated between the guys during Digger's last stint in Europe, where the conflict came to a head. Yet, as in the past, new recruits were found – guitarist Tim Wright, formerly of Project Reconnect, and bassist Warren Cooke of Yellowcard fame, the latter with whom I spoke the night before the undeniably upbeat and energetic quartet left for their first tour since they joined forces during the summer.
Warren has his wife to thank for his new position in Digger. She is the one who "heard that they were looking for a new bass player and let me know cos she knew I was a fan of Digger," explains the bassist. Previously, he helped form Yellowcard back in 1997 in Jacksonville, FL, where he still lives to this day with his wife and three-month-old son. Then in 2000 the band moved to CA and around that point, as Warren recalls, "What the band was shooting for all the sudden changed. That wasn't really for me," but he adds, "I'm really proud of the guys. They're on MTV now and they're doing what they want to do." This scenario sounds somewhat like that experienced by Taking Back Sunday, and Warren concurs, saying that he and singer/guitarist John Nolan, who left TBS along with bassist Shaun Cooper to form Straylight Run, have much in common; neither wanted "to stop the band from [doing] what they wanted to do." So, in Warren's case, he left the band after Warped Tour 2002, but is still great friends with the guys and is pretty confident that Digger and Yellowcard will go out on the road together soon.
And following his departure from Yellowcard, Warren took a year off and became a father, and "now we're back on track, so I was definitely looking to get back out on the road." And he and the others in Digger – vocalist/guitarist Chris Benner, drummer Mike Kelly, and guitarist Tim Wright – aren't wasting any time. Being ground to a halt and off the road for a good eight months upon Garrett and Ben's untimely exit, really made the band – once the new members were found – rather antsy to go on tour again and bring their lively brand of pop-punk to the masses once more. They know that if a band is off the road for too long, people have a tendency to forget about them. Thus, Digger recently announced a new tour that commenced in the middle of September, comprising dates on the East Coast and Canada.
About the fact that there were no NYC or Long Island dates (only one show was scheduled for NY – Lackawanna to be exact), Warren defends the band, claiming, "It really wasn't our tour; it was just like we had that in our routing, like we sent to our booking agent the cities that we wanted to hit. Long Island and NYC were definitely on the list…cos we have a lot of fans there," but "as far as scheduling went, there were a lot of shows that were already coming through there that weren't in our best interests." Allaying my fears, he continued, "But we're doing another tour after this one – about two weeks after this one ends [October 11th] – and we're going to try to hit…Long Island or the city," and noticing the desperation in my voice, declared, "We'll definitely make it there, trust me!"
This next tour following the month-long East Coast stint is more enterprising, as Warren explains they'll hit northern PA October 25th, and then will most likely "go up to MI, through St. Louis and Chicago, go out to CO, come back through TX, hit FL, and then come up the East Coast." And it looks like London's calling too (sorry – had to!). Apparently a UK tour isn't that far off – Digger plans to hit the other side of the Atlantic either in January or April.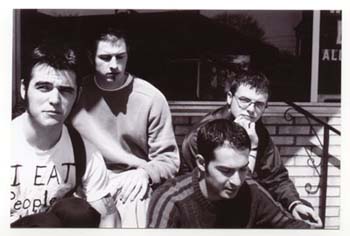 In their set list for this September/October tour they're on now, along with songs from all four full-lengths ("Powerbait" up to 2002's charming "Keystone") and a cover song, they've also included a new offering tentatively titled "Don't Look Back", which, the bassist avers, "definitely has a lot of meaning to what we're going through as we continue to forge on as a band." About the song, he says it has "a fresh, up-to-date vibe that we're really stoked on" and that it's "just straight rock 'n' roll." He even goes so far as to say, "We're not really pushing the punk thing really hard although we are a punk band, but the new stuff definitely has a rock vibe that you can really groove to." On tour they'll be able to gauge the kids' reactions to the new sound. Overall, the band's " trying to write some stuff that's kind of original, that's not typical stuff that you would hear from Digger, and just bring a little new life to it." This new direction sounds extremely interesting, and hopefully if all goes well, we'll be able to hear some of these tunes real soon, as the band's aspirations are to "get these new songs recorded and to get them up on MP3s so some of the old Digger fans can really check out where we're going and maybe…bring in some new fans."
Since Warren calls FL home and Digger's based in PA, it's a blessing that the band is so cohesive, consisting of four fine songwriters who have just been producing new material extremely quickly. The bassist flew up to PA to audition – "We instantly clicked" – and the band wrote three new songs during that interval. But still, they are unsure just when their next record will come out. And Warren seems really excited to be working with fellow newcomer Tim Wright, who at the ripe old age of nineteen is quite the songwriter: "It's great to have somebody like that in your band where you just show him a riff and he's like, 'Oh great…I can take that and build a chord onto it!' And you're just like, 'Whoa!' instantly…The songwriting that's going on right now is really fast and really impressive to me after being in a band that was on a major label. I'm just seeing stuff that's popping out without a producer." By the way, this tour is Tim's first tour and he's "really excited," to say the least.

And just before leaving for the tour, all of Digger was together in PA, putting in eight-hour rehearsals every day. Not surprisingly, Warren's "wrist has really been hurting these past few days," but nonetheless he reasons, "You just gotta keep pushing." Sounds like he – or rather his wife! – chose the right band. And it certainly seems as though he's happy where he is now: "I'm really stoked to be in the band. It's like having three new best friends to go out with…and have a good time. So, we're gonna enjoy it." Even just rehearsing Digger's set makes him giddy: "Whenever we play the set, I'm just there like laughing; I just giggle. It's just like a lot of fun." Warren elaborates, "There's bands out there that I could have gone to play for where they just play like really depressing stuff…where it's just a sob story. And that's not for me," adding, "Digger has songs about having your heart broken, but they write it in a fashion that's…really upbeat and that's what I always look for in music – something where I can put in a CD and no matter what kind of day I'm having, you know, I'm gonna have a good day just from listening to [it]." And that is exactly the department in which Digger excel; not many other bands' records can just make you happy and put a smile on your face.