Heya Angel (and Brian and Bryan)! I heard your new song "Golden Rat" last week and it's one helluva vividly bludgeoning and exhilarating blast! I just had to find out more about the band and your music after that. I know the basics; that you're from Savannah, Georgia, you're debut album came out in 2012, and you're set to release Here Comes The Rat EP on June 2nd ahead of your sophomore album slated for later this summer. What I don't know, for starters, is how you joined forces in the summer of 2009 to form CUSSES. Were you all friends first or did you find each other through mutual musical connections?
Hey Jen! Well the drummer and guitarist actually went to school together in Savannah, and played music in bands during college. I met the drummer through friends; we were missing music in our lives so we moved back to Savannah and formed CUSSES with Bryan Harder.

You played your first show in February 2010 – and have played tons of gigs since then. Is your life literally spent on the road?
We have had many long treks, but Bryan Harder has a family. So we have had to work with what makes them comfortable. As of now we actually have a touring guitarist in place to cover the shows to come in the next few years. Harder still works for his family, and sits in on shows when he is able to.

Your music is bold and energetic; a thrilling and menacing amalgam of rock, punk, metal, and catchy pop melodies. Can we expect that same level of fierce 'n' fun intensity on your new EP and 2nd album? Will you be blending other musical styles into the mix, like the seemingly ubiquitous electro-pop sound?
We really have not ventured into the electro-pop thing. We love the vitals of just guitar, drums, and voice. The whole point of this project is to get as much sound as possible coming from just the three of us. There are songs that are done in different styles on the LP that are about us just loving making music. So it is up to the listener to classify.
OK, I have to ask about the EP and album titles. Well, I guess the Here Comes The Rat is self-explanatory, since it precedes The Golden Rat album – but what on earth is the significance of the rat?! Is it representing the people who you've encountered who have done you wrong?
Cuss definition is "Unwanted person or being". "Golden Rat" is a version of that meaning; that we take something unwanted and turn it into a golden moment. The song "Golden Rat" is a memorial of the drummer's mother who passed. We wrote the song right after her death. The most unwanted thing to all humans is death.

I'm picking up some vintage vibes from your tunes, like elements of 50s rock 'n' roll and 60s garage rock sonically and 90s riot grrrl vocal-wise, where, Angel, you belt out your lyrics in unbridled Kathleen Hanna-style. Would you say that some or all of these genres are influences on your sound and attitude?
You are correct; plus many more. We all have different influences as a band. I love soul, rock, anything with heart; from The Cars, to Joan Jett, to Heart. Brian and Bryan love rock from all genres; Jesus Lizard, The Melvins, ALL, and Fugazi. I think putting all this together makes the sound of Cusses.
Why did you decide to release an EP before your next album? Did you have an excess of songs that would have jam-packed Golden Rat too much? Are the tunes on the EP indicators of what to expect for the album?
We love the idea of just giving the public a little at a time. We wanted to let a little out of the gate so they don't get lost so easy. This new music culture is fast. So we decided to leak it slow. We are even thinking of making one more EP and you can only get the full album if you come to the show. Who knows? It's any game at this point.

Two producers are at the helm of your upcoming album; Billy Hume and Dan Hannon. How did you decide on them? Did they work together on all of the tracks or did each one take on specific songs?
We worked with Dan Hannon before on the first record. He suggested using Billy to raise the slickness of the record. Billy really worked hard on the engineering end, while Dan concentrated more on arrangements and lyrics. They worked everything together, just on different areas of production.

You're releasing your music on your own label, HA! Records. What is the origin of the name and is it a handful to run the record label or does it make for smoother contact with listeners?

HA! as in, HA HA! We can do this. At this point in music there is a lot of noise to break through. We just concentrate on making good music and using the tools and contacts to reach fans. The label is just a metaphor for ourselves.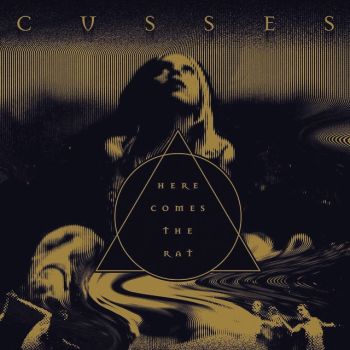 You mentioned that Bryan has family commitments and that you're taking another musician on the road with you in the future. How difficult was it to find a replacement for Bryan and you will be touring extensively in support of Golden Rat?
Yes, we have looked for almost two years to find the right person to fit with us. Harder is a multi talented person with more than just chords. His tone, freaking finger work, and pedal work has a lot going on. We have found someone who is a good fit for it. His name is Erik Rudic and he's from New Jersey. He is going to fit in just fine.
I also read that, Bryan, you're originally from New Jersey. Which part do you hail from? I'm in Central Jersey and finally enjoying some springtime weather!
I am from Bud Lake.
From what I understand, Angel and Brian, you're partners, meaning you're in a relationship, and not just musical cohorts. Has it been a challenge as a couple to operate as part of the band or does it help to know each other so well?

Yes, the band actually binds us together, We have our ups and downs like everyone else. But this is what we love to do. It is our form of therapy.
Angel, I read that you were having health issues with your vocal cords several months ago and that you've seen improvement due to following a more organic lifestyle. Does that mean you have to be strict in what you eat and/or that you treat your vocal cords with non-medical remedies?
I am very allergic to many compounds and elements in make-up, foods, lotions; almost everything you can imagine. It has a huge impact on my body, thyroid, and skin. I am now on a gluten-free diet. I have to read every label out there.

Are you planning on shooting any videos for songs off of the album or EP? Any other tricks up your sleeves?

We have one video in the works for this EP. And we are already planning a few more for the summer. We also have a picture book for the record.

Lastly, can you please list your official site(s) where we can find out more about you and your music?