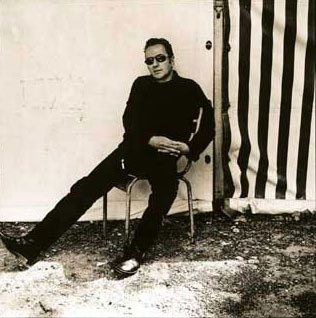 Over the past few years, I have interviewed more than my share of aspiring rock n' roll legends. Some of these musicians have become quite well-known and have gone on to enjoy very successful careers, while others have watched their fragile dreams fall by the wayside. But, throughout my many conversations with aspiring rock music giants, I had never actually spoken to a bonafide rock n' roll legend before. That all changed though, when I met Joe Strummer.
And make no mistake about it, Joe Strummer, is without a doubt, a true rock n' roll legend. As the driving force behind the Clash, one of the greatest, most influential rock groups ever to come out of England, the London native has accomplished everything there is to accomplish in the music business since he started out in the mid-1970s. During the Clash's amazing ten-year run from 1976 to 1986, Strummer and company released hit songs ("Rock the Casbah"), double albums (London Calling), triple albums (Sandanista!), and toured American stadiums with the Who. Rolling Stone Magazine even picked the Clash's London Calling as the best album of the '80s—ahead of classic recordings by artists such as Bruce Springsteen, U2, Prince, and Michael Jackson.
More importantly, besides finding international fame and widespread commercial success with the Clash, Strummer has justly earned the admiration of rock fans everywhere. Not only did Strummer use the Clash as a means of giving the then-fledgling punk rock genre a double dose of sophistication and respectability, but he also used the band as a vehicle to push musical boundaries. With the Clash, Strummer was able to blend many diverse musical styles—rockabilly, dub, rhythm and blues, reggae, hip-hop—and deliver them to the ears of otherwise oblivious young listeners. Strummer was also unafraid to address a variety of political and societal issues in his songs as well. Somehow, Joe could sing about world topics such as boredom in working-class Britain, rebellion and civil war in South America, and greed and gluttony in the Middle East, and still make it all sound so cool.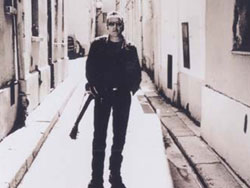 After the Clash's 1986 break-up, Strummer recorded and supervised movie soundtracks (Walker, Sid & Nancy, Permanent Record) and even starred in a couple of offbeat films (Straight to Hell, Mystery Train). He also played on a Bob Dylan album (Down in the Groove) and released a solo record (Earthquake Weather). But then, in 1991, Joe took a surprisingly long break from the entertainment business, which lasted all the way until 1999.
It is now 2001, of course, and Joe Strummer is back, in a big way. Since signing with the Los Angeles-based Hellcat Records two years ago, Strummer and his new band, the Mescaleros, have released two albums in just eighteen months—Rock Art and the X-Ray Style and Global A Go-Go. And, with two new discs on retail shelves, Strummer has jumped headfirst back into the public eye. During the midst of one marathon-like, non-stop week in Los Angeles, Strummer found himself taping an appearance for VH-1, signing autographs at the Tower Records on Sunset, and performing at both the Viper Room and the Greek Theatre. However, I was lucky enough to meet with Joe at his hotel, the Chateau Marmont.
"I do feel like a lucky son-of-a-gun, to be honest," Strummer tells me as we sit in the hotel garden, taking in a beautiful summer afternoon. "I think it's really rare to get a second shot in the music business. I think I did it through a lot of hard work, and I was really fortunate to meet the right people. If you don't surround yourself with the right people, everything is just going to collapse, and you don't have a shot at making it. It's all quite good because it's like I'm beginning my career again, except at least I've already had the experience of going through it once."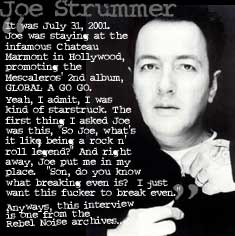 One of "the right people" Joe has been fortunate enough to meet in recent years is Tim Armstrong. Not only does Armstrong front his own, very influential punk rock band, Rancid, but he is also the owner of Strummer's new record label, Hellcat. And while Armstrong has modeled much of Rancid after Strummer's work with the Clash, Joe definitely appreciates working for an independent company owned by one of his biggest fans.
"Signing with Hellcat was a bloody stroke of luck," Strummer says while drinking Heinekens and smoking hand-rolled cigarettes in the warm Hollywood sun. "I was here in Los Angeles, doing some music for a charity record, when I decided that I should find a label and get my career started again. But, I didn't want to put myself in the same horrible situation that I found myself in during my first twenty years in the music business. I didn't want to sign a ridiculously long contract with some corporation, and then get stuck in some bottom drawer. So, I was kind of worried about what to do. Luckily, a friend of mine introduced me to Tim Armstrong. Tim said to me, 'What are you doing?' And I said, 'I'm looking for a label.' And Tim said, 'Sign on mine.' And I said, 'You've got it!' It was all done in one second, and I was relieved that I didn't have to go through the torture of signing with a major label again."
Despite Strummer's high-profile status as a member of rock n' roll royalty, the renowned songwriter and performer is eager to share the spotlight with his new band, the Mescaleros. Without the help of the versatile Mescaleros—Pablo Cook, Richard Flack, Tymon Dogg, Martin Slattery, and Scott Shields—Strummer does not believe that his current resurgence would have been possible. And even though Joe Strummer and the Mescaleros now have Rock Art and the X-Ray Style and Global A Go-Go under their belts, Joe is more than willing to talk about the future of his legendary, earlier material.
"It's only righteous to bring up the nuggets from the past," Strummer playfully tells to me. "We're going to continue to try and play them live. But, to change it up a bit, we're going to learn some weird Clash numbers or play things I did with the Clash that never got a fair hearing or airing. I hope that will keep the Clash-era music cool for us and cool for people in the audience. I want to mix it all up. Yeah, that seems righteous."