Originating from Italy and Argentina, and based in Modena, Italy - but sounding like they come from the mean streets of New York City, rock band The Straddlerz are set to unleash their self-titled debut album on January 29th.
The Straddlerz have a penchant for playing grimy and raw rock 'n' roll that sounds like it comes straight from '70s-era CBGB's/'80s-decade MTV metal, but with a more tuneful modern patina.
In fact, firebrand Italian frontwoman Linda Filippin has been to NYC in the past, playing at the Bowery with a different line-up of the act in 2018, and also releasing a music video for "I'm Alive" that was shot in the city.
Filippin is currently joined by Michael Reynal (guitars) to form the solid core of the band, and for their studio album they were joined by various rhythm sections.
The Straddlerz was produced and mixed by Lase Salgado and mastered by Steve Corrao, with LP artwork done by Giulia Pattarozzi.
Ahead of the album drop, the outfit launched an enticingly wild and unbridled, NYC-set music video for the sizzlin' lead single "Streets of Love."
Rebel Noise is stoked to host the premiere of the full album today, a day before its official release.
This is throwback fiery metal guitar-singed hard rock/rock 'n' roll of the first order – raucous, rousing, and unrepentant in its '70s/'80s sonic and stylistic vision, yet somehow feeling fresh and fun to party along to.
Maybe that's because it's all about good/bad times that blast by on mightily blazing and roaring guitar riffs, grungy bass line depths, and frenetic drumming that keeps the beat pumping.
Maybe that's because Filippin is a bona fide rock star who knows how to keep the energetic and defiant vibe alive and beguiling in an edgy way.
Maybe that's because the formidable frontwoman brings an expressive power to her exclaimed and wailing vocals that are at times touched with an Italian lilt.
Whatever it is, The Straddlerz have it in spades and they dig deep into a rebellious and reckless punk rock spirit that's exhilarating to witness.
Reynal, a man of few words, but who speaks volume(s) with his guitar prowess, comments concisely, "With this album we weren't out to reinvent the wheel, but out to make a cool one that did its job." Mission accomplished!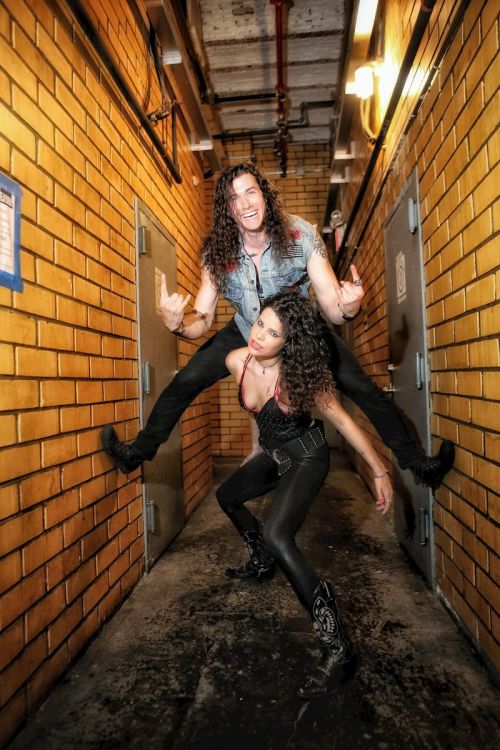 https://thestraddlerz.com/home
https://www.facebook.com/thestraddlerzofficial
https://twitter.com/straddlerz
https://www.instagram.com/thestraddlerzofficial/?hl=it
https://thestraddlerz.bandcamp.com/
https://soundcloud.com/user-19263563-339664120
https://www.youtube.com/channel/UCjTWrZW4ndnJWX_0hDVn_0g