Northern New Jersey (that would be North Jersey for those in-state) hardcore punk singer-songwriter and multi-instrumentalist Ryan Struck will unleash his latest record, the searingly relevant, socio-political-themed Margins, on November 27th via Pyrrhic Victory Recordings in the US and Engineer Records in the EU/UK.
Struck is releasing Margins under the moniker Scary Hours, a fitting name for the inflammatory issues that he tackles on the full length.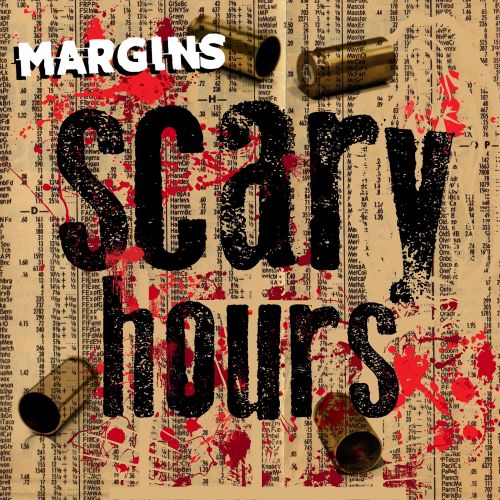 A veteran of the punk/hardcore music scene, Struck started playing in various bands when only a teenager. Over the years, he's changed his sound to include elements of emo, pop, and folk, all while keeping his defiant punk spirit alive.
In response to the world's recent turmoil, Struck has ditched his singer-songwriter vestments and has been recording in full-bore hardcore punk mode – fast-gnashing guitar jabs and jags, down-low bass line grind, rapid-fire drumkit strikes, and of course his equally fiery vocal rants that attacks systemic oppression of those who live on the margins of society.
Rebel Noise is stoked to host the premiere of the incendiary performance video for the short, sharp, and raging "Worthwhile Victims."
In the video clip Struck explodes at the mic, furiously unloading lyrics against xenophobia and imperialism, particularly in relation to the Trump-ordered internment of migrants at the Southern border of U.S.
Struck reveals details about "Worthwhile Victims," commenting, "[The] song is about people who support imperial occupation of other countries under the guise of freedom and democracy, yet they back the brutal detainment of immigrants by ICE.
The only common denominators are blatant xenophobia, toxic nationalism, and lack of human decency. The beginning is my favorite piece of music on this release.
Read the lyrics to get the full impact of the track:

A worthwhile victim, investment in blood /
Operation freedom, for god and for funds /
Bible-thumping bigots, propaganda fueled rage /
Asylum-seekers fucking rot in a cage /
Democracy abroad brings out the donor in me /
So plant a school and a church, and jail the insurgency /
Hold the migrants at the border 'til you see their ribs /
Babies cry themselves to sleep in their newfound chain link cribs
https://pyrrhicvictoryrecordings.com
https://scaryhours.bandcamp.com/music
https://www.facebook.com/scaryhoursnj
https://twitter.com/scaryhoursnj