3000AD, a New Zealand-native (originating from Christchurch) thrash metalcore band with punk influences, unleashed their aggressive, heavy, and intense debut album The Void earlier this year via Total Metal Records.
The LP's bleak lyrics and raw sound paints a stark picture of a dystopian (near) future world (and even happening now!) on the edge of annihilation.
Hellmore Bones (lead vocals, drums), Sam Pryor (guitar, backing vocals), and Scott Austin (bass, backing vocals) are unsparing in spotlighting the desolation that will unfold – and is unfolding - due to destructive and wasteful human policies and actions.
The Void was self-produced and recorded in studios in Hollywood, California and Auckland, New Zealand. Mixing was done by award-winning engineer and producer Clint Murphy, and the record was mastered at Sterling Sound in New York City.
Hellmore Bones took the time to reply to our ongoing Protest Interview series.
We're still running this type of interview because even though Joe Biden won the U.S. Presidential Election fair and square, there's still a nefarious push to keep the despicable and malevolent Trump in office – and there is still the malignant forces of ignorance, intolerance, hate, fear, and violence poisoning morally and ethically weak individuals around the globe.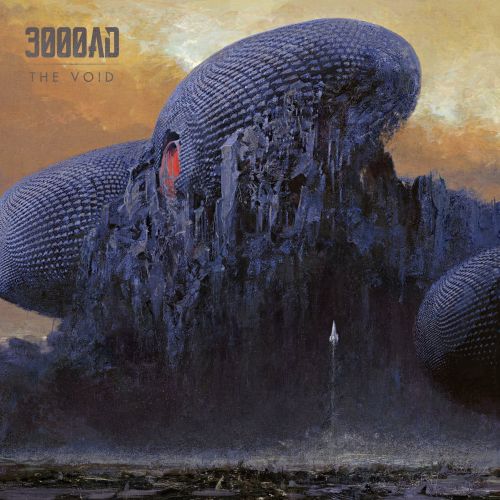 Hello! Please introduce yourself/yourselves and give a description of your sound/musical vision.
My name's Hellmore Bones and I play drums and sing in 3000 AD. I think our band meets at a cross section between the more technical and aggressive elements of traditional thrash metal and the attitude and the assault of punk rock. But as important as our sound is our thematic vision for the band, which has come out of dystopian science fiction.
What is/are the main personal, national, and/or international issue(s) concerning you the most these days?
You don't have to read the newspaper to understand that the world is a messed-up place. It's always been that way. Modern life certainly brings with it a lot of painful truths. We are great lovers of science fiction and in that tradition we tend to look at general aspects of modern life and take them to their logical and extreme conclusion in our songs.
Weirdly, a lot of our songs set in a far off-future have become far too relevant. Our song "Cells" was about a viral plague, our song "These Fires" was about the world becoming an uninhabitable "Hellscape," and a lot of our other songs have been written about things that seem less and less like a fantasy and more like a reality.
Climate change, extremism, the pandemic - all of these things have crept into our songs. Some even before they ever happened. It's hard to escape them.
What song, video, or lyrics quote of yours best represents your current viewpoint on this/these important topic(s)?
Our song "Who's Watching?" is an interesting one for me. In some ways it's good not to get too specific about a song's meaning because it can be looked at in so many different ways.
When we first wrote it I think we were imagining a future where government surveillance had become so omnipresent that people had lost any sense of personal autonomy. Government surveillance has always gone hand-in-hand with totalitarianism. But the song is also maybe about paranoia. That you can feel like you are being watched or targeted even when you are not.
But now the funny thing is I see it quite differently. Now it seems more and more that people are documenting their whole lives with the camera and simply giving their privacy away without a care or a second thought. It's all there to see. It's interesting how time and perspective can change a song's meaning.
What's your favorite song, video, or lyrics quote by another act or artist that best exemplifies, or at least partly relates to, your current viewpoint?
Haha, on the other hand, a lyric that always pops into my head is by Black Flag. It goes, "I know the world's got problems / I've got problems of my own / but not the kind that can't be solved / with an atom bomb."
I don't mean to be nihilistic, but sometimes it feels like it would just be nice to hit the reset button, haha. When I read about something particularly stupid or heartbreaking going on somewhere in the world, that line just pops into my head. It may not be the best solution for things, but it would certainly be the quickest.
What other forms of protest, besides through your music, are you involved with to get your message across?
Art is the most rewarding form of protest for me. Art and satire have always been one of the most brutally effective forms of protest and they have always gone hand-in-hand.
Of course for me, that has taken the form of music, and for me that is the best way to get your ideas and your point of view across.
The other important one that seems to get overlooked sometimes is the simple act of voting. What better way to protest your government and to hold them accountable? If you are privileged enough to live in a democracy then it is really the simplest way of having your say. Even if it doesn't always work out the way you want it to.
It's easy to judge and criticize others, especially in these unsettling times of overt intolerance, ignorance, and insults, but the fact remains that we need to work together to ensure that positive change occurs. Name an action to take, or a campaign/charity that would be worthwhile to contribute to, for your cause.
There's so much people can do, but probably the easiest thing is to just spend less time on the internet and in front of screens and more time out in the real world.
Spending too much time in the black hole of social media can really warp your mind. If everyone interacted more with the people around them they might find the world a little less perplexing.
What gives you hope for the future?
Who needs hope?
Where can we purchase/stream your music and find out more about you?
We have CD's and LP's available for purchase.
https://www.facebook.com/3000AD.BAND/
https://www.instagram.com/3000ad_thrash_metal/
https://www.youtube.com/channel/UCQbFDgN_zeDScpsq6pwxOPQ
Listen to/Purchase The Void: https://li.sten.to/the-void