"I'm still somehow surprised that we were involved in what was such a huge and lasting change to music. I don't think anyone involved…realized it would have such a massive cultural impact – we just knew that the music scene at the time was awful and wanted to do something about it. But…that tells you something important: real change comes about by doing what you feel to be right."
These sage words come from T.V. Smith, former frontman of the legendary Adverts, a band that melded great, slightly dark melodies, scratchy, jangly guitars, ingenious lyrics, and brilliant songwriting all into one raw sound that captured the urgency of their youth and the burgeoning scene so well, as he describes just what it was like to be a part of the punk rock revolution in the mid- to late-'70s in the U.K., the last real youth cultural movement. Never since has there been anything like it, nor does it seem there ever will be again. Not as well known as The Sex Pistols, Clash, Damned, or Buzzcocks, The Adverts produced some of the most vital and inspiring music of the era in their short years together, putting out two classic albums, their quintessential 1978 debut full-length "Crossing The Red Sea With The Adverts" and its follow-up, the highly underrated "Cast Of Thousands".
T.V. had already been songwriting before he hooked up with the rest of the band. He'd actually been in a couple of bands while at school and in art college, "but I was living out in the sticks at the time and [they] were going nowhere." He then met Gaye Advert (nee Gaye Atlas). She wanted to play bass in a band – but oh yeah, didn't know how. That was the beauty of the times: it didn't matter if you could play or not. It was the attitude and the messages that were more important than one's musical prowess. In any event, they both were into the same bands, proto-punk acts like Iggy And The Stooges and The New York Dolls. So they packed up and went to London, during which time the aforementioned U.K. punk bands had already started playing shows, and as T.V. reminisces, "There was a strong desire among kids for a music scene they could relate to, so our band dropped naturally into the developing punk scene." The Adverts formed at the end of 1976, and after they put out their first single the charmingly self-deprecating "One Chord Wonders", they went out on the road with Stiff Records labelmates The Damned, and had the best-ever tag – "The Adverts can play one chord, The Damned can play three. Come and hear all four…" The band dissolved in '79 after the luke-warm reception of their second LP and rifts within the band.
Fast-forward to the year 2003. The Adverts may be long gone, but T.V. continues to forge ahead in the music world, still releasing records and accomplishing new feats, as he exclaims, "Waited over twenty-five years to play CBGBs and then we played it twice in one weekend." That's right, after all these years, and unbelievably never hitting the lovely hole-in-the-wall where punk rock began, T.V. got the chance to crank out some old hits as well as newer fare for those lucky enough to be at Viva Le Punk, a three-day festival, that also included bands like MDC, The Adicts, The Casualties, Cheap Sex, and Criminal Class. T.V. Smith was the only one lucky enough to play on two occasions, but it just seems fitting when taking into account his history and impact. The second night he played (which was actually the third and final night of the festival) was unexpected. He explains, "I played the first gig on…Friday and then went up to Providence on Saturday for a gig supporting Mission of Burma, then I was supposed to have a day off in New York on Sunday, but on the way back I got a call…to say one of the bands couldn't make it so would I like to play again. Took me about two seconds to say yes."
And both sets were amazing; this guy is up there rocking out and just having so much fun even after all these years, it's truly great to see. About bands and performers that have been around for awhile and are still playing gigs, but without their hearts in it, T.V. says, "I think if bands are just going through the motions they should stop. The whole idea of playing live is to communicate something real to the audience, and they can tell right away if you're faking it." And people's receptions to his performances are a big part of what keeps him going. As he explains, "I give 100% every performance. I would be really disappointed if the crowd didn't pick up on it and come with me," adding, "We're sharing the energy around at these gigs; the more I get back from the crowd the more I can put out."
And no doubt at Viva, during both phenomenal performances, the crowd really took to him, seeming to especially enjoy his revival of some classic Adverts tunes off "Crossing The Red Sea With The Adverts", including "Safety in Numbers", "Bombsite Boy", "No Time to Be 21", as well as the band's most well-known singles, the darkly humorous "Gary Gilmore's Eyes" - "their one hit single," as T.V. sarcastically quipped onstage – as well as "One Chord Wonders". But of course T.V. also played plenty of newer material from his solo catalogue like "Immortal Rich" off 1995's same-titled album and "Expensive Being Poor" from 1999's "Generation Y". He claims many people – scarily some punks included – aren't aware that he's been creating new music ever since the dissolution of The Adverts, so he has plenty of material to perform.
The first night of the festival, he was astoundingly relegated to playing the downstairs Lounge, the second stage, if you will, but didn't seem to mind. Charismatic and likeable right away, he had the Lounge packed. I made sure to get down there to check his set out, and truth be told, that was one of the most memorable sets of the evening – make that the whole weekend in fact – right along with MDC and Molotov Cocktail. So it was fitting that T.V. got to come back and play on the main stage, where he should have been scheduled to play from the beginning.
And both nights at CBGBs, as well as numerous dates on his U.S. tour, T.V. was backed by The Midnight Creeps, who he affectionately referred to as "The Freedom Fry Three" while onstage. The story behind this pairing is basically a result of good timing and being in the right place at the right time. "The first time I came to New York I was playing smaller scale acoustic type gigs…and the first date of the tour was the poetry club right opposite CBGBs. I went over to see what was going on [there] and bumped straight into The Midnight Creeps who told me they were playing a version of one of my songs – [The Adverts'] "Television's Over." He saw them at the Holidays In The Sun festival over in Morecambe, England last summer, and once again the band was playing a rendition of another one of his compositions, "Love Songs" and the guys actually asked him to go up and sing. "I think they're great people and obviously they know my stuff really well so it was a logical step to take them out on tour with me," T.V. reasons. He mostly plays solo gigs, but as he confesses, "I still get a thrill out of playing with a band now and again."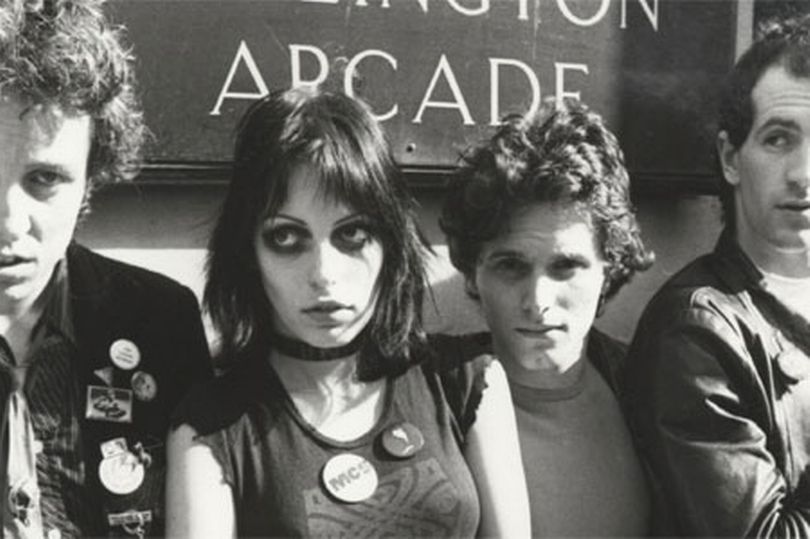 This recent trek to the U.S. is timely, as T.V. just released a new record that came out the first week of October entitled "Not A Bad Day". He declares that "the whole drive and character of the newer songs is completely consistent with the earlier ones I wrote for The Adverts, so it's good to be able to play them side-by-side." He adds, "Also, it keeps it interesting for me and for the people who come to see me a lot." He plays close to one hundred shows a year, so logically he says, "I like to vary the songs I play in the sets." And with the amount of material he has, it's not a problem.
The connection in subject matter in the songs he's composed throughout his twenty-five-plus year career is that "[they] are pretty responsive to the times they're written in, but in many ways the things that are oppressing us these days are the same that were oppressing us in, say, 1977. So I kind of re-work themes, always trying to pull some new ideas out of them as I wrangle the words about." He goes on to say, "Often the same basic ideas will come up again and again." Giving an example of one such instance, he explains, "'We Who Wait'…one of the earliest Adverts' songs, is not a million miles away thematically from 'The Future Used to Be Better' from the new album, but I think in the last twenty-five years I've found a whole lot of new things to say about the subject. The main thing is, the same basic creative passion is the same, and I think and hope it always will be."
According to T.V., this new record is NOT "punk rock guitar thrash," which isn't really too much of a surprise. He's been slaving over it the past three years, recording bits and pieces between tours, and he claims, "It's developed into quite an epic," full of various styles. He explains, "I've borrowed and mixed up a lot of influences…from all kinds of scenes, from punk to dance. But basically the core of the whole thing is the songwriting. There's really so much to write about with what's going on in the world lately. I wanted to try and get something down about it." His passion is unquestionable, as he confesses, "Writing lyrics has always been what inspires me to write songs," and he feels rather confident that those on his latest album "are among my best yet." One thing is for sure: the record is rife with socio-political commentary, as is the norm.
True, T.V. Smith is not your ordinary household name, especially here in the U.S., but the singer doesn't seem to mind: "I know that no matter how little interest the conventional big business music industry has in me, I can go out and play a gig and have real people connecting with what I'm doing. It's worth more than a thousand phony record contracts." This guy certainly has the right idea, and has finally decided to head out on his most extensive U.S. tour ever, beginning October 3rd at Viva, hitting cities on the East Coast, while coming back to play NYC the 7th at Knitting Factory, as well as playing solo gigs out on the West Coast, slated to play on bills that include Dr. Frank and Kevin Seconds, to name a few, and coming back to good old NYC one final time for another shot at CBGBs October 22nd. He says he's "been looking to find a way to play gigs in the U.S. for years, but didn't know how to do it." Last year, with the help of an agent, he came "over for a few low-key gigs." And he was well received, as he "got a lot of people writing to me by email afterwards to say how much they enjoyed it," so another small tour was set up for earlier this year with World Inferno Friendship Society. And once again after that, he was itching to get back to the States "when the offer of the CBGBs punk festival came up, so we used that as a starting point for a bigger tour." If ever you have the chance to see this enthusiastic performer live, don't hesitate. He puts on a great show.