They are dark, gritty and the bathrooms are grimey toxic cess pools but these are our favorite places in and around Los Angeles to partake in some PBR tall-boys whilst enjoying the soothing sounds of a great local band. This may not be the definitive list but it is definitely a formidable list of the top dark, seedy places to help you get in touch with your inner degenerate. Each with it's own personality but a common thread for all good dive bars is a combination of tasty greasey grub, cheap beer, beautiful noise and righteous folks to share it all with.
So "dive" into the list and if your fav isn't there, don't bitch, just drop a note in the comments to share.
Cheers & see you at the gig!
Your friends at Rebel Noise
13. The Slide Bar Rock-N-Roll Kitchen
122 E Commonwealth Ave, Fullerton, CA 92832
(714) 871-2233
website
The Slide Bar is one of the more upscale bars on this list. It was created by a rocker from some 90s "punk" band that wanted to try to stretch his newfound wealth into some thing more substantial. The place has a nice friendly atmosphere with the usual OC vibe about the place. They offer good touring bands in the back area with great sound and equipment. Never mind the bro vibe at times and check out the bands in the back.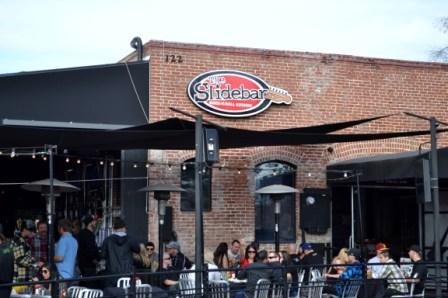 ---
12. Detroit Bar
843 W 19th St, Costa Mesa, CA 92627
(949) 642-0600
website
The Detroit Bar opened in 2001 from the ashes of punk rock dive bar Club Mesa. The new owners scrubbed off the grime and named the venue as a nod to the city that influenced the design and musical influence that inspired the owner in this venture.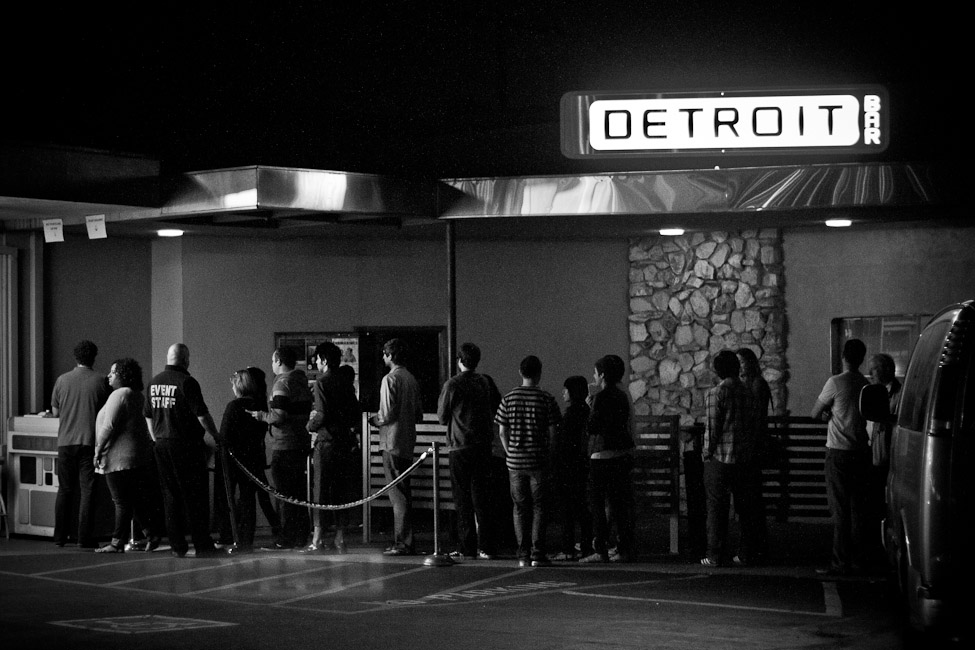 ---
11. Spikes Bar & Billiards
7813 Garvey Ave, Rosemead, CA 91770
(626) 288-4366
website
Est. 1948 (formerly known as Patrick's Cocktail Lounge). Known for their 80's night, Breakfast Klub and especially Von Badsville's legendary punk/rock-a-billy events. A good neighborhood bar with veteran bartenders on the pour and a relaxed atmosphere. It's a good place to catch a game of billiards then get lucky with your date in the darkened parking lot. Good times.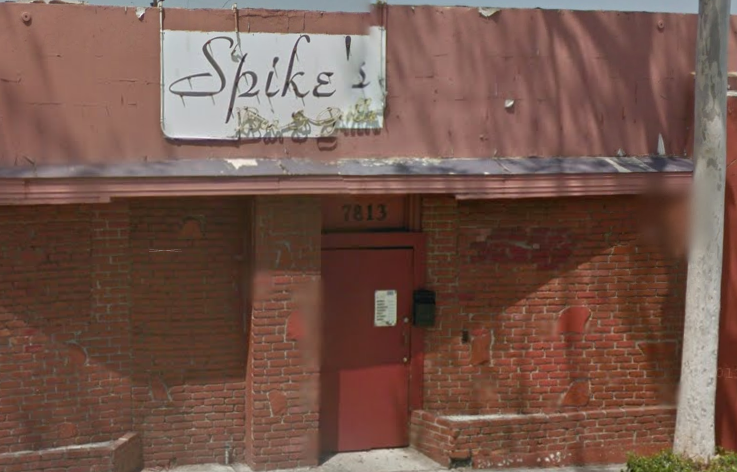 ---
10. Morgan's Tavern
4850 Tyler St, Riverside, CA 92503
(951) 785-6775
website
Morgan's Tavern would be the good pirates lair with it's friendly vibe. Wonderful bands play here and despite its shitty PA, I think you'll like the place. But be prepared to drive to bumfuck, then drunk drive home remembering the great time you had and all the nice people. Hopefully you won't be pulled over and sent to the drunk tank where you'll have to call your mom at 2:00am.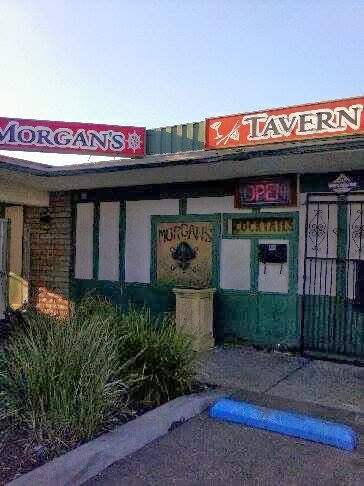 ---
9. Character's
276 E 1st St, Pomona, CA 91766
(909) 622-9070
website
The infamous SGV venue with the coolest outdoor patio and "Gonzo Presents" always bringing the best local bands and all your favorite punk rock icons to the stage. This place has two bars in one. One with the locals on the inside and the other punk gathering in the back. Just don't mix the two and you'll be fine.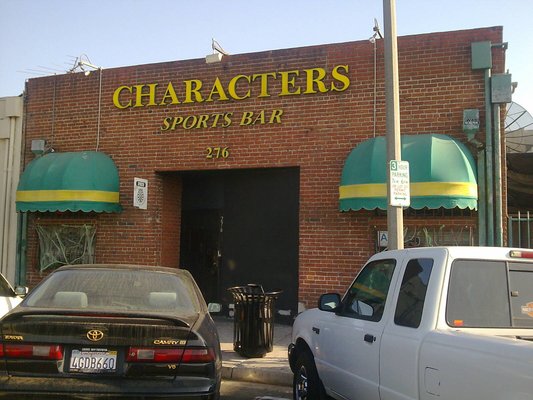 ---
8. The World Famous Doll Hut
107 S Adams St, Anaheim, CA 92802
714-533-1286
website
This place is not for the faint of heart. True to its name, the Doll Hut is really not much more than a hut. But despite its cramped quarters and bare bones bar, the patrons still flock to this little venue from near and far to hear some of the dirtiest underground rock 'n' roll in the whole of California. The Doll Hut has been around for decades, so be prepared to encounter anyone from veteran punk rockers to Hot Topic rockabilly posers, but all that aside--if you want cheap beer and some rowdy good times, Doll Hut is the place to be.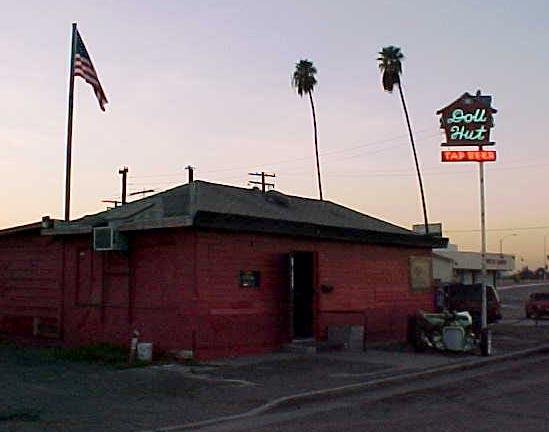 ---
7. The Down & Out
501 S Spring St, Los Angeles, CA 90013
(213) 489-7800
website
The down and out is located on the bottom floor of the the infamous Alexandria Hotel, a hotel known for it's once rampant crime and skid row occupants. What a perfect place to house a no frills bar with its array of celebrity mugshots. A great place to catch a lively band and maybe catch a game on the huge TVs.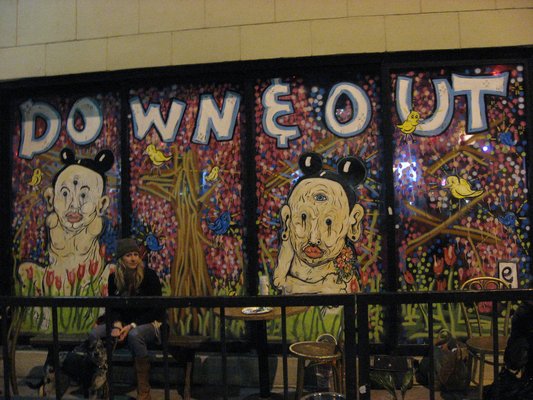 ---
6. Five Star Bar
267 S Main St, Los Angeles, CA 90012
(213) 625-1037
website
A regular shit hole with terrible sound acoustics that will leave you yelling for more! Despite it's myriad handicaps, they have an impressive selection of good rock n' roll bands to make you forget that you're in a hellhole. You want a punk bar? You get a punk bar with a sticky floor, substandard, third world toilet facilities and a very real chance to catch a venereal disease.
---
5. Cafe NELA
1906 Cypress Avenue, Cypress Park, Los Angeles, CA 90065
website
Carnage Asada's Dave Travis opened this intimate Cypress Park beer bar in 2013, calling it Cafe Nela in honor of its northeast L.A. location. The booking policy ranges from post-punk and alt-rock to tripped-out psychedelia and underground jazz, and the vibe here is simultaneously more low-key and musically adventurous than at other rock dives.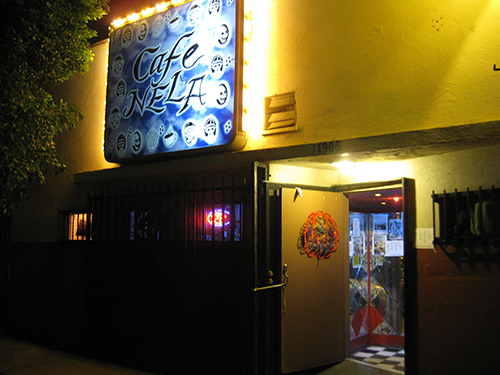 ---
4. Harold's Place
1908 S Pacific Ave, San Pedro, CA 90731
(310) 832-5503
website
Family owned and operated since 1952. A very real neighborhood bar with all the good and bad that goes along with the name. Never before has a cast of characters so vile come together in such a small dive. Walking in will transport you to a time when bathing or grooming were entirely optional and maybe even frowned upon. Piracy and rape are two terms that immediately come in mind when observing the regulars. But don't let that stop you because they are very friendly and very welcoming to all the bands that play here. They were punk before the name was ever coined by some British twat writing for some rag. Just don't bring your mom here, she won't understand.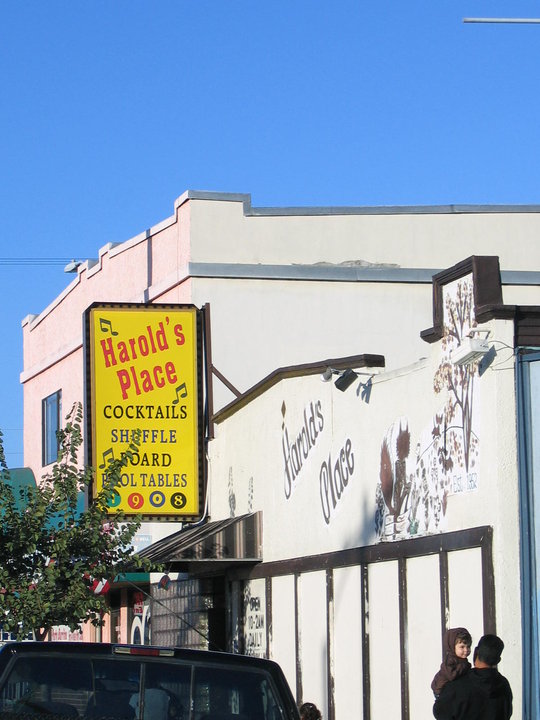 ---
3. Alex's Bar
2913 E Anaheim St, Long Beach, CA 90804
(562) 434-8292
website
Turning down the suck since 2000! The dim red lights and walls covered from top to bottom with framed portraits of bull fighters and luchadores manages to make Alex's Bar bizarrely lovable. This Long Beach favorite comes equipped with a full bar, pool table, and insanely amusing bathroom wall murals for your enjoyment. Not only does this venue host a slew of talented up-and-coming local musicians on a weekly basis, but it is also used as the set for filming the Fangtasia bar scenes in HBO's True Blood series. Cozy and kitschy with friendly bar service, this place will have your spirits high enough to consider shelling out three bucks to make memories in the custom photo booth hiding at the corner of the bar.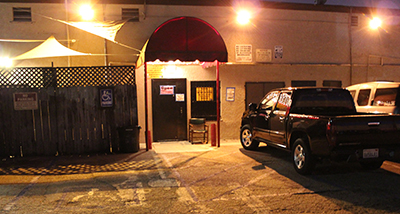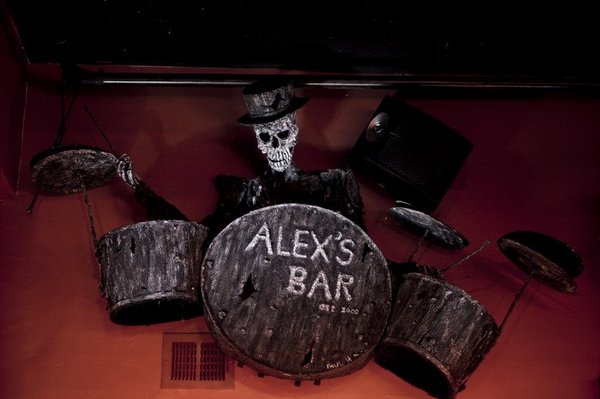 ---
2. Loaded
6377 Hollywood Blvd, Los Angeles, CA 90028
(323) 963-4655
website
So you wanna drive to Hollywood. You poor son of a bitch. Well, if you wanna see some punk bands, I guess this is the place to go in Hollywood. Good luck finding parking. The back area has a good sound system and plenty of decent bands plays here. I guess you gotta get it where you find it. The atmosphere is all right and the usual Hollywood riff raff tend not to frequent the place so you're not gonna have to punch someone.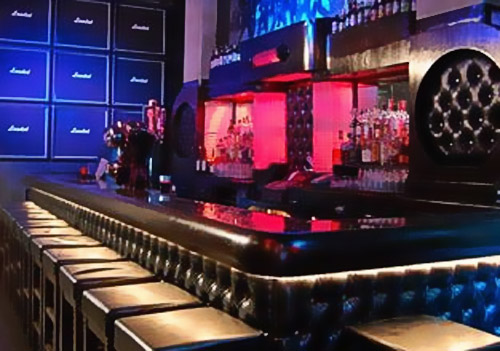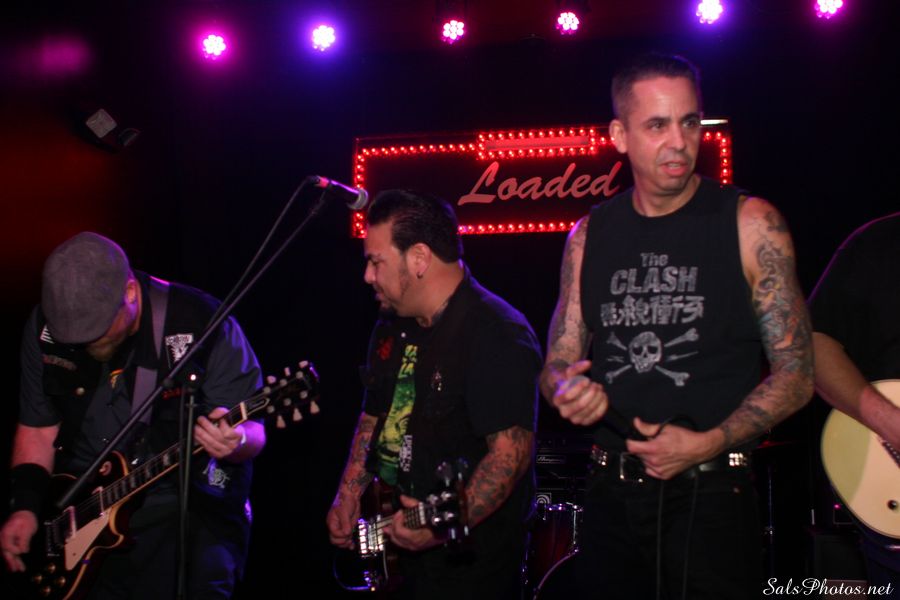 ---
1. The Redwood Bar & Grill
316 W. 2nd St. Los Angeles, CA. 90012
213-680-2600
website
If the legendary explorer Amerigo Vespucci opened a bar on one his early trips to America it would have been just like the Redwood. Warm, intimate and inviting, the Redwood welcomes you into the galley with an Ahoy! Sit at one of the Captain's tables and sample the culinary delights from around the world, or pull up a stool and listen to the finest musical acts the City of Angels has to offer.