Like literature, I want to believe that music is timeless. That something "used" isn't inherently robbed of its value. For some time I've been avoiding 7"s – thought they were cumbersome, a pain in the ass. But I've been going through a revival lately and re-exploring the medium. It's cool. They're often cheap, and there's something wonderfully and inherently hopeful about hitting a used bin and seeing a fully encapsulated, self-contained statement by a band for a dollar or two. So I decided to do an experiment – take twenty bucks, buy stuff from a bunch of bands I haven't heard before, and give em a shot. Make used things new again.
AWFUL MAN, "Waiting For the Tanks To Come Rolling In" - $2.00
Frantic pop punk that reminds me of Contra or the Credentials. If we want to consider records as purely sonic artifacts, that's cool. I disagree, but hey, your opinion's your own. I consider them to be pieces of art of which the visual is a necessary element of engagement. In order to receive said art's complete intention, we have to look at it, too. All this is to say that I'm not sure which band member it is that does their album art and layout, but the level of care and sweat involved in making these wildly detailed photocopied layouts has brought this band to the next level. This shit rules. From 2012, I guess they only did this and one other 7". WORTH IT: Worth it for the layout alone, damn.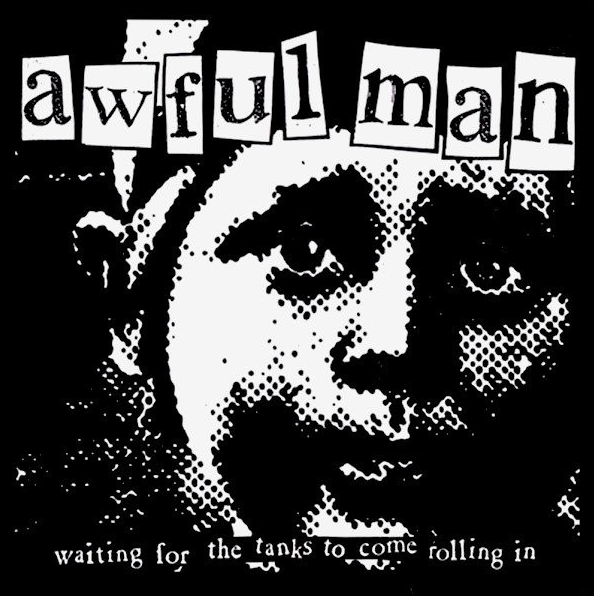 BURIAL, "Hungry Wolves" - $3.00
I'll be honest – I have their Never Give Up, Never Give In album. I knew what to expect. This was an easy choice. I mean, I'm willing to break the "buy what you don't know" challenge of this article to tell you – if you see a Burial record out in the world, grab it up, like I did, because it is fucking awesome. This is a ridiculously great (Swedish?) band that sounds like Japanese D-Beat nerds trying to play Motörhead, and it is fucking purely glorious. This is a four-song beast of a record, and I am hard-pressed not to evacuate my bowels every time I heard "Fear Of Tomorrow" or "Heart Is Truth." WORTH IT: You kidding? I should get this tattooed on my face!
DEATH WISH KIDS, "Demo" - $2.00
They actually released their demo as a 7" (I have the one-sided etching version) after they released their There's Nothing In School They Can't Teach You On the Streets record. That one's fantastic, tough and veering and sloppy, and features the guitarist and vocalist for what would become Pretty Girls Make Graves, who were waaaaaay different than this. This demo record is okay, but lacks the same venom. WORTH IT: Nah, sorry.
GENERATORS, THE "Dead At 16" - $1.00
This band's always been hit or miss with me. But this cover art is fantastic, and while the B-side is a so-so cover of "I'm An Upstart", "Dead At 16" is two and half minutes of near perfection. A chorus that snares itself in your head and haunts your dreams, even when you know the song is dumb. WORTH IT: Uh, yes. Indeed. Best cash-to-enjoyment-ratio of the haul, I'll tell you that much.
INSTIGATORS "Live In Denmark '86" - $5.00
Ah, nostalgia, you fickle turd. When I was a teenager discovering punk in the mid-'90s, I lived in a little coastal fishing town in Oregon. Our closest record store was an hour away. Housed in a college town, they had a decent punk section, and – much like I did with this experiment – I almost always had a set (usually small) amount of money. You had to gamble. You had to take risks. All the info we had was gleaned from other records, from ink-muddled back issues of Maximum Rocknroll. The Instigators were an early band for me, and while they sound very dated today, I really dug their tough-ass UK peace punk vibe at the time. This is a live record from '86 on the infamous Doug Moody/Mystic label, and it shows: the interior sleeve is simply a shitty Xerox of a Mystic Records ad. Still the sound is pretty good – especially for a live record from '86, and especially for a live record from '86 on Mystic Records, who have released some of the thinnest, tinniest pieces of vinyl punkdom has ever heard. WORTH IT: Yep. Nostalgia's a beast, friends.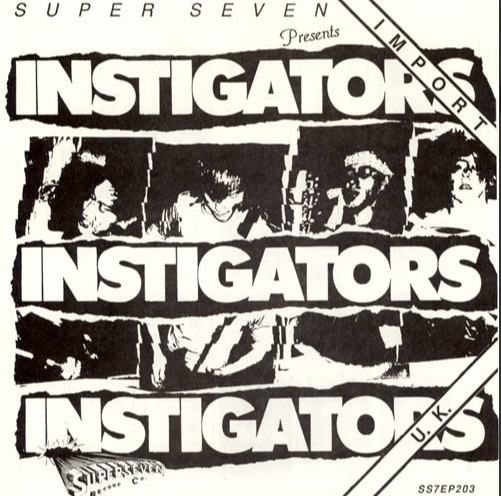 M.O.T.O., "Some Thing" - $4.00
I'm new to M.O.T.O (aka Paul Coparino and a bunch of other folks), and his stuff seems a little tough to come across in the wild, but once you hear a song like "Flipping You Off With Every Finger Of My Hand" or "Dance Dance Dance To the Radio," there's no going back. Ramones-level smart/dumb, mercilessly catchy, so when I saw this four-songer from 2007, I grabbed it up. I've clearly abandoned the whole "buy what you don't know" thing, so screw it. This still has some of that fun buzzsaw kick, but the songs just aren't that memorable. Especially for the price! That's four "Dead At 16"s I could be buying! Or even eight, since "Dead At 16" was technically fifty cents! WORTH IT: Nah. I'll still give M.O.T.O. another gamble, but this one didn't do it for me.
REAGAN SS, "Hail the New Dawn" - $2.00
The US version of Hail the New Dawn came out on 625 and has no song listings on either side of the sleeve. Hence, when I bought this sick-ass European version put out by Coalition, with the most gorgeous green vinyl/orange label color combo, and I was blessed once more with eight rabbit-fast, rabid-dog hardcore songs that I already owned, I was mildly bummed, but not too bummed. This is a good record. WORTH IT: Sure.
SURRENDER, S/T - $1.00
Never heard of em before, but I was sold on that brilliantly stark black and white cover design. Strong, sung female vocals, and a serious Bluurg/Crass Records sound that manages to simultaneously remain melodic (hell, it even flirts with occasional moments of ska, and trust me it works) while still tough, and it feels like these people could have played with the Subhumans in 1985 or something. Flawlessly done, strong as hell. This thing came out over a decade ago, and I'm surprised to see that they've got a number of releases out, which I'll be keeping my eye out for. WORTH IT: Yeah.
AND THE WINNER IS…
CILANTRO, "Empty Soda Can" - $6.00
Wait, what? That wasn't even on the list! You just went over twenty bucks! You decimated your own structure of the column with this stupid stunt! Besides, you bought bands you already knew! Who the hell is Cilantro? That's a great question, and believe me, I wouldn't lay waste to a perfectly good column for nothing. But when you find a Cilantro 7" – a mysterious side-project of Lance Hahn, front man for the vastly underrated pop punk band J Church, a side-project of which very few pieces of vinyl were made and none have ever trekked across your own eyeballs – well, you grab it. I can't remember the last time I paid six bucks for a 7", even though that's kind of the industry standard these days, but for the lo-fi, home-recorded, often acoustic demos of Cilantro, one of these white whale records that you hear about but doubt you'll ever actually find, I have plunked down the six bones. WORTH IT: One of my holy grail records cost six bucks! You kidding?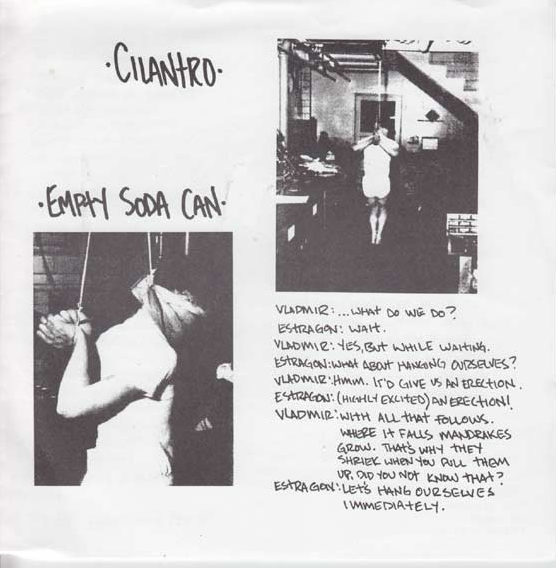 All in all, I bought nine records for $26. Or eight for $20, if you take out the Cilantro 7". That's a decent haul, with a pre-Cilantro median price of $2.50 each. Not a bad deal. And of the pre-Cilantro eight, six were worth buying – a 75% success rate. I'm not too disappointed with that, honestly. I think I'm gonna keep gambling.