Despite their politically pointed name, Joliet, Illinois-based old-school punk rock band The Reaganomics' single "Tear Off Your Face" and its accompanying music video have no political angle whatsoever.
Rebel Noise is stoked to host the premiere of the hilariously oddball video for "Tear Off Your Face" from the veteran outfit who've been on record label Red Scare Industries for around a decade.
The Reaganomics (or Nomix for short) recently released Midwest Duress, a 6-song (!) split 7" in conjunction with Dayton, Ohio-located punk rock band The Raging Nathans, which came out via Red Scare and Rad Girlfriend Records.
Here's a link to order/listen to the split EP: https://orcd.co/midwestduress
And before that they dropped their rad and rebellious album The Aging Punk, which was recorded with Dan Tinkler (The Falcon, Elway) in Chicago.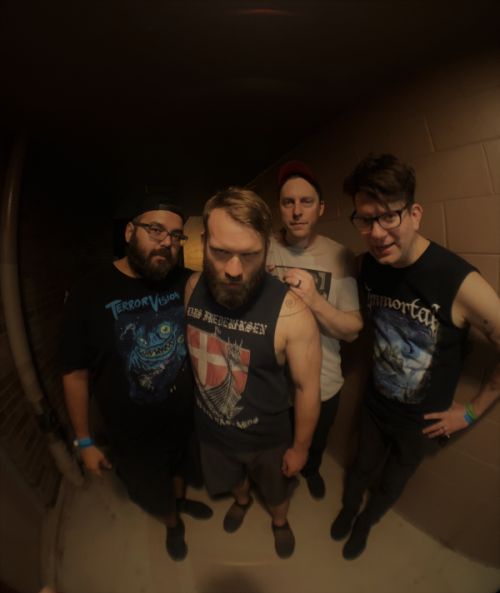 Now they're back with another sonic and lyrical attack, not on Republicans (which are sometimes their prime target), but on other idiots who are making the world a worse place to live in.
The band is known for unleashing weird music videos to go along with their songs, and "Tear Off Your Face" is no exception.
While the track and viciously hilarious video aren't politically motivated, it's easy to match up the macabre lyrics with how most of us felt under the thumb of the malignant Trump over the past 4 years, while he and his administration decimated our human rights and freedoms 6 ways to Sunday.
In the video clip, Nick (bass, vocals) gets silly, as he dances around like a blitzed shaman and figuratively rips off the 'face' of someone who did him wrong. The violence is all done in jest and not to be taken seriously, as Nick explains below:
""Tear Off Your Face" wrestles with frustration felt when forced to deal with a situation you really shouldn't have to, but must due to someone's selfish actions. You may even love that person and want to help them, but in that moment you're so pissed you wanna rip their face off."

"Greg (guitar) thought it would be funny to parody some artsy, pretentious video he saw from some pop artist and have me dancing around and painting a bloody face that I would (symbolically) tear off."
"We thought it would also be funny if the premise was me being pissed about the fact that Eddie (drums) did something that "made" me kill him and I blame him for having to clean up and bury the body... And also express my emotions through dance and painting. It's basically high art. As you can see."