The Italian rock band, Loose Sutures, formed in June 2019 and recorded this self-titled album in autumn the same year. The album sounds careless and sexy, with hastily fashioned songs that are fashionably retrograde. The band's haste was a blessing—the COVID-19 pandemic was just weeks away from spreading pain and putting much of life on hold.
On Loose Sutures, fully charged guitars buzz through maxed-out amps like faucets on full, streaming out electricity. Drums tumble down, and cackling, intemperate vocals splash between whispers and across-the-parking-lot shouts. "Moisty Sins," a refreshingly rebellious song, is a good example. The brash vocal cycles through devious charm, cool hostility, and stomping rage.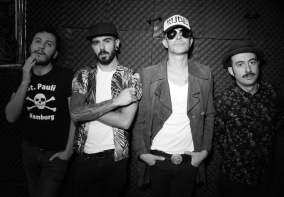 Loose Sutures is a moody album, and the band tries on a range of affects, including punk, stoner, and heavy metal. The willful and belligerent song, "Lie," throws around crashing cymbals and a stiletto vocal. ("Lie" also features guitar from Trevor Peres of death-metal pioneers, Obituary.) The strutting "Shoot It Down" grooves on 1970s-era hard-rock riffs. The tone of songs like "Ted's Grin" and "Sophomore Dream" sounds like early Misfits (minus Danzig vocals). And "Wish to Fuck a Dead-Man" is a blown-out, bluesy stoner jam.
The band cites as reference points Fuzz, Blue Cheer, King Gizzard & The Lizard Wizard, and The Stooges. I would add Misfits and The White Stripes. Thick, chunky-ass guitars, vocals like a neck knife, and cool.